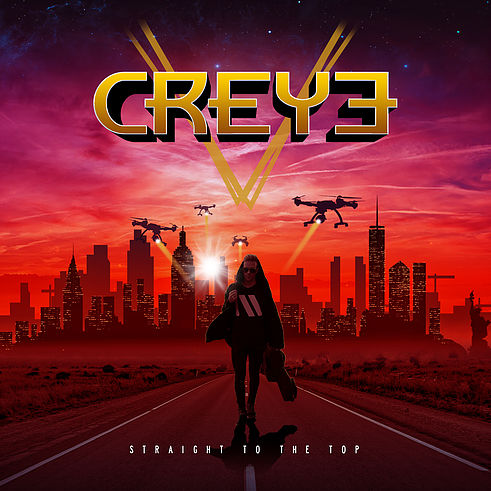 CREYE-Straight To The Top
Independent
Swedish melodic rockers Creye release their brand new single ,,Straight To The Top'' that is packed solid with ingredients appealing to fans of classic pomp rock bands from the genre's heydays.
Being unfamiliar with the band I am pleasantly surprised by the outfit. The three songs on this EP are simply magnificent. Packed with layers of keys and guitars and excellent vocal work, the EP is a must have for fans of… let's say: Refugee, Red Dawn, Network, White Sister, Tradia, FM, etc. Indeed, I discard the most iconic names in the genre, but readers will likely recognize what's really packed on this EP rather than me offering the next rip off on reminiscence road.
Creye combines lush melodies with jaw dropping magic of the past. The title track is simply ravishing. The melody is powerful and the chorus nests inside the head on the spot. Alexander Strandel (Art Nation) proves to be an excellent vocalist with the right toning to make it work. Slick at times, edgy if needed. Other focal points are the excellent melodic shreds of Andreas Gullstrand (Grand Slam) and the swirling and pompous keys laid down by Joel Rönning. The interaction is excellent and the choirs are slick and spot on. All is modelled around the classic melodic rock mould and injected with a modern and fresh vibe. The following ,,Never Too Late'' is a little more transparent and less pompous. Crystal clear and open production adds to the song's structure and it spotlights Strandell's voice even better. Robert Tepper's classic `Rocky' outing ,,No Easy World Out'' is the only question mark on this 3 track offering. The song adds a bit more pomp and punch but stays close to the original, and Tepper's voice is proven the perfect fit for the iconic song. Musically it tings genius however; vocally it's not the best match, without serving it off. Nope, therefor Creye has too much to offer.
All in all `Straight To The Top' is an excellent introduction of this new Swedish band. It certainly revived my love for the genre and it has me on the edge of my seat again. Creye are one to watch and I'm very interested in a full-blown album. Top shelf material!