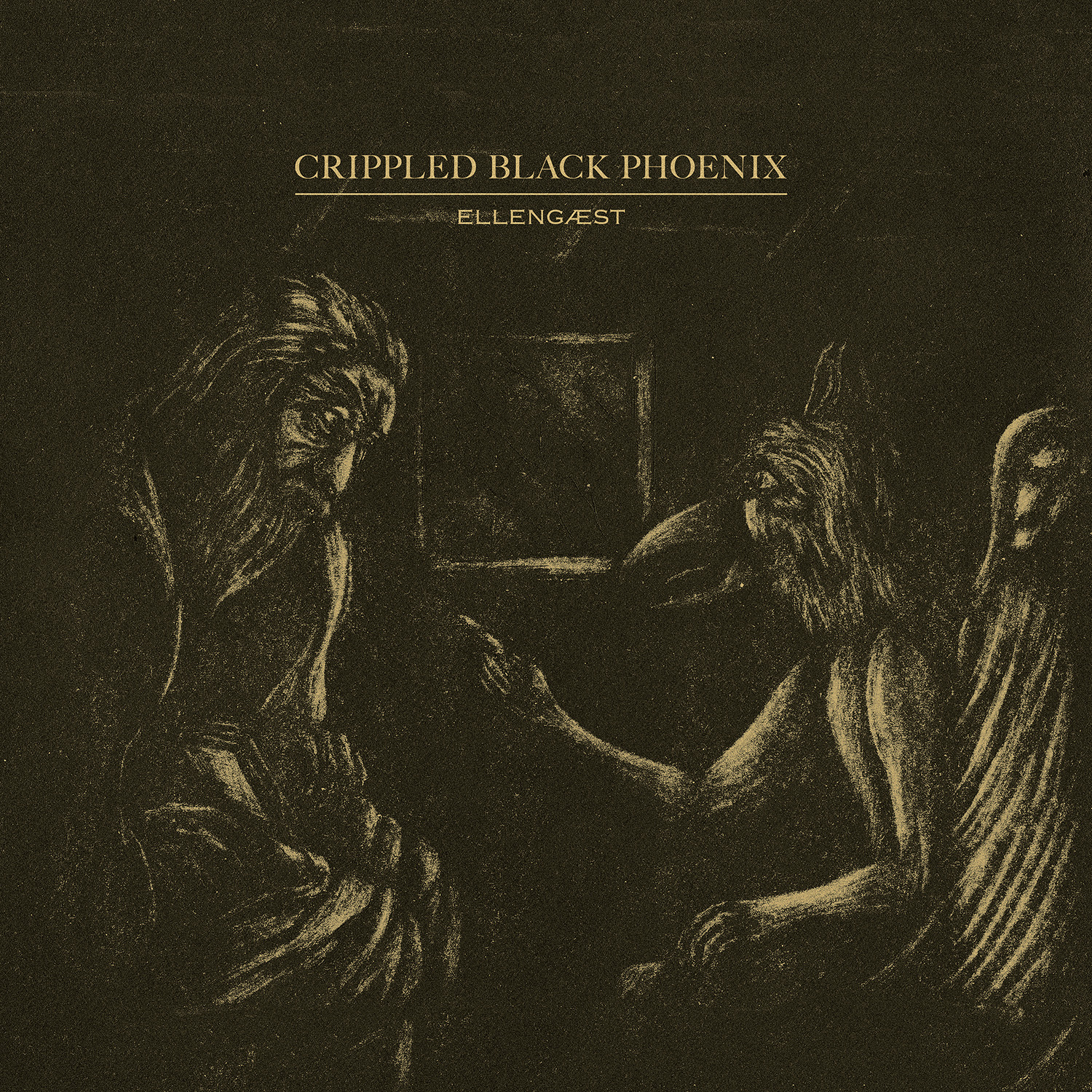 Review | Crippled Black Phoenix – Ellengaest
Season Of Mist
The spine of the English dark rock band Crippled Black Phoenix is founder and multi-instrumentalist Justin Greaves, who has his roots in the doom and sludge scene, playing drums in for instance Electric Wizard and Iron Monkey, but eventually started his own band Crippled Black Phoenix in 2004. So far 7 studio albums, 4 EP's and quite a bunch of official bootlegs, live albums, compilations and singles have been released and maybe it's because of the frequent line-up changes and also Justin working with various live and studio personnel over the years, but this guy apparently has never lost his creative spark and evolved his music to an emotional intense and deep layered experience of great quality.

`Ellengaest' is CBP's new mini album [release date October 9th] and grabbed me instantly, especially because of the oppressive dark atmosphere, the stellar vocal performances, the integration of post-punk influences and the diversity in instruments and meaningful soundscapes. The fact that the first song ,,House Of Fools'' starts with a mournful lonely sounding trumpet part is such a great surprise. When that is suddenly taken over by an exploding instrumental section that eventually turns into a very gloomy dark rock track with tension full eerie and sadfull sections in between and having Anathema's singer Vincent Cavanagh in the game, it feels like hitting the jackpot, a guaranteed candidate for my album year list. By the way, in this track Vincent is vocally supported by the talented Belinda Kordic who joined CBP in 2012 and became an important musical partner for Justin ever since. ,,House Of Fools'' expose such great musical tension and atmosphere, it's a hell of an opener. In the second song ,,Lost'' the mesmerizing sounding Belinda takes the lead and Vincent strongly supports her in the chorus. It's not only their vocal magic but also the amazing drive, catchy dynamic drumbeats and swelling guitar tones that make you want to lose yourself completely in this song. ,,In The Night'' begins with an old sound fragment of a young girl telling about her mental state and feelings she experienced as an introduction of the actual song unfolding as an intriguing melancholic piece of music with a doom character. It's perfectly supported by the low vocals of guest singer Gaahl and the serene mystic vocal lines of Belinda.
Things get a little bit light hearted and mid tempo in ,,Cry Of Love'' featuring guest singers Ryan and Suzie and this song really reminds me of the post-punk era. ,,Everything I Say'' gives Belinda the perfect platform to lure the listener into a bittersweet sounding musical environment supported by heavy sounding interludes. The super dark vibe of ,,(.)'' is centred around a man that talks about depression, hopelessness and hell, an interlude that underlines the dark side of humanity and what this mini album is about. Jonathan is another guest singer who presents himself in the sensitive and hopeful sounding ,,The Invisible Past'', a really wonderful song.

`Ellengaest' is perfectly closed with the Bauhaus cover ,,She's In Parties'' sung with great charisma by Belinda and that fits so well with the other tracks composed by Justin. Add up the skilful performance of all the instrumentalists, a top-notch production and a total playtime of over 55 minutes, and I can only conclude that fans of the band but also of Anathema, Dool and dark art rock and post-punk in general, are in for a real treat!




#crippledblackphoenix #seasonsofmist #lilorocks #headbangerslifesyle #hbls #awayoflife