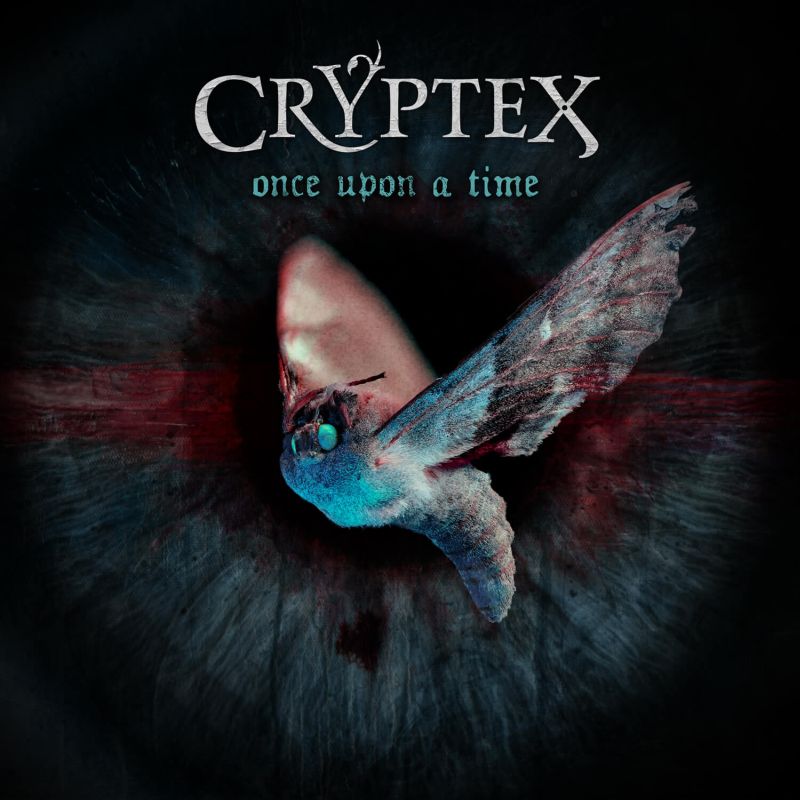 CRYPTEX-Once Upon A Time
Steamhammer/SPV
Comprised from the Greek Crypto's (hidden/secret) and Latin word codex, the word Cryptex was coined by Dan Brown in his novel `The Da Vinci Code'. Using the science of cryptology to protect on the contained codex, it also has an mysterious iconic ring to it. German band Cryptex lives up to that standard with their impressive debut `Once Upon A Time', packed with melodic and melancholic twists and turns exploring the progressive landscape.

The title track is an instant calling card; melodic cinematic orchestrated intro unravelling in towering pompous elegant melodies. Light-footed vocals with a poppy tone and transparent lyrics that suddenly bloom with powerful emotion and welling power. Emotionally charged with a space pompous underscore. Sometimes reminiscent to Pink Floyd, other moments it packs recognizable spacey elements from Ayreon. But always, it has its own uniqueness. Just listen to the exquisite guitar and piano interaction in ,,Because The Reason Is You" with its Celtic time signature, suddenly breaking from the root with progressive hooks. Always present is the cinematic touch pasting colourful outlines for the listener and taking you on a journey. The video single ,,Bloodmoon" is elegantly opened suddenly dives steep with loud riffs morphing into jazzy patterns and melancholic twists. Some gothic injections of melancholy persist in the appealing ,,Two Horned Crown", with Simon Moskon's vocals as focal point. Simon Schröder's drums are spot on laying down a powerful beat with progressive turns. Double bass is scarce but it makes the songs combust at specific times needed. Moskon's piano opens the powerful progressive (1st single) ,,Haunted" that immediately set the standard of what to expect on this new record, garnishing 10 of thousands of views on YouTube. It is more melodic appealing and packs typical Ayreon chants over a melancholic, Evergrey-like stubborn melancholic signature prog edge. Celtic chants and neurotic narration add discomfort, adding up to the song title. ,,Reptiles" is darker and less predictable making the following Bowie-ish sung ,,I Don't Know Why" an awkward piece. Very jazzy and 70s rooted it nests in your head easily. Hints of The Beatles more psychedelic period pop up, making me shoot back and forth in emotions delving deep to match it with my musical catalogue. Very melodic is ,,The Promise Keeper" with its impressive melody and great guitar work from Mertens and Andrejkovits. Flying 70s prog with Nightwish allure. The ballad-ish ,,I See It In Your Eyes" mellows into the ominous German narrated ,,A Mo(u)ring" that wells fluently towards ,,Leaving". A dark epistle narrated over discomforting piano with chanting background vocals. Dark and powerful it starts to tower as the albums closer.

`Once Upon A Time' is a symphonic and atmospheric piece of work that needs time to get squinted. Cryptex delves deep in emotions and pastes a melancholic yet colourful world, paving the road for a musical journey that draws from a varied palette of musical prog elements. It is unique and appealing, but not for the faint hearted. The lyrical content is gripping and paws deep while the dark and ominous tones provide the exclamation point to the lyrics. Moskon's voice is clear and powerful orating the transparent lyrics. Psychologic melancholic metal label applies. Listen in!


#cryptex #headbangerslifestyle #hbls #awayoflife