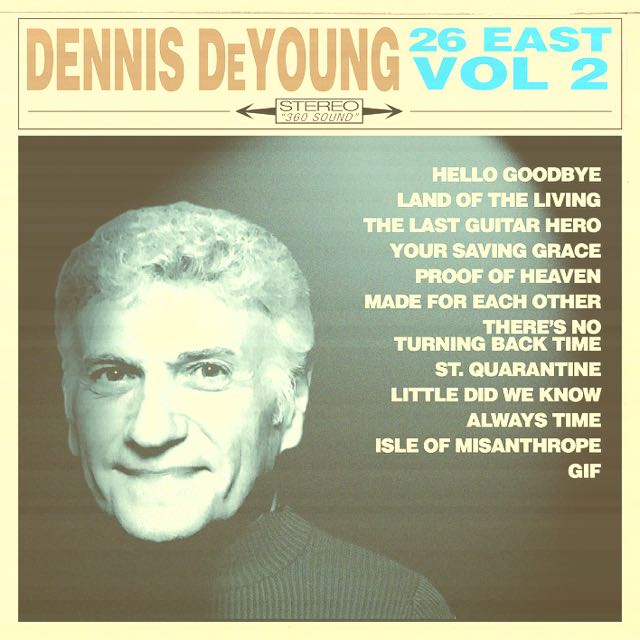 DENNIS DEYOUNG-26 East, Vol 2
Frontiers Music srl
`26 East, Vol 2' is the follow up album to volume 1, which warped Dennis DeYoung back into the front seat of prog rock. The former Styx vocalist and songwriter shook his past and embarked onto a new journey together with Survivor's Jim Peterik penning down a new range of classical DeYoung tunes. On par with his past, Dennis also injected modern ingredients as well as influences from his youth making the album flourish with energy. Displaying himself as a gifted charismatic vocalist, DeYoung took the helm and drove his album into a second volume packing the same charisma and energy.
,,Hello Goodbye" immediately links to the over art of the new DeYoung album. The track musically tings effectively with Beatles riffs and orchestration, while lyrically it packs an enormous number of intended puns reverting back to McCartney's and Lennon's wordplay. Sound effects line up capturing the ingredients of the Liverpool four and Dennis and co-writer Jim Peterik manage to summarize many of the Beatles hits in only 4.25! Even the howl 3 minutes in fits the song's profile. Thus Volume 2 of DeYoung's 26 East record(s) lifts off with style. ,,Land Of The Living" is classic Styx/DeYoung-rooted and pulls forward with a wonderful classic drive. ,,The Last Guitar Hero" also packs this drive and energy, but is more progressively driven and features no tongue in cheek. Dennis addresses the industry and goes in full frontal. Dennis is also heralded for his intense ballads and the appealing lyrics. "Your Saving Grace" is a breathtaking gorgeous slow mover with dismantling emotional lyrics. It fuses "Babe" exclamation of love for his high school sweetheart and wife, reverting back in retrospective over his career and life. It is simply wonderful and widely appealing for romantics. It is that oozing warmth Dennis also injects in the power ballad ,,Made For Each Other" fusing the DeYoung keen melodies with pompous past elements and Beatles reminiscent structures and craft. It wells with glorious chorus and lyrics. The guitar solo is finger licking beautiful unloading in a short twin section. Topping it, Dennis fuses Beatles melodies with his personal trademark song writing in ,,Always Time". The song is simply gorgeous. Powerful yet timid, slick yet unpredictable it hinges towards a gospel rather than rock, without breaking from DeYoung's rocking roots. Highlights piling up, the slow movers are balanced by the rock tunes delivered and executed.
,,Proof Of Heaven" revives his heydays with the bands keenly fused with his classical musical past. It oozes tremendous pompous power and the multi-layered vocals in its chorus are astonishing. The combustion of the song is as dominant as on tracks from platinum selling ,,Paradise Theater" era. ,,Little Did We Know" also is deeply rooted in his classic past, with the song progressing in staccato steep pace. Throbbing and pulsating it beats towards a chanting and echoing chorus. Sheer magic is the acoustic progressed ,,There's No Turning Back Time" leans strongly on the acoustic opening of Styx' live cracker ,,Crystal Ball". Pace and vocal melody are very similar but the song evolves differently. ,,St. Quarantine" unites Peterik's Survivor-esque song writing with DeYoung's typical vocal execution and song writing. Lyrically it is deeply rooted in the present: "So we wait on this new tomorrow, but be wise on who we follow…" before it goes all robotic and fusion chanting fist out ,,Wake up!". DeYoung makes a statement without going on the slippery slope. ,,We hope this vaccine make this dream come true" resets the balance of his (somewhat) critical statements. It is what I dig in The Man! Dennis, with his decade long career behind his belt, doesn't scare away from statements and vision. He puts it out there! ,,The Isle Of Misanthrope" opens with melancholic slow pace and DeYoung displaying his impressive pipes. Drenched in emotion he executes his lyrics with phenomenal feeling for drama and grace before the song goes all epic and progressive. Progressing with jazzy and movie score elements, the song also paws into more modern directions with sonic extravagant epic moments (Ten) adding lustre to the song. Its diversity and recognisability make it swirl. ,,Grand Finale" is the 1:55 short outro-like track that seems to summarize the album and bridges to Dennis' acclaimed past with fragmental content from ,,Grand Illusion" and musical structures reminiscent to ,,Paradise Theater" and (less) ,,Cornerstone".
Dennis instantly clears the board for an exciting dive into his mind and career. Excellent classic rock tracks and great lyrical content, with minor remarks to his past through tongue in cheek wordplay, make Volume 2 grow on you with every spin. Key ingredients are the impeccable melodic pompous drive fused with memorable melodies and choruses. Sir Dennis outclasses Volume 1 and on Volume 2 he broadens his horizon without overdoing. Revealing his love for The Beatles and his fine feeling for drama and emotion, DeYoung lands `East 26, Vol 2' on this year's melodic top ranks. Styx and DeYoung both land landmark melodic albums.