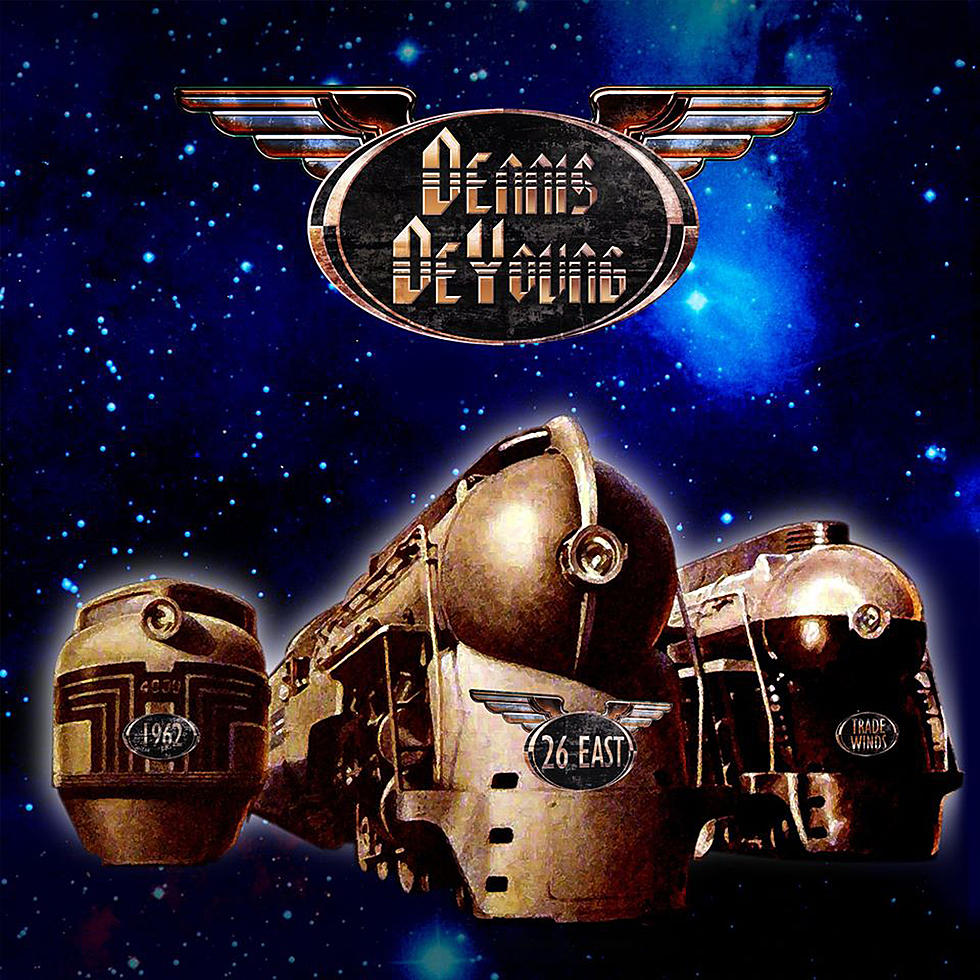 Dennis DeYoung-26 East, Volume 1
Frontiers Music srl
Though many always cling to the past and linger for another reunion, we can also embrace the fact that the departure of prolific members of a band sprouts two entities that endure to deliver your beloved music. Though some might stray from their root, there's also a possibility of both entities remaining to explore their path set in in the past. The best example is Styx and their former vocalist Dennis DeYoung. With Styx releasing an album on par with their many classics, Dennis DeYoung does the same with this brand new album `26 East, Volume 1'. Suggesting there will be a follow up even makes me feel better listening and experiencing this first chapter of a compelling album.
On the World Wide Web the departure from his former band took quite some nasty turns over the decade and recent outings by DeYoung definitely shut the door to any possible reunion as Dennis questions many of the band's (setlist) decisions. He is entitled to his views and always substantiates his story with facts put in the light of the past. But let's not go into detail. Where Styx released an astounding concept album with `The Mission', Dennis also steps up to the plate for a captivating release that doesn't stray from his past even though it also features a fresh deposition of a new stimulus.

The new album features all the key ingredients of his extensive discography as well as some fresh and modern elements to take shape in the music he created as the format to tell his personal story. From his childhood dreams all the way to his current position in music, from his influences (The Beatles) and his standings towards the world and situations, Dennis makes `East 26, Volume 1' a very honest and enjoyable journey. ,,East Of Midnight" opens with Styx trademark orchestration like an epitome of ,,Pieces Of Eight" fused with ,,Mr. Roboto" melodies. Mentioning ,,Best Of Times" in the lyrics DeYoung tells us how he was influenced by The Beatles playing their music and listening to radio in his first car. The song itself just oozes DeYoung's signature melodies and the orchestration is pompous and symphonic. His voice is still in pristine shape making many of his age (and younger) sound bleak. The man is on top of his game as he showcases on the following ,,With All Due Respect" that opens rather awkward before it takes a sharp turn addressing fake people. A sharp riff pulls it forward with loud mouthing from the always-graceful DeYoung. Much like on `The Grand Illusion' he takes position to how we are fed by the news and all the fake idiocy singing "With all due respect, you are an asshole!", in his most sincere tone. It is obvious DeYoung carries a grudge and his experiences of a life in music reflecting on today's society provide him knowledge and a voice heard. The music carries the message as it does in ,,The Kingdom Ablaze". Subtle notes and lingering keys with synthetic outline take sudden shape on the intense chorus. A clean and open section with reoccurring Floyd-ian sub notes from the guitar give it face. ,,You My Love" is not another homage to his childhood sweetheart whom he married (Suzanne), but oozes agony. The chorus is big and powerful over frail verses, but I'm unsure about the lyrical content. ,,Unbroken" also breathes a frailty that is heart touching before it evolves in a more melodic rocking direction with uplifting spirit. Its choirs are trademark DeYoung and the guitar lick underneath the refrain is echoing joy. Like a musical box opens ,,Run For The Roses" is reflecting on his successes and the rise to success and finding your personal legacy eventually. Again the lyrics are sincere and appealing, heart touching, while the music is simply astonishing. It features all of the key ingredients of the most symphonic tracks from the Styx era and revives memories of `Paradise Theater' but rather to emphasize the high-rise of the band and their successes projected against the lessons learned in life. Not preaching, but very insightful, Dennis offers motivational insight and with ,,Damn That Dream" he continues that line reflecting on the downside of dreams and missed opportunities. An absolute wonderful tune is ,,The Promise Of This Land" that is as enticing as the hit single ,,Babe" before it starts building tension and goes all rocking out pompous and with funky notes to elude with soulful choir vocals. Reflective is the piano ballad ,,To The Good Old Days", the duet recorded with Julian Lennon and specifically composed to fit both their voices. The song features some typical The Beatles sections keenly embedded in the orchestration. As if ,,Strawberry Fields Forever" coincides with the elements from DeYoung's ,,Boat On The River". Lennon's part is reviving his father's spirit before the timid guitar solo takes centre stage. It's a wonderful moment oozing as a genuine tribute to his idols without diverting from the signature sound of his own past. The album is closed by ,,A.D. 2020", the spin off of `Paradise Theater' outré and it concludes this magnificent journey summarizing Dennis' impressive past and musical career and life.

The album is composed by DeYoung in close collaboration with musical mastermind Jim Peterik (Survivor, World Stage, Pride of Lions). It features the typical benchmark ingredients of his Styx past, much like he did on the recent collaboration on the World Stage track ,,Proof of Heaven". This collaboration not only proven their abilities to cook up the magic, but also was the starting point for this unique album. Expect everything that made Styx and DeYoung so magical. Insane power and sugar coated choirs with multiple layers of vocals as you might expect from DeYoung as fused with great lyrics whelming with sincerity. They are welling with emotions at times or spiting anger. It is all adding posture to the lyrical content at hand and serves as the launching pad for the song to shoot into orbit. A varied summarization of his musical career vividly mapped out in front of us by Peterik's World Stage/ P.O.L. band members and DeYoung's own touring band, injecting the spirit and longevity the tracks need. With DeYoung being on top of his game as lyricist and singer, this is an essential album!
`East 26, Volume 1' equals (musical) mass, equals `The Mission' and equals sheer magic. Classic!


#dennisdeyoung #styx #frontiers #headbangerslifestyle #hbls #awayoflife