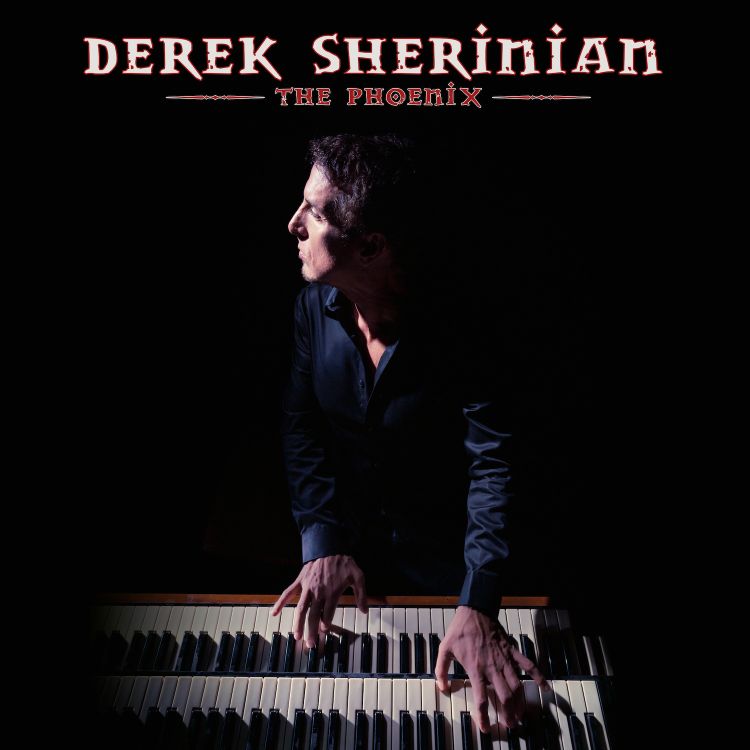 DEREK SHERINIAN-The Phoenix
Inside Out Music
In the time period between 1999 and 2011 keyboard maestro Derek Sherinian released some seven solo CD's, 'Oceana' being the last one. But the former Dream Theater musician did not sit still in those nine years participating in bands like Black Country Communion, Sons Of Apollo and very recent he was also involved with The Progressive Souls Collective as a guest musician on the album 'Sonic Birth'. Feeling the inspiration again Derek teamed up with veteran drummer Simon Phillips, the man with whom he worked on his solo material before.
Through the years obviously Derek has worked with a lot of other talented musicians so it was no problem getting his Sons Of Apollo band mates Billy Sheehan and Ron 'Bumblefoot' Thal plus his Black Country Communion compatriot Joe Bonamassa involved. He even got maestro Steve Vai in on guitar as well as Zakk Wylde and current Megadeth guitarist Kiko Loureiro. The bulk of the music is instrumental progressive rock with here and there some jazzy moments (,,Dragonfly'') and Derek's style blends well with the involved guitarists who each got presented by Derek and Simon with a framework in which they could move freely and do whatever they want.
The result is a very varied and playful album, maybe not one hundred percent suited for a regular hard rock fan but most definitely suited for people that like wizardry on the keys and the guitar with plenty of variation, adventure and a blend of styles. Especially the opening title track with its high energy level gives a good indication of what Sherinian and Phillips are trying to express and at times the album sounds very impressive indeed. Derek Sherinian does have a surprise for us all as well and that is a cover version of the Buddy Miles song ,,Them Changes''. Derek got his first professional job with Miles many years ago and now pays tribute with this beautiful song where Joe Bonamassa handles the guitar and sings as well, which is a welcome change and gives the CD some extra variation. Maybe next time around Derek could ask Jeff Scott Soto (Sons Of Apollo) or Glenn Hughes (Black Country Communion) to sing as well as Joe's singing contribution has done 'The Phoenix' no harm at all!
#dereksherinian #simonphillips #hbls #headbangerslifestyle #awayoflife #progressiverock