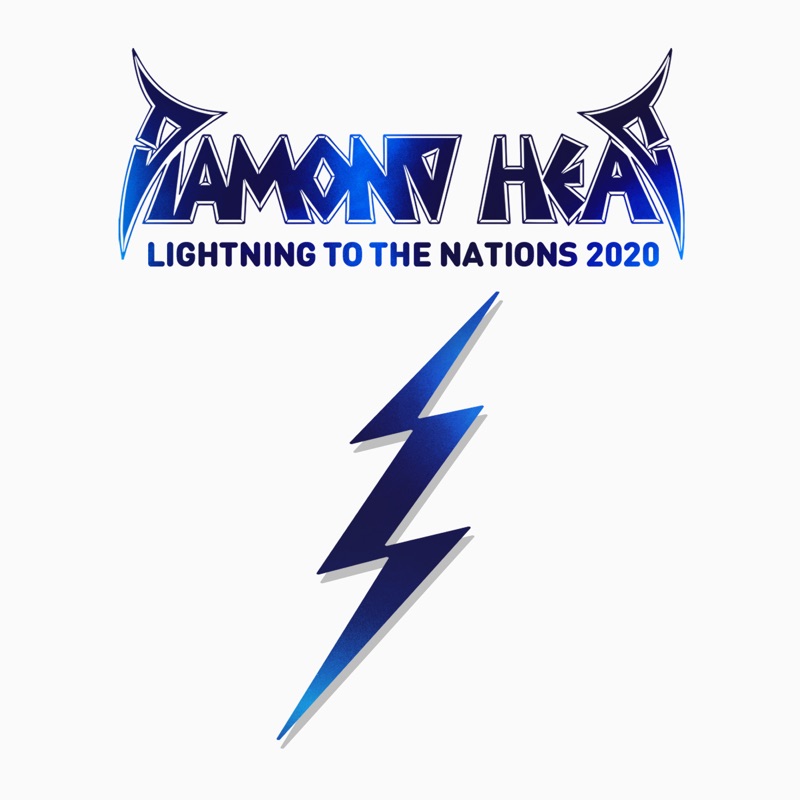 DIAMOND HEAD-Lightning To The Nations 2020
Silver Lining Music
Diamond Head was one of the best exponents of The New Wave Of British Heavy Metal but it took ages for the band to get signed to a proper label. In 1980 on the very small Woolfe label the band around guitarist Brian Tatler (now the only remaining original member) and singer Sean Harris released their seven track debut mini-album 'Lightning To The Nations'. Now, four decades later the band re-recorded those seven songs with their current singer Rasmus Bom Andersen who made such a huge impression on the last two albums 'Diamond Head' (2016) and especially 'The Coffin Train' (2019) and called it 'Lightning To The Nations 2020'.
Produced by their current singer the songs really stood the test of time as becomes crystal clear when you hear this. Brian Tatler, second guitarist Andy Abberley, drummer Karl Wilcox and bass player Dean Ashton together with Andersen behind the microphone sound just massive and so heavy and energetic. Obviously there will be people preferring the old recordings with Sean Harris but really people Diamond Head have done an outstanding job. ,,Helpless'', ,,The Prince'', ,,Am I Evil?'', the title track, ,,Sweet And Innocent'' and ,,Sucking My Love'' just are awesome in their new 2020 metal jacket. Andersen as producer has really done a superb job as this record fires on all cylinders.
For good measure Diamond Head recorded four covers of Metallica, Led Zeppelin (one of the main inspirers of Tatler and Harris), Deep Purple and Judas Priest. We all know that Metallica drummer Lars Ulrich was/is a huge fan of Diamond Head as Ulrich and Co covered ,,Am I Evil?'', introducing Diamond Head to a very large metal audience. So Diamond Head are repaying the favour by doing a smoking version of Metallica's ,,No Remorse''. The same goes for ,,Immigrant Song'' (Led Zeppelin), ,,Sinner'' (Judas Priest) and Deep Purple's ,,Rat Bat Blue'' (not the most famous song of them but a good one indeed!) Their might not be any new songs on 'Lightning To The Nations 2020' but nevertheless it is a fantastic remake of these old songs! A must have record for a true rock and metal fan.