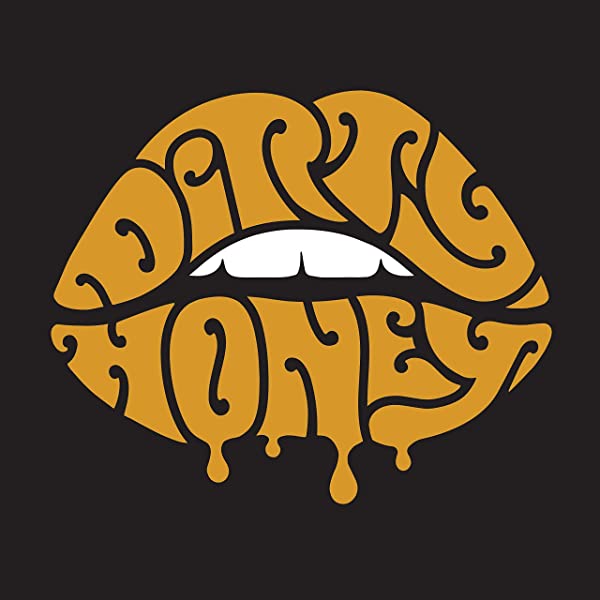 DIRTY HONEY-Dirty Honey
dirt records
Tips from old friends sometimes lead to interesting discoveries. While Facebooking about the latest CD of Greta van Fleet with former Watt magazine editor in chief Johan Vosmeijer (who now works for a management company with Vandenberg as one of his clients) tipped me on the band Dirty Honey as being extremely interesting. Without any hesitation I started looking for the CD and found it on Amazon US.
This Los Angeles based quartet has been around since 2017 and only released just a few singles before finally coming up with their debut record, containing eight songs and with a total playtime of only 29.55 minutes. That is not very much these days but what the band delivers is without any doubt outstanding classic hard rock with a big bluesy feel. Dirty Honey's main man is vocalist Marc Labelle, a bloke with an outstanding voice that combines power, reach and versatility. Labelle sounds pure. But do not underestimate guitarist John Notto, drummer Corey Coverstone and bass player Justin Smolian either, they all play an important role in the musical picture that Dirty Honey is trying to paint. At times the material and style remind me of groups like Mother Road, Cry Of Love and Free, so you can imagine how classic this band sounds on their record. Compliments also for producer Nick Didia (who also worked with the group on their few singles) who has managed to capture the pureness of this rock band without using tricks and other popular gadgets.
The music is as honest and straight forward as can be and with songs like ,,California Dreamin''', ,,Tied Up'', ,,No Warning'' and ,,Another Last Time'' (with a lovely bluesy feel and atmospheric keyboards) as most outstanding tracks this could be a band for the future. Why? Listen to the record and you will find that keeping things pure and simple and bringing out the individual talent of these boys certainly has worked out in a splendid manner. Maybe even a band that might grow quickly to greater heights in the near future! A hot tip indeed Johan Vosmeijer!