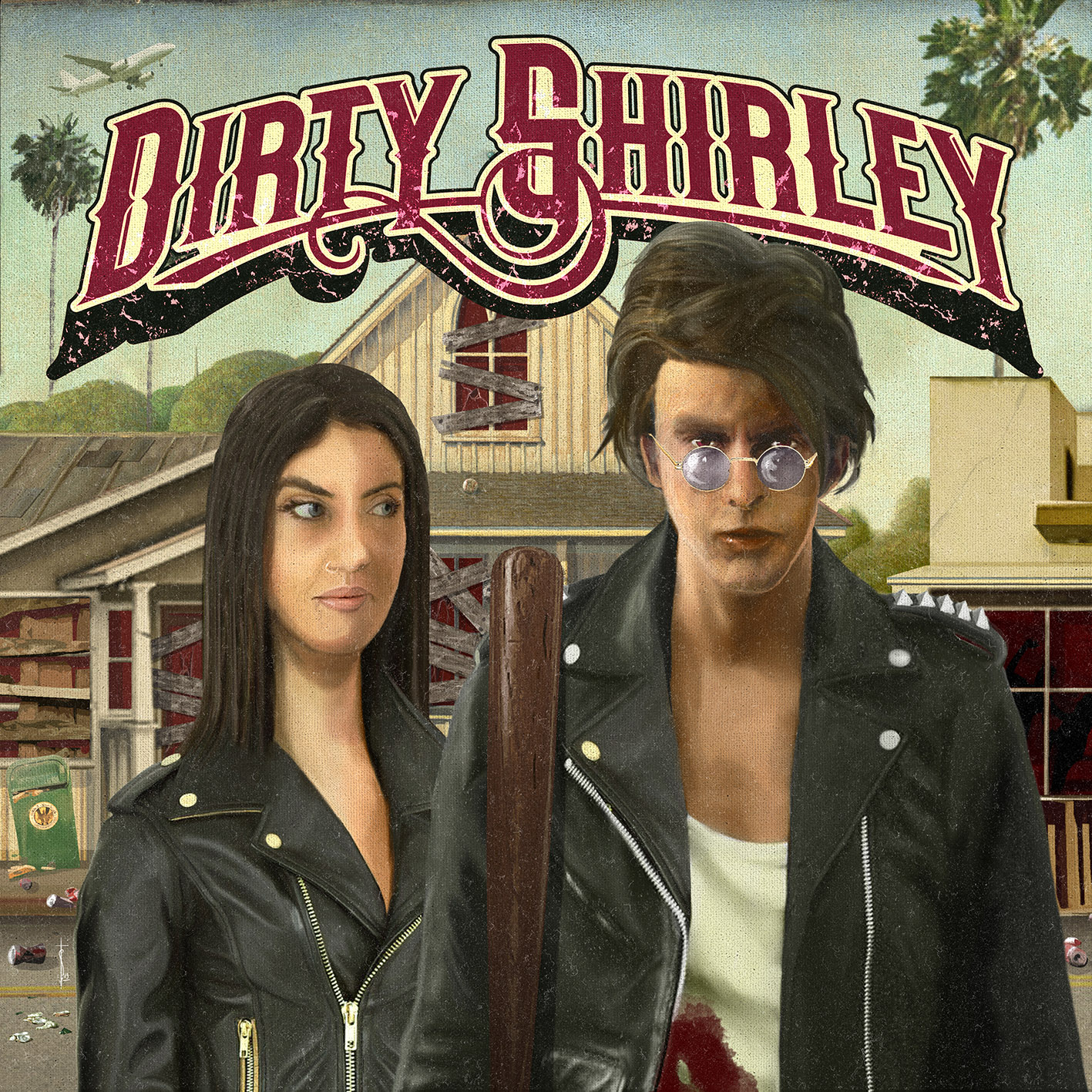 Review | DIRTY SHIRLEY-Dirty Shirley
Frontiers Music srl
Also in 2020 we will be bombarded with project bands that have been more or less been cooked up in the Italian offices of Frontiers Records. And I am pretty sure that the quality of these so called super groups in most cases will be very satisfactory and in some cases just mediocre.
Croatian singer Dino Jelusick is a man that got noticed with his own band Animal Drive and was praised for his musical achievements with that group. While a new album most likely will be on the cards for later this year, the singer got several offers to sing with several groups and projects. He can be heard on the excellent Restless Spirits album by Tony Hernando (Dino sang two songs on that one) and he has been touring with Trans-Siberian Orchestra as well. And he teamed up with famous axe grinder George Lynch (KXM, Lynch/Sweet, Dokken, Lynch Mob) in the band project Dirty Shirley, that also features drummer Will Hunt (Static-X, Evanescence) and bass player Trevor Roxx.
On the eleven classic 70/80/90s rock songs that were written and produced by Lynch (mixed by Alessandro Del Vecchio) the singer proves that all the praise and admiration was completely justified. Dino is a guy that can sing all types of rock (on YouTube look for him singing a few Badlands songs just for fun, it sounds quite amazing). The man has a set of pipes that at first glance makes you think he is the younger brother of Jorn or maybe the grandson of Ronnie James Dio. Not saying that Dino (who as a kid won the Eurovision Song festival for children in 2003) has not got an identity of his own but like Ronnie Romero he has a certain sound that is similar to Jorn and Dio. Hey, does it get any better than that? I hardly think so. Anyway, the combination of Lynch and Jelusic works a lot better in comparison with the last album George made with Styper's Michael Sweet.
The songs on 'Dirty Shirley' are more openly constructed, there is a lot of room for Dino to shine or rev it up next to a maestro as George still is at the age of 65. Add to that a very adequate rhythm machine in the persons of Hunt and Roxx and you have a project that fires on all cylinders. Not too sure about the acoustic closer ,,Grand Master'' but the other ten songs are a glorious mix of classic rock accompanied by a killer semi-ballad ,,The Dying''. Together with the classy opener ,,Here Comes The King'',  ,,The Voice Of A Soul'' (that has a Robin Trower like dreamy and bluesy character) and ,,I Disappear'' the duo Lynch/Jelusick manifest themselves as a tandem with an enormous potential that should be explored further in the near future. I hope for Dino Jelusic that he is not going to be exploited to the maximum and that is he wise enough to pick projects that really fit with him and his voice. But something tells me that this guy has got a good head on his shoulders. 


#dirtyshirley #headbangerslifestyle #hbls #awayoflife #frontiersrecords