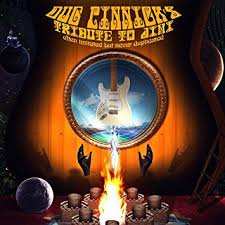 DUG PINNICK-Tribute To Jimi
Rat Pak Records
When singer/bass player Doug 'dUg' Pinnick (King's X/KXM) was asked by his record label if he would be interested to record some Jimi Hendrix songs it was like a dream coming through for the veteran musician. It was something he was toying with for quite some time.
Doug and producer Michael Parnin decided to stay as close to the original sound as possible by using analogue recording techniques and recreate the circumstances in which Jimi Hendrix recorded his material some four decades ago. Tracey 'Spacey T' Singleton was asked to perform the main guitar duties. Older readers might remember him from the first all black coloured Afro American hard rock band Sound Barrier who were mainly active in the early eighties before reuniting again in 2017.
Singleton was also active with Mother's Finest and Fishbone, so a very experienced musician as are the other participants Tommy Baldwin (guitar), Mike Hansen (drums) and keyboardist Mike Farrell. Being a huge Hendrix fan myself I must admit that Pinnick and his friends have done a good job. The singing of Doug Pinnick leans towards Jimi's voice, while Singleton just let's it rip.
The only thing that is a bit disappointing is that there are just 8 songs present, totalling just 33 minutes of music. The song that put Jimi Hendrix on the map ,,Hey Joe'' has been left out and I also miss an interpretation of ,,The Wind Cries Mary''. Instead Pinnick and Co. chose to do versions of ,,Are You Experienced'', ,,Crosstown Traffic'', ,,Fire'', ,,If 6 Was 9'' (not the most famous Hendrix song), ,,Up From The Skies'', ,,Purple Haze'', ,,All Along The Watchtower'' and ,,Voodoo Child (Slight Return)''. All performed with heart, love and dedication, for sure but 33 minutes is a bit short and then leaving two absolute classics out of the picture. That is a bit odd, don't you think?