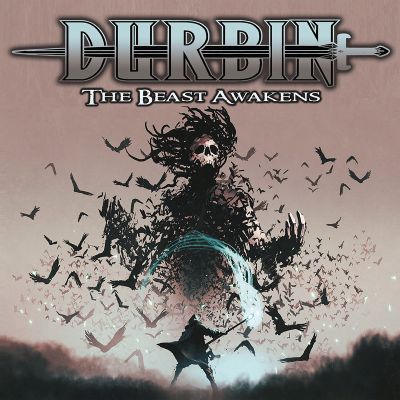 DURBIN-The Beast Awakens
Frontiers Music srl
Some years ago I followed the American Idol series and in Season 10 stumbled on to a certain James Durbin who really did well and got into the top ten. It was obvious from the start that he would never win (even with Aerosmith's Steven Tyler being in the jury) having to compete against smooth USA country boys and sugar sweet female dollies. But he did perform on that show with Judas Priest and made a stand for rock and metal music.
I kept following him but until now his career has never really taken off. His own albums missed really good songs and when he landed himself in Quiet Riot with whom he recorded two studio records ('Road Rage' and 'Hollywood Cowboys') plus the live-registration 'One Night In Milan'. I never found his voice suited to the music of Quiet Riot, who by the way are still going even after the death of band leader/drummer Frankie Banali. James left Quiet Riot while 'Hollywood Cowboys' was being manufactured (the band could not afford to re-record the vocals with Jizzie Pearl who had returned) to follow his own path and that has led to 'The Beast Awakens'.
According to James this is the music that he wants to make and listening to this record it is for the first time that his full arsenal of capabilities come to the surface. 'The Beast Awakens' is a pretty traditional melodic metal record, one that could have been released in the eighties. James has a high pitched voice but he has learned to use it the right way. It is not all about going as high as possible, it is not about screaming on the top of your lungs. James now uses his voice to suit the songs, more flexible, high pitched at some stages but also more controlled and laid back if that is what the song demands. And he has come up with the right songs that showcase his talent as singer and composer. He played electric and acoustic guitar himself but for the solos he hired in a bunch of guitar slingers including former Machine Head axe grinder Phil Demmel who excels on the best track of the album called ,,Kings Before You'', a song that also features the voice of Fozzy vocalist/professional wrestler Chris Jericho. A man that plays an important role on this record is Y&T skin beater Mike Vanderhule who together with Barry Sparks (bass) gives the album a real metal edge from where the other instrumentalist and James can do their thing.
People might find perhaps that the influences of bands like Judas Priest are a bit obvious. That might well be the case but it seems to me that this is just the direction (a mix between classic US and British heavy metal and rock) that is perfect for James Durbin. Maybe one or two songs are a tiny bit shaky as composition but the bulk of the record rocks like hell with James Durbin finally reaching his full potential. Better late than never!