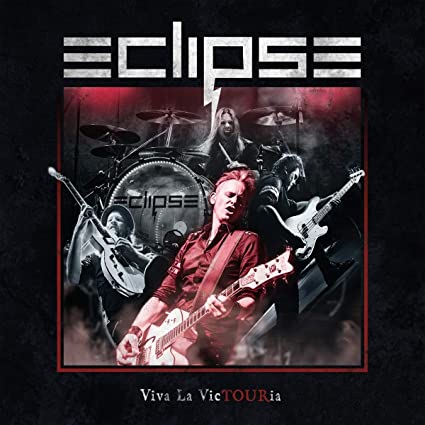 ECLIPSE-Viva La VicTOURia
Frontiers Music srl
If you have been around for twenty years I suppose a live-CD/DVD is in order. Promoting their latest studio record 'Paradigm' Swedish rockers Eclipse were like many bands obliged to cut their tour short because of an out breaking pandemic. But they did manage to capture a performance in Sweden on tape and film before all that shit started. In April 2020 the group also did a pay-per-view virtual show and added some material of that adventure that they called 'Live From The Quarantine' to this release, including some acoustic based tracks.
There are different formats available I believe, from a 3CD/DVD, to a Blu-Ray and 3 LP vinyl, all containing different bonus material including some interviews and tour images on DVD and Blu-Ray while the LP version has some extra songs of that 'Live From The Quarantine' performance. If you have been following this band for the last decade or so you will have noticed that slowly but surely the song material has become 'arena rock' stuff, with big choruses, bombastic rhythms and good time sing along tracks mixed with sensitive ballads. Ideal material for a live release so this 'package' comes right in a time where everybody is hanging out for a concert. Okay, having it in your living room is different than the real deal but at least on this expeditiously executed record you get a sniff, some atmosphere and good music.
Erik Martensson (vocals/guitar), lead-guitarist Magnus Henriksson, Victor Crusner (bass) and drummer Philip Crusner are a tight outfit and the song material they have chosen is a fitting compilation of their career so far. It all sounds pretty dynamic as well and it gives a perfect picture of what Eclipse is all about. Not seen the live footage itself but the music on this record is of such a high standard that not having seen the images (yet, I ordered the 3 CD/DVD of course) is not really a drama. I did not think that 'Paradigm' was their best record in their catalogue but after hearing this I am back on board as especially Martensson's singing is superb (,,Battlegrounds'' for instance complete with a singing and clapping audience). Erik Martensson and Magnus Henriksson have also another W.E.T. album in the can (with Robert Sall and Jeff Scott Soto) for early 2021. Until that time this record and the new Jeff Scott Soto release will do nicely for now!
#eclipse #hbls #headbangerslifestyle #awayoflife