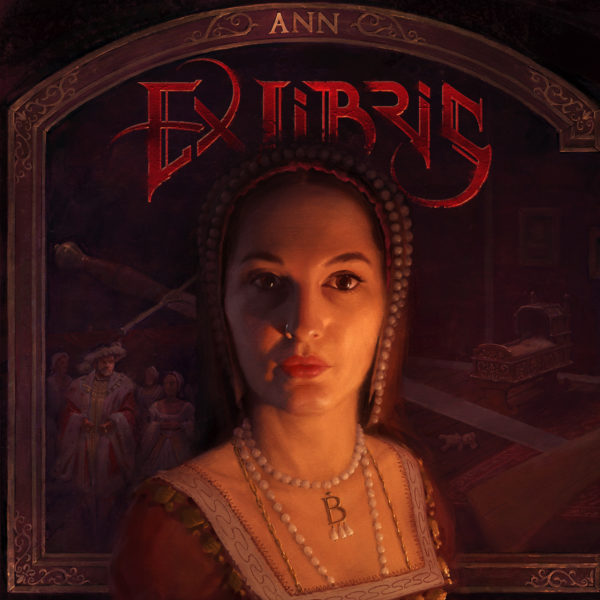 EX LIBRIS-Ann-Chapter I: Anne Boleyn
Independent
With this first chapter of the new Ann trilogy passing me by upon release, I needed to dig it up, as the second chapter was such an overwhelming musical ride, it needs to be reviewed in full. With `Ann' Dutch Epic progressive metallers Ex Libris set out to bring the musical eerie medieval times to life with 3 intriguing stories about important females in history. The first chapter addresses the gross injustice of the decapitation of Anne Boleyn, the 2nd wife of King Henry VIII of England. Boleyn's 3 miscarriages and her giving birth to a daughter disgruntled the king who had her sentenced to death for high treason and witchcraft. Accusations she wasn't proven guilty of.

All of the band's skills are used to bring out the best of singer Dianne van Giersbergen's performance, belting her most impressive job to date. The background of the story makes the operatic soprano shine and she pulls forward with great magnitude. ,,The Courtship" switches with intriguing progressive elements and classical orchestration in which Van Giersbergen displays her operatic skills. The song is packing ominous tones and dives deep with mathematical stop and go elements taking the listeners into multiple layered musical directions and keeping you on edge the entire time. 6 minutes of sheer melodic and eclectic perfection, swinging moods and enchanting sections, unravel the tragic story of this Boleyn chapter. The song is preceded by ,,The Miscarriage", which taps an entirely different vein as it towers with emotion and ethereal pompous arrangements. Emotions oozing, much like on the medieval tinged dramatic ,,The Beheading". The song opens with an intense acoustic guitar melodie and Dianne laying down an intimate performance. Two minutes in, Ex Libris shoots into gear with an arpeggio fired fierce solo that drops the track into a pompous and dramatic mid section. Drums fire up the drive and double bass kicks maintain the urging drive. Swirling keys are adding to the dense atmosphere with Van Giersbergen again delving deep. Her high-pitched scream announces another dramatic turn sonically outlined by progressive poly rhythmic twists and turns. Oppressing chants add an extra emotion to the dramatic emotional rollercoaster ride set in. The impact of the emotional storyline is eminent and makes you reach repeat.

This first chapter of the Ann trilogy surely has me enthused for the second and third chapter. Van Giersbergen belts an impressive job, but it is the band that lays down a bone rattling performance that has heavy progressive metal written all over it. The genius embedded medieval outline is adding up to the time in which the story unfolds and places you in the middle of the story. Due to this introduction to the `Ann' trilogy stakes are high, as are the expectations… But let's first state this EP is mandatory for all fans of progressive metal and epic metal!


#exlibris #diannevangiersbergen #ann #headbangerslifestyle #hbls #awayoflife