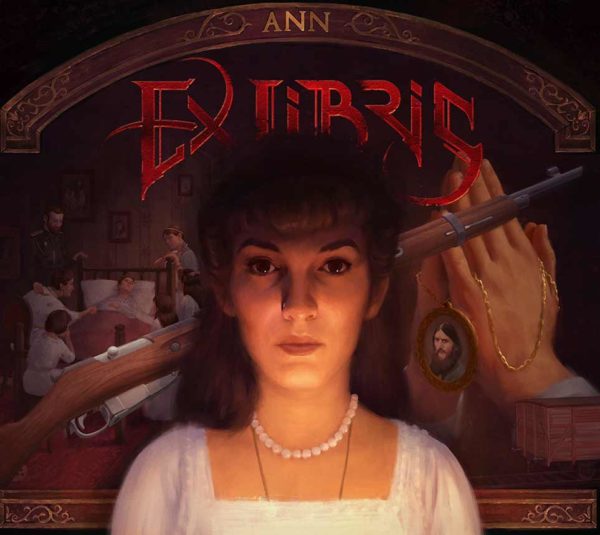 EX LIBRIS-Ann-Chapter II: Anastasia Romanova
Independent
Following Chapter one of the ambitious trilogy `Ann', Dutch gothic band Ex Libris move their scope to the tragic life and death of Tsar Nicolas the 2nd's daughter Anastasia Romanov in the early 1900s. Zooming in on her life and death, Ex Libris manages to bring the story to life with an impressive musical outburst of passion and power, in line with the expectations. A story about the last Tsar family of Russia, brutally executed by the Cheka in Yekaterinburg in 1918, preceding the rise of Communist and Bolshevik party, and end of Imperial Russia.

,,The Motherland" is an ominous paced track that opens the trilogy with a dramatic cinematic entrance soon morphing into a dramatic progressive track with operatic elements and keenly embedded Russian musical sections. Dramatic aria's and towering pompous keys inject typical Russian operatic drama in the vein of Tchaikovsky ,,The Queen Of Spades" (Pikovaya). It is exactly that drama and these keen melodic twists that makes the song enjoyable and leads you off of the impressive progressive outages. These musical underscores warp us directly into the days of reign of the Romanov family. Enrolling in a fluent and natural manner Ex Libris embarks onto the glorious and powerful ,,The Healer", the even more dramatic fused song that has Dianne Van Giersbergen using her entire vocal reach. High (spinto) soprano pitches and outbursts add to the dramatic story and she frequently goes deep with emotional and almost narrative anger laden outbursts. The final song of the second chapter is another sonic rollercoaster packed with energy and tragedy. Melancholic sections go hand in hand with powerful chants as the song unravels the last part of the tragedy. ,,The Exile" is packed with agony and ethereal parts delving deep emotionally. Fierce riffs pull forward and the many riffs are outpours of emotions. Richly orchestrated the 8-minute tracks reaches the widest musical spectre of Ex Libris' back catalogue. Contradicting with the band's 1st chapter of `Ann' the song kicks up a lot more dirt and paws deeper in terms of aggression as well as melody. Especially the soloing is adding to the depth and fierce delivery of the track. The song unfolds in great magnitude with Anastasia crying out to her father the Tsar in despair, begging to save her life. The dramatic 'church' chant makes the song die out with hard anguish.

Ex Libris' 2nd chapter of the trilogy clearly is deeper and more aggressively arranged with the tragedy of the first chapter being moulded into a dramatic musical exercise against a classical Russian operatic background. Ex Libris managed to craft the storyline of this tragedy into an EP with operatic grandeur, a tragedy perfectly executed by a band firing on all engines.


#exlibris #diannevangiersbergen #ann #anastasia #headbangerslifestyle #hbls #awayoflife