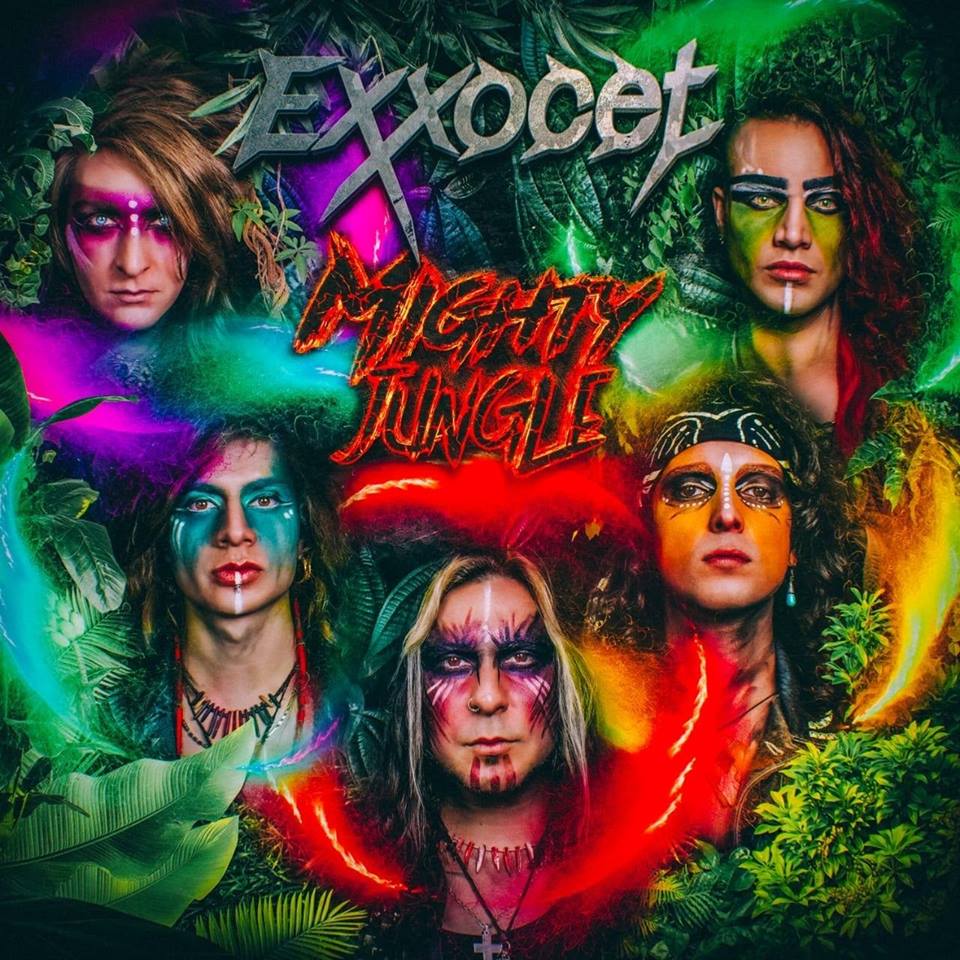 EXXOCET-Mighty Jungle
Available on every streaming platform
Take one bottle of Jack Daniels and serve a shot on the rocks, add a little spice or Tabasco, and shake it up while watching Mötley Crüe's biopic `The Dirt'. But wait: don't forget a modern Steel Panther twist and add two miraculously great guitar players with 80s shred abilities, and mix the entire sh!t up with modern 2019s overall sound and effects. This 3D glam metal portion is pretty much comparable to the Chile glam-stars of EXXOCET!

Plenty of larger than life choruses, enough 'ooohs' and 'aaahs', and some remarkable marksmanship combined with impeccable melodies and sticky tunes… it's all there. Exxocet manages to deliver an impressive album bold as brass and shining with blinding luster. Fusing the 80s glam metal ingredients with a modern twist and native sounds and structures, the band unloads an extravagant and big noisy metal assault upon its listeners. Focal point is the dominance of riffs and the twin guitars fired upon us. Impressive heavy riffs combined with tons of melodic licks and jigsaw technical solos. The guitar tandem Ricci Love L. and Lukky Sparxx fire on all engines and spits fire on the album. The foundation is traditional and driven with drummer Tom Azzter laying down a solid groove with great turmoil from his shuffles and bass drum injections, with Danny Crow adding his low end bass to the mix, creating a perfect and electrifying groove. Very dynamic and driven they draw from double kicked metal and progressive metal, without losing the funky and whammy bass groove either. Vocalist Chris Lion has to work extremely hard to keep up with the musical marksmanship, digging deep numerous times. His voice has a good range and he also belts some impressive screams and howls, but also balances on edge due to the high musical demands. Overall he adds a party poise to the power delivered by the rest and it makes ,,Mighty Jungle" sound like a rejuvenated version of 'the best of Crüe' and Skid Row's most celebrated hymns and power packed Slave tracks. It is sticky sweet, yet intensely driven and powerful. The ethereal intro full of jungle noises unloads in a tribal drum explosion that stretches into the dynamic and furious ,,Cannibal Carnivore", obviously touching base with the [history of] native tribes of the jungle in Chile. Fierce riffs and tremendous power take it forward with screaming guitars, throbbing wild and funky bass, and slick hooks unloading in the bridge and chorus. Typical glam metal fused choirs, but the overall feeling is more metal than ever. The track morphs from shred magnitude to progressive melodic towards the end, with Lion sounding like classic Bruce Dickinson. The title track maintains the same kick and punch, with intense wild riffs and gives a pretty good idea of the album. The same pace is enrolled in the following alive with guitars shifting and a stop and go motion underneath its slick chorus. A modern twist is presented on ,,Night & Day" with high-pitched sounds and piercing solo duels. Lion has a tough time keeping up, and even though he's capable, his stretches are on edge. ,,Summer Nights" is the mandatory party cracker; mega melodic and sticky, with fine melodies laid down by Love L. and Sparxx. ,,Goodbye I Say My Love" is a drop dead beautiful ballad with exquisite guitars that blossom in the powerful chorus packed with layers enhancing the bombast and impact. One of the best tracks of the album, aside the opening 3 piece, is the towering shred track ,,Screams From The South" with its echoing sound effects and urging riffs underneath the 'ooohs' and 'aaaahs'. The arpeggios and sweep picking delivered in the duels are impeccable, and the solos are again up to par with the best of the Shrapnel Records' heydays. Dare I say Becker and Friedman? ,,Tal Para Cual" is sung in their native Spanish language and fits in perfectly. Gain Lion has to work extremely hard and he has the ungrateful job to make the music gel with the vocal lines and lyrics, putting him in a splits. Tremendous screams are let loose in the dynamic double bass kicker ,,Rock & Roll" that again displays the band's impressive capacities. It unloads with sheer power and grunts towards the end with progressive power, putting an exclamation point behind its dying seconds with an Ugly Kid Joe type of ending.

`Mighty Jungle' is the new release following the successful debut `Rock And Roll Under Attack" that landed the band the prestigious 'album of the year' on Radio Futuro in Chile, their homeland. It emphasizes the band's status and their appeal. Exxocet delivers an excellent album that hopefully offers them internationally attention. Musically it will attract a wide array of listeners, given the chance to sink in. Lion is the only factor, which might scare off the big audience, but his job is an unthankful one as stated earlier. Still he fits the profile of the band and adds to the glam metal appeal, also perfectly caught in the band's outrageous and extravagant presentation. Listen in!


#exxocet #headbangerslifestyle #hbls #awayoflife #independent