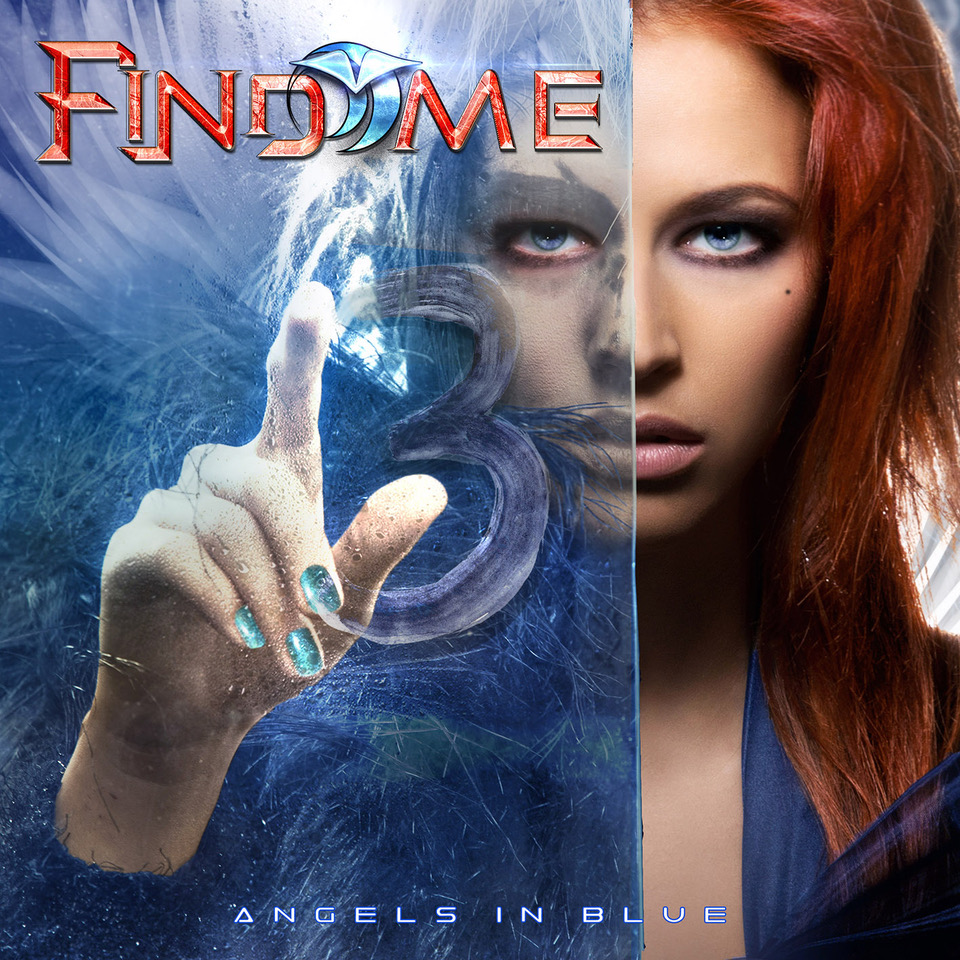 FIND ME-Angels In Blue
Frontiers Music srl
Find Me is the cherished partnership between Blanc Faces powerhouse vocalist Robbie LeBlanc and songwriter/producer Daniel Flores of The Murder Of My Sweet fame. Both AOR personalities and colleagues on the Frontiers Records label stuck together. The mutual connection was what initiated their collaboration, as Frontiers president Serafino Perugino was the one who brought them together for Find Me. `Angels In Blue' is the third loot of their lasting partnership and is expected to be another AOR behemoth chock-full of AOR anthems, like on its predecessors `Wings Of Love' and the slightly grimmer `Dark Angel'. Opening track ,,No Tears In Paradise" picks up where Find Me left off and the duo immediately makes clear the album is mandatory AOR and Melodic Rock textbook material. Giant slabs of swirling keys combined with excited guitar work roll towards a comfortable and nesting chorus with LeBlanc reigning. An over-excited guitar solo build in, spices up the hook-laden anthem. The deliverance of instrumentation combined with ingredients from all over the genre is a trademark of Flores. The production of the album is heavy handed and adds to the pleasure, though its density and pompous garments are somewhat overwhelming. Still, it all adds up under the Find Me moniker.

The album flourishes with rich arrangements and impressive melodies and choruses. Whether it's the Giant reminiscent ,,Chain Of Love" or the more Signal inflicted ,,True Believer", the material bridges the genres gaps throughout the album. Flores and LeBlanc fuse the best and boldest into their own unique blend, immediately making fans feel at home. Survivor's recognizable hymns, Journey and Schon's typical guitar gearshifts, and the melody lines from the best tracks recorded by alumnae's such as Alias, Tower City, Red Dawn, Drive She Said, Network, and the previously mentioned Signal and Giant. Classic songwriters also come to mind like Desmond Child and Jennifer Warren, Mark Mangold and Gregg Giuffria. The Peterik rooted ,,Can't Let Go", though LeBlanc has to stretch to make it work, tends to grow on you from the second spin onwards, as were ,,Living A Lie" immediately nests deep. The whole album just oozes comfort and recognisability and doesn't fail to fire on all engines. Driven it storms forward in majestic manner. LeBlanc really belts an impressive job and does remind me of Mark Free frequently. And by that, I mean throughout his entire recording career. At times he roars with King Kobra magnitude, hits the most iconic soulful vibe from his solo work and Signal days like on the ballad ,,One Last Kiss", or draws from his entire catalogue (`Angels In Blue'). LeBlanc's powerful presence is the key on the album and it must be a delight to compose towards his range. Now recently Flores also produced and recorded with Toby Hitchcock, and with both vocalists differing in style, Flores also managed to highlight their unique abilities. By doing so, both albums have their own unique vibe and ring, but also bear the typical marks of Flores' rich creative sound. Benchmark and rich is ,,Show Me What You'd Die For" and ,,You Are The Only One", before we get treated Find Me's vibrant cover version of the classic Survivor track ,,Desperate Dreams". The song does justice to the original and doesn't stray from the actual version, but it also has a distinguished Find Me note added as LeBlanc injects it with a different tone than the mighty Jimi Jamison (R.I.P). The album is closed with another typical Find Me tune, ,,Only The Lonely", and though it all might occur very predictable and recognizable, it also has you reach or the repeat button immediately. The album features no fillers and sounds electrifying and inspired.

`Angels In Blue' is an exciting and intense AOR gem appealing to fans throughout the genre. It fuses the elusive heydays and classic hymns with a modern production and sound, making it combust with greatness. And even though it walks the predictable paths of the genre, it also feels genuinely honest on the spot. Flores and LeBlanc's collaboration Find Me, delivers exactly what expected and matches the high expectations of fans. Top notch, once again.