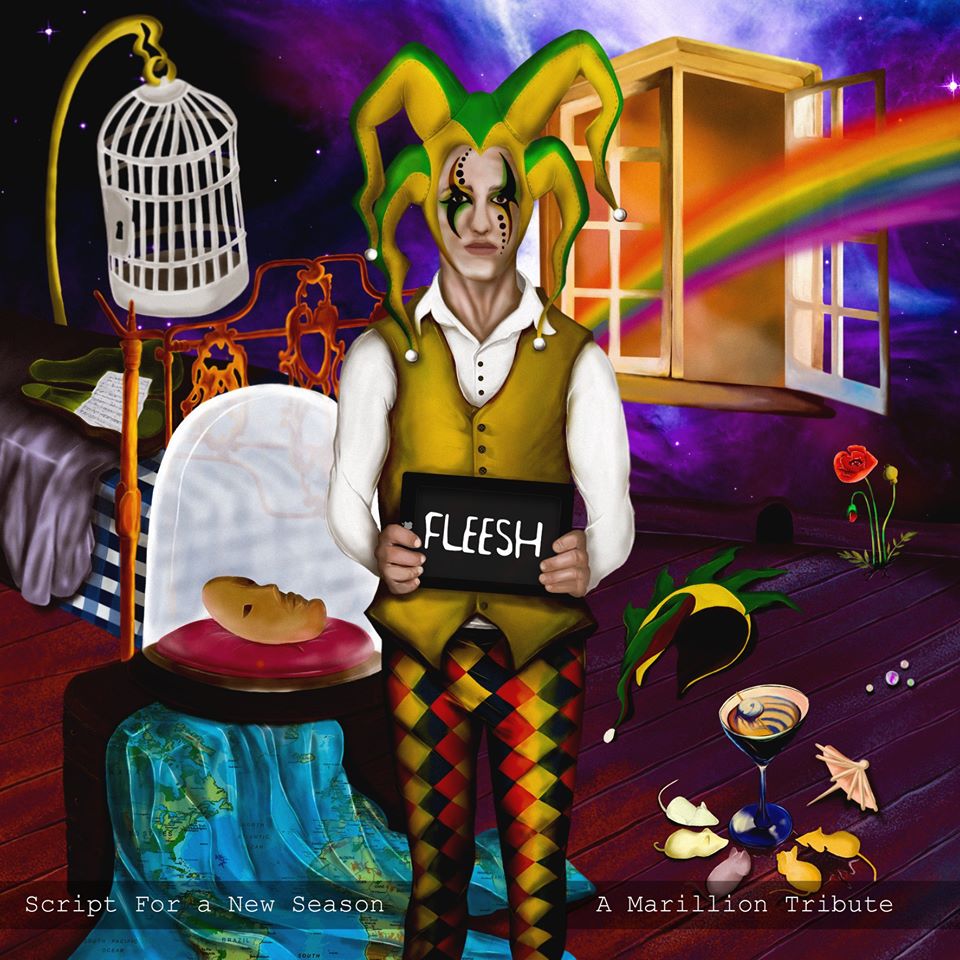 FLEESH-Script For A New Season – A Marillion Tribute
Independent
Like I recently penned down in my Perfect Plan review, I am not particularly fond of cover albums and more specific: tribute acts. I simply can't get myself heading out to hear a band perform tracks from my favourite bands. It likely says more about my personal stubbornness than about the high demand for such concerts, but it is what it is. With Marillion, and especially their Fish era being one of my all time favourite prog bands, I was rather prejudice to Fleesh's release. The Brazilian act recorded `Script For A New Season – A Tribute To Marillion', covering both line ups of the celebrated British band. But at first spin I simpered with love…

The corky collision of recognizable spin offs for the album title, its cover art, and the band's name put a smile on my face, but from the opening tracks ,,Afraid Of Sunlight" and ,,Dry Land" the duo immediately make me enjoy the atmosphere. The orchestration is pretty much kept intact and is polished and powered up slightly, but whelms the comforting familiarity of the originals. Whether it's the Hogarth or Fish era tracks, it is the vocals of Gabby Vessoni that add lustre and comfort. Though you have to get squinted to the timeless classics being belted by a lady, you immediately spot the impressive resonance she adds. Her pronunciation is often off, making her Spanglish extremely more enjoyable as frail art. But all in all she simply makes (all!) the tracks shine. Celo Oliviera is the one man band pasting the colourful foundation for Gabby to shine over. It is hard to imagine this is only a duo recording. His playing is majestic and magical, touching close to Rothery's impressive playing while his keyboards are making the mark on Kelly's swirls. It just oozes a distinct passion and confidence needed to uplift these top tunes. What makes it even more enjoyable is the fact that Fleesh managed to morph the vocals into a comfort oozing unity of both worlds' very best. Hogarth's clean pop/art vocals and Fish extravagance revived into a symbiotic romance of female vocals. ,,Sugar Mice" perfectly fits to the two opening tracks and take us into a powerful execution of ,,Thank You Whoever You Are" and ,,The Great Escape" before fusing styles on ,,Lavender" that shines due to its phonetic performance of lyrics. It adds a warm fuzzy smile.
Unexpected ravishing is the ,,Blind Curve" section from the epic ,,Misplaced Childhood" concept breakthrough album the fluently finds its way into ,,Why Is Nothing Ever True". Astonishing versions of ,,Jigsaw" and ,,Easter" are scattering passion for Marillion's music. Towering towards a grandiose end Fleesh delves deep for the ravishing beautiful version of ,,Season's End" and a very intense atmospheric rendition of ,,Script For A Jester's Tear". It is unloading sincerity and on ,,Script…'' the guitar solo is pumped up to the max injecting Rothery's feeling with well dosed sharp edges. The song lifts off more than the original and it oozes confidence.

Fleesh' `Script For A New Season – A Marillion Tribute' whelms distinguished passion and keeps the originals intact without adding gentle subtleties making them powerful and more pompous at times, or add a timid lustre where ever needed. The balance is wonderful and the musical craftsmanship is on par. Sure the Marillion fans will frown upon this tribute, but I'm convinced it will find its way into the hearts of many aficionados out there. It simply adds comfort and is executed with tremendous respect.


#fleesh #marillion #fish #independent #tribute #headbangerslifestyle #hbls #awayoflife