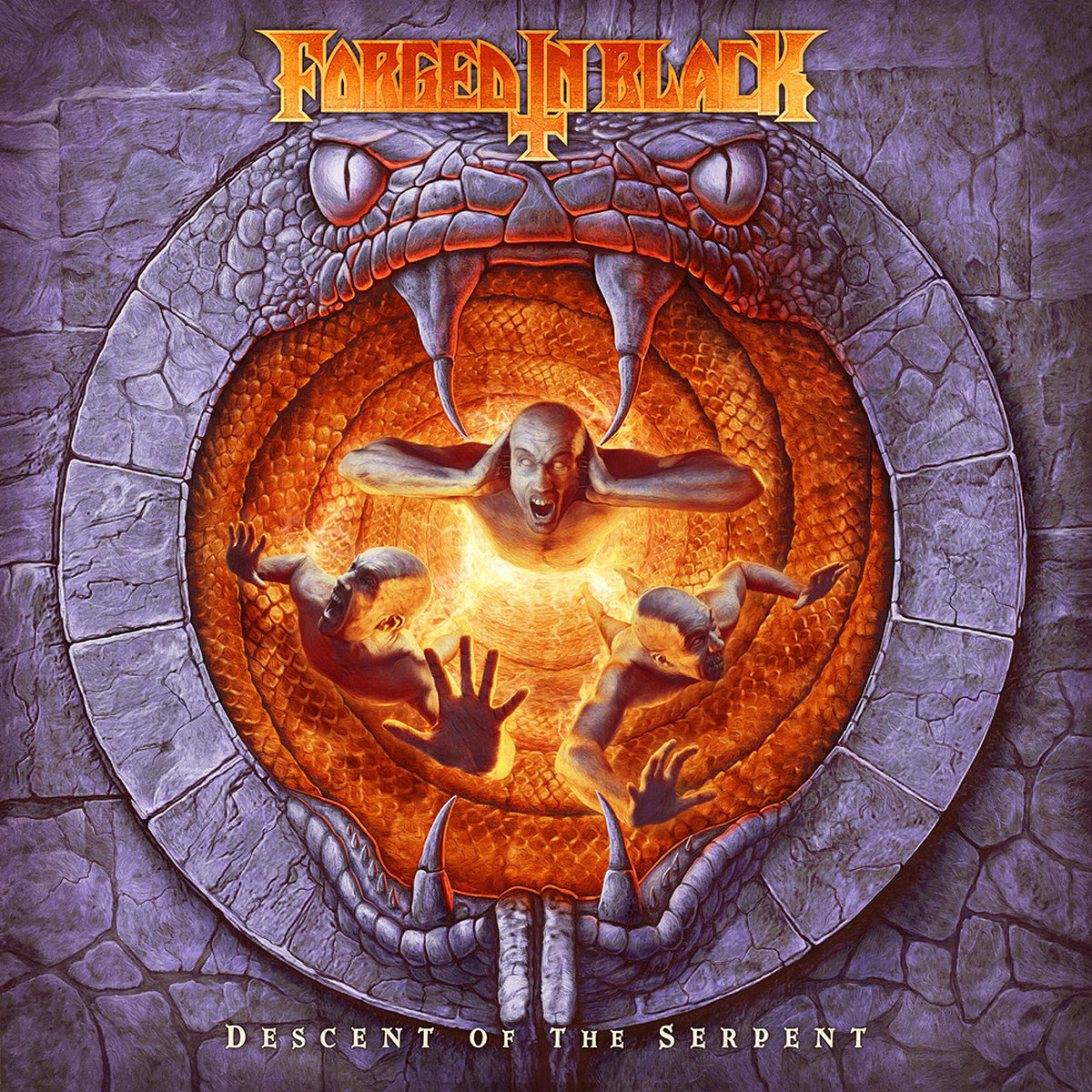 FORGED IN BLACK-Descent Of The Serpent
Fighter Records
Forged In Black is an English metal band formed in 2009 releasing their 2nd full-length album through Fighter Records. With the debut gather attention, and the following EP establishing their name firmer, it wasn't until the following EP's `Fear Reflecting Fear' and `Inner Sanctorum' that the band got noticed. Produced by the late and great Chris Tsangarides the band matured their sound leading to the new album `Descent Of The Serpent'.

Quote: "The Forged In Black sound is pure, unashamed heavy metal, spun from steel threads drawn from across the metal tapestry", as they so perfectly put it in their biography, Forged In Black brings together the past of the genre in its widest variety. With a foundation of Judas Priest like riffs and urge, the band also injected Iron Maiden reminiscent melodies and structures. The bodywork of the songs are overthrown with a sauce of King Diamond witchcraft, Annihilator hooks and riff interaction as well Agent Steel pitches. Spin the immaculate prog track ,,One In The Chamber" to catch my drift. The song dives deep with progressive turmoil to shift into double bass extravaganza slowly morphing to Maiden grandeur. The song fuses Crimson Glory elements with the here aforementioned, while vocalist Chris Stoz switches between Todd La Torre registers and Dickinson power. The song erupts with impressive guitar duels over persisting double bass drums hammering away. Dooming down to creeping ominous pace the band opens towards the furious Annihilator riff-infused ,,Shadowcasters". The backbone of the band, drummer Kev Rochester and bass player Kieron Rochester, lay down a rock solid and progressive driven fundament. It is the perfect Launchpad for guitar tandem Chris Bone and Andy Songhurst to build upon. Walls of riffs are fired upon us. Great twin guitars buzzing forward with thrive, and impressive solo, fierce and piercing. It's a framework for Stoz to work with. His voice flexes wide and he belts an impressive job on this album. A bold collection of progressive metal tracks, that sound comfortable as well as fresh. Nine tracks that pull forward with great stride and come across as a true homage to the metal scene. When the band switches gear on the title track, they also reveal an impressive thrash and speed packed affiliation. It is Forged In Black with its most persistent drive. There's so much going on that I'm totally unwilling to unveil the perfection of tracks on the album.

Forged In Black deliver and intrinsic new album that draws from metal's widest horizons, fusing it into an impressive cocktail appealing to every fan in the genre. The band morphs frequently without losing an overall genuine appeal and packing tremendous wallop. `Descent Of The Serpent' is a must hear for all.


#forgedinblack #headbangerslifestyle #hbls #awayoflife #metal