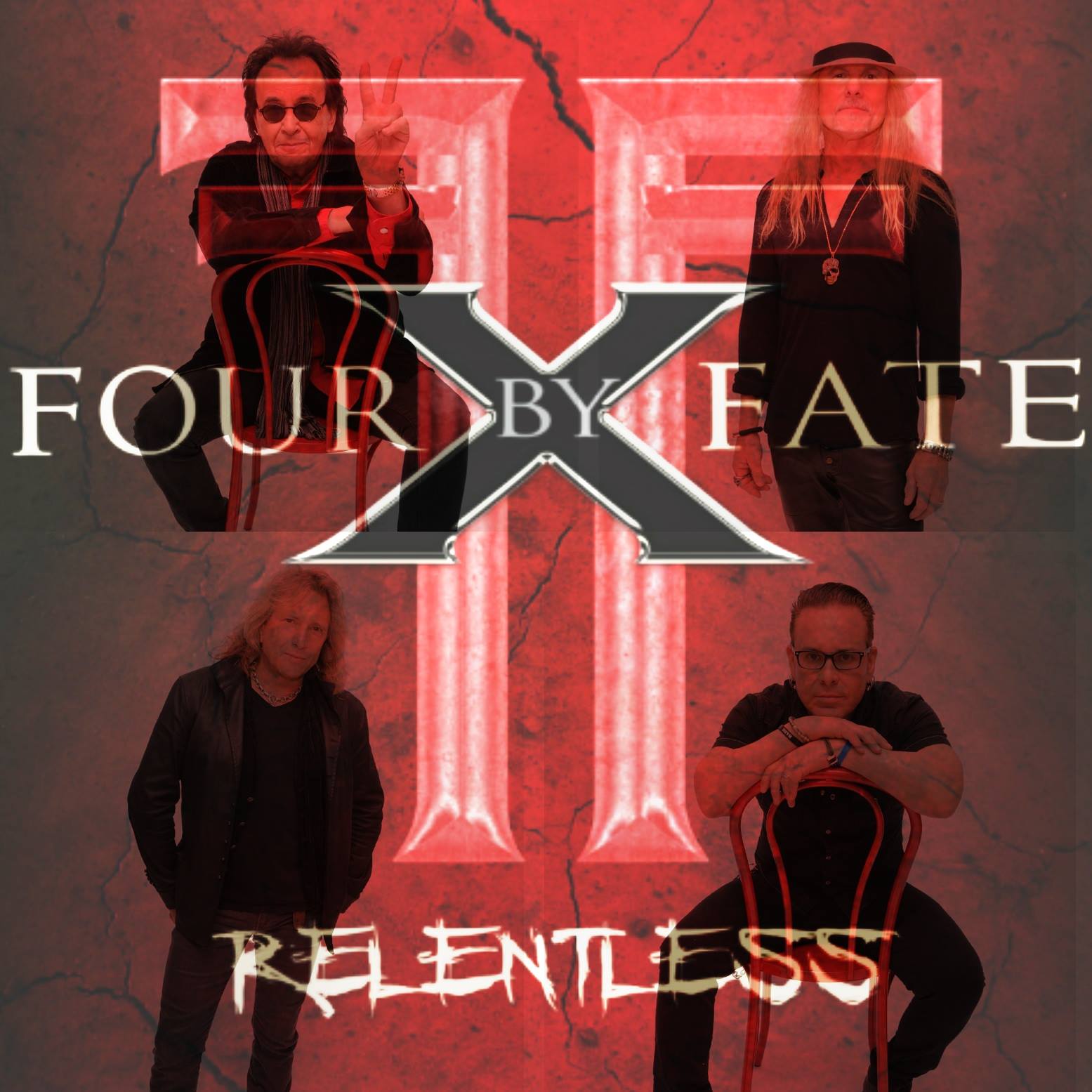 FOUR BY FATE-Relentless
The End Records
Four By Fate's all star cast features alumni's Tod Howard and John Regan of Frehley's Comet alongside Pat Gasperini (Pound, Flyweil) and former Skid Row drummer Rob Afusso. The latter finishing the recording of drum tracks originally started by the late A.J. Pero (Twisted Sister). These 6 songs with Pero were kept in its original form paying tribute to the sticksman, believed these are his last recordings made.
With the backbone consisting of Howard and Regan it is obvious that fans of Frehley's Comet get their share of the action. The music links to that era seamlessly and instead of Ace's monotone vocals Four By Fate leans solely on the vocal excellence of Howard. ,,These Times Are Hard For Lovers'' originally written by John Waite, has melody and blues oozing on this excellent debut. It is also one of three cover songs, two with ,,It's Over Now'' being a Howard/Regan composition originally recorded in the Ace-days. The other cover is an ignited version of Derringer's ,,Rock 'n Roll Hoochie Koo''.
Four By Fate grips back to their classics like they grip back to the heydays of hardrock on `Relentless'. ,,Moonshine'' is bluesy and slick, much in the vein of Aerosmith's best work in the late 70's, ,,Hangin' On'' is sheer melodic 80's excellence. The band goes all ballsy with the powerful Pero drummed ,,Levee Breach'' featuring some powerful chords from Gasperini and Howard. The band clearly enjoyed themselves during the recording process with music sounding raw and energetic. ,,Follow Me'' and the melodic outing ,,On My Own'' are melodic and driven showcasing excellent marksmanship. Absolutely wonderful is the gritty half paced ,,I Give'' with it's raw undefined sound. It shrugs with progrock amid unloading power chords front to back. The mandatory semi ballad ,,Don't Know'' oozes passion for the genre and has tremendous drive. ,,Amber Waves'' is another pristine production with swirling keys and throbbing bass, much in the vein of the second Comet CD.
`Relentless' is a highly enjoyable album and a perfect motorway CD for your car. Even though it has some weaker moments and with the three coversongs casted aside, there is plenty to enjoy. The album is deeply rooted in the classic rock era and breathes nostalgia without lacking a modern sound and approach.