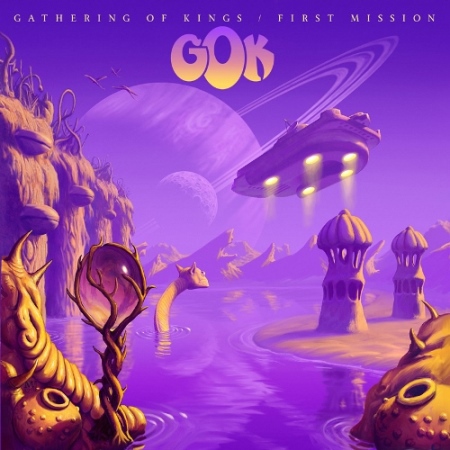 GATHERING OF KINGS-First Mission
RN Records
I buried my face deep into my hands when I noticed the star-studded line up of this new project hailing from the hand of Victor Olsson. Another project uniting rock's finest players and vocalists to me isn't welcomed with applause. I'm a sucker for music and I need a vocalist to keep me up to par with the band's songs. A vocalist as focal point for my acceptance, not present on projects such as Gathering Of Kings. Prejudice rules my heavy heart when I play their `First Mission'.

Though 6 vocalists will throw me off more than once, Olsson has delivered an impeccable piece of musical craftsmanship. The songs are all impressive creations, in the vein of iconic 80's albums, and also bearing reminiscence to good old Asia and Magnum. Tons of keys go hand in hand with subtle guitar work, pulling forward in great pompous perfection. The classic symphonic grandeur of aforementioned 90's genre giants is injected into the perfectly dosed Scandinavian melodies, reminiscent to Treat and Skagarack and likewise melodic rock acts. Overthrown with a modern melodic twist by Olsson and his team, the album progresses in absolute greatness. The vocalic delivery is varied, but the consistency of the song writing is keeping this apart from the sampler-idea I usually get struck by. Gathering Of Kings is simply to compelling. Songs like the opening ,,The Gathering" and the absolutely stunning ,,Endless Paradise" are to exquisitely arranged and executed with passion and spirit. Even the 'uuuhhhs' and 'aaahs' don't disturb me, as all players deliver their A-game, and the craftsmanship is radiating off the recording. Subtle piano swirls break us into ponderous drum and bass, while guitars fire on all engines. Fierce riffing or delicately dosed melodic riffs vary frequently. ,,Saviour" is over the top as well as it is nesting. At times Alcatrazz comes to mind as well as Asia, which in all awkwardness is as disturbing as comforting. It is this impossibility to label the songs, which makes the album such an astonishing piece of work. Whether it is Apollo or Atzi, Strid or Westin handling vocal duties, the tracks keep breathing excitement. Much like Night Flight Orchestra, the album cooks up the past in a modern and easy to devour rock potion, but avoids the lurking predictability with its alluring aura. Transcending melodic rock and AOR into a refreshing new sonic cocktail, towards an addiction. Without discarding any of the tracks I favour the impressive oozing ,,Passing Rain" with its Scorpions-alike opening, the sing along rousing ,,Out Of My Life", and the guitar driven ,,Angels". An oddity is ,,The Runaway" from the Gibbs-brothers' pen. It's a pleasantly memorable track right up the alley of Gathering Of Kings and perfectly moulded into their album.

The production by Thomas 'Plec' Johansson (Soilwork, Night Flight Orchestra) is up to par, open and powerful. The cover art by Markus Vesper instantly reveals the albums' connection with (later) Asia releases and bears resemblance to the Yes era of AWBH. Graphically it doesn't instantly line up with the presented music, but it does link to the classic symphonic tendencies.
`First Mission' immediately overthrew my prejudice with its fine tuned blend of melody and symphony. Olsson does ante up as one of the creative talents to keep an eye out for. His feeling for melody and the overwhelming soothing symphonic elements from genre defining classic releases is impeccable. Gathering Of Kings is definitely an album that will frequently spin in my lists. Make sure you grab a copy, or at least give it a listen at one of the many music platforms like Spotify.
Musicians:
*Rick Altzi – Vocals (Masterplan, Herman Frank, At Vance)
*Björn Strid – Vocals (Soilwork, The Night Flight Orchestra)
*Apollo Papathanasio – Vocals (Spiritual Beggars, Firewind)
*Tobias Jansson – Vocals (Saffire)
*Jens Westin – Vocals & Guitar (Corroded)
*Alexander Frisborg – Vocals (Helldog)
*Victor Olsson – Guitar & Keyboards (Saffire)
*Stefan Helleblad – Guitar (Within Temptation, Jono)
*Martin Sweet – Guitar (Crashdiet, Sister)
*Erik Martensson – Guitar (Eclipse, W.E.T, Nordic Union, Ammunition)
*Nalle Påhlsson – Bass (Therion, Treat)
*Richard Larsson – Keyboards (The Night Flight Orchestra)
*Chris Laney – Keyboards (Pretty Maids)
*Erik Wiss – Keyboards (Cap Outrun)
*Jonas Källsbäck – Drums (The Night Flight Orchestra, Mean Streak)
*Efraim Larsson – Drums (Streamline, Diamond Dawn)
*Robban Bäck – Drums (Mustasch, Eclipse, Sabaton, W.E.T)
*Henrik Sethsson – Backing Vocals (Casanovas)


#gatheringofkings #headbangerslifestyle #hbls