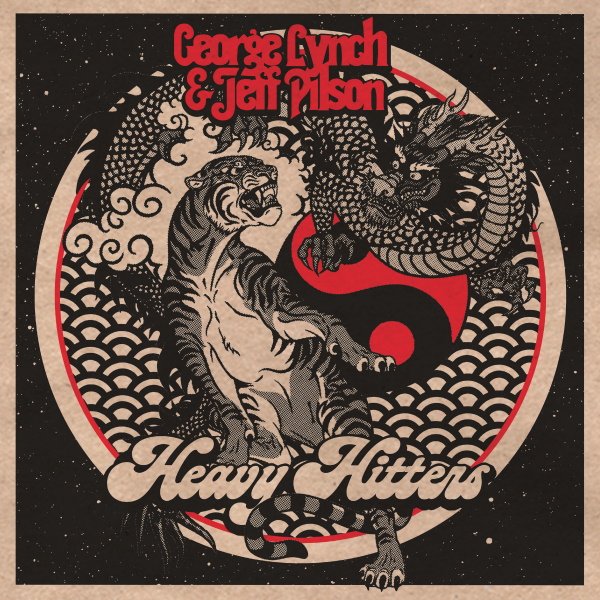 GEORGE LYNCH & JEFF PILSON-Heavy Hitters
Deadline Music
To enthusiasts of the heavy genre that have been around for a few years, the names of guitarist George Lynch (ex-Dokken, Lynch Mob) and bassist Jeff Pilson (ex-Dokken, Foreigner) will definitely ring a bell. They have teamed up for this new project. The two have, besides being part of Dokken, more recently made music together as a duo on the 2003 album 'Wicked Underground', which was recently reissued on vinyl, as well as with other projects such as T&N and The End Machine.
Together with yet another heavy weight in the genre, drummer Brian Tichy (Whitesnake, The Dead Daisies) they have recorded a collection of cover songs. But not in a traditional way. Not even close!
Songs like Joan Osborne's ,,One of Us", Duran Duran's ,,Ordinary World", Madonna's ,,Music" or Oasis's ,,Champagne Supernova" are probably not songs that are part of the average Hard and Heavy listener.
So, I hear you think, they did not write any of the material themselves for this album. Exactly, but what they did do is, rewriting these funky, pop anthems into songs that have ALL the trademarks these guys are famous for and present us an album of Hard and Heavy songs. Jeff's lead vocals on this album are more than solid. George's guitars are top notch and Brian is a drummer who, as always, delivers a hard hittin', smashing and swinging groove.
Opening track ,,One of Us" starts with a typical Lynch intro riff. But by the middle of the song all heavy registers are opened up and the screaming guitars, thundering bass and drums, make this a song from another dimension. A great mix of Lynch Mob/Dokken blows out of the speakers. And I haven't even mentioned the stunning guitar solo yet.
This song sets the mood for the rest of the record. ,,You Got To Love" (Original by Chaka Kahn), begins absolutely funky, and yet with typical Lynch trademarks. The poppy ,,Music" of Madonna has made room for the fat, almost industrial sound of Lynch/Pilson. Damn this is the first time I could enjoy this song.
Normally I do absolutely reject albums like this, but when pulled off brilliantly like this one, it is absolutely a treat to my ears. And certainly because the album is mixed and mastered with crystal clear sound. When you like the duo's past work, this album is most definitely a must listen. They have managed to turn these covers into something that feels and sounds like modern hard and heavy songs of their own. Once again they prove to be part of the top artists/musicians in the genre.

Track List: 1. One Of Us (Originally by Joan Osborne)
2. You Got The Love (Originally by Rufus & Chaka Khan)
3. I Feel The Earth (Originally by Carole King)
4. Ordinary World (Originally by Duran Duran)
5. Music (Originally by Madonna)
6. Apologize (Originally by OneRepublic & Timbaland)
7. Nowhere To Run (Originally by Martha Reeves & The Vandellas)
8. Kiss (Originally by Prince)
9. It's The End Of The World As We Know It (And I Feel Fine) (Originally by R.E.M.)
10. Champagne Supernova (Originally by Oasis)
11. Lucille (Originally by Little Richard) BONUS TRACK [CD ONLY]