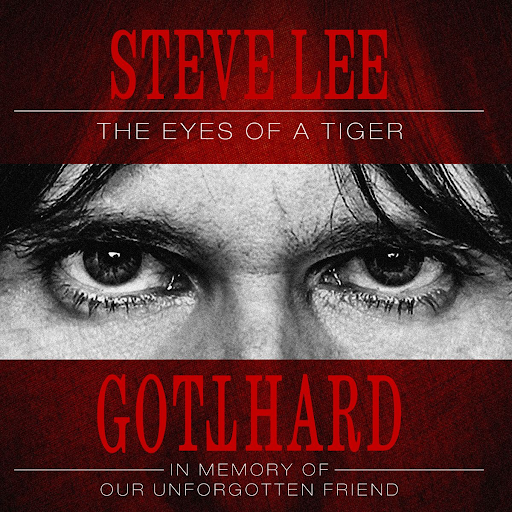 GOTTHARD – STEVE LEE-The Eyes Of A Tiger In Memory Of Our Unforgotten Friend!
Nuclear Blast Records
On October 5 2020 it was exactly ten years ago that Steve Lee, the enigmatic vocalist of Gotthard, was unfortunately killed on Route 66 on a trip of a lifetime that he undertook with his girlfriend and Gotthard bass player Marc Lynn. While standing by the side of the road his parked motorcycle was hit by a swerving truck and hit him so hard that he died a short time later. His mates of Gotthard mourned but knew that Steve wanted them to carry on and they found a very good replacement in the person of Nic Maeder. But Steve was never forgotten. The plan was to organise a memorial concert for him but because of the COVID-19 pandemic that was not possible. The next best thing was to have a look in the musical archives of the band resulting in this acoustic CD. Band leader Leo Leoni dug up several tapes with Lee singing and the band has built around that. Obviously a very emotional affair as bass player Marc Lynn explained in the press info. The CD actually features only two unreleased songs, the bulk of the material should already be known by fans.
One of the all-time favourite songs of Steve Lee was the Survivor track ,,Eye Of The Tiger''. The Gotthard version features an electric and an acoustic interpretation of the song that took Survivor to the top. Both times Lee nails the vocals of Dave Bickler with ease. What can you say about this CD than that it is a moving and fragile affair? When you hear the opener ,,One Life, One Soul'' it already brings a tear to your face as Steve Lee's singing is so emotional. This song still gives me goose bumps as does the whole CD actually as the acoustic side of Gotthard was one of their absolute strong points. Ten years have flown by, it is hard to believe that it has been ten years since Steve Lee died. But his music brings comfort and good memories as does this release!
#gotthard #stevelee #hbls #headbangerslifestyle #awayoflife