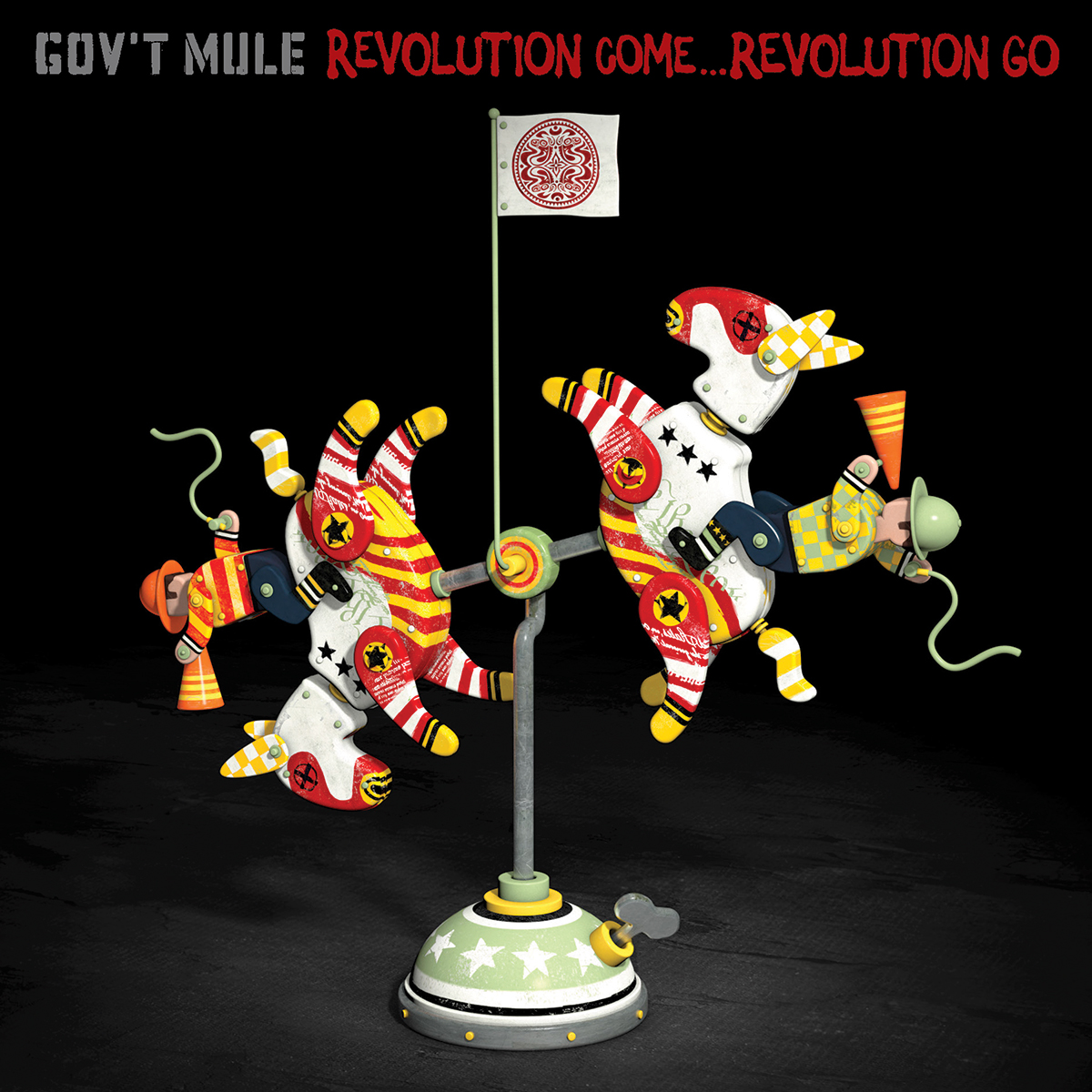 GOV'T MULE-Revolution Come…Revolution Go
Fantasy Records
It was about time for a new record of Gov't Mule as the last release 'The Tel-Star Sessions' (2016) was a record with some very early recordings from the early days of the band around singer/guitarist Warren Haynes. I first bumped into Haynes around 1989 when he was part of The Dickey Betts Band and released the album 'Pattern Disruptive'. Because of his connection with Betts Warren got a spot in The Allman Brothers Band as well.
FIRST SOLO-CD
In 1993 he came up with his first solo-CD called 'Tales Of Ordinary Madness', a CD that I will take to my grave. Even 24 years after its release that record is still a huge highlight in his discography and my music collection. Around 1994 he started Gov't Mule and since that epic first album and successor 'Dose' almost every record and live release or DVD was just fantastic. He also released solo records in between the years like the acoustic live-CD 'Live At Bonnaroo'. On his solo stuff Warren played around with some different styles but with Gov't Mule he more or less kept producing solid rock with influences from the blues and southern rock. Well, the new record does not disappoint, far from I would say. I managed to get my hands on the Deluxe Edition which is a 2CD version where the second CD has six extra tracks. There is also a single CD and a vinyl version.
I would advise to go for the Deluxe edition if you can as is has some songs that are just outstanding like ,,Click-Track'' a pounding rock song with a lyrical message or shall I call it a statement from mister Haynes. He is just saying that he is sick of modern music being created via computers. According to Warren it is and always will be about making genuine music, where guitarists can play and write songs and where drummers are able to keep a steady beat without using a click-track (he mentions Charlie Watts of The Rolling Stones as a prime example of a guy that is as steady as behind the drums). Music made the old fashioned way! The songs ,,What Fresh Hell'' and ,,Outside Myself'' also are tracks on the Deluxe edition that are not on the regular CD as are the live studio versions of ,,The Man I Want To Be'' and ,,Dark Was The Night, Cold Was The Ground'', again two solid melodic rock songs where the warm voice of Haynes shines (the regular CD contains the studio versions). And there is a 'alternate version' of title track ,,Revolution Come, Revolution Go'' to be found on the bonus disc.
If you opt to go for the standard CD you still have something to look forward too, with close to 78 minutes of playing time. Gov't Mule is a band where feeling, emotion and quality are very important parts of the total package. Haynes has this very specific guitar sound and style that just is not only based on skill but also on emotion. This man speaks through his guitar. Is the music on this CD any different when you compare the record with some older work? Yes and no. There are several songs on the CD that are typical Gov't Mule, but there are one or two exceptions as well and that is for me one of the most important reasons to keep investing in this bands material. Take ,,Sarah, Surrender'' for instance. It is a rock song heavily influenced by soul (especially the background vocals) and the guitar sound just has a certain 'George Benson' feel, adding just another flavour to the rich sound this group has developed in their 22 /23 years of existence.
Gov't Mule is a band that gives you a certain amount of familiarity with their stability in song writing and performance, but there is always room for something slightly different. That is why for me 'Revolution Come…Revolution Go' is yet again a must have CD if you are into this outfit. The quality and warmth that comes of songs like ,,Pressure Under Fire'', ,,Drawn That Way'', ,,Easy Times'', ,,Dreams & Songs'', ,,Thorns Of Life'' and ,,Burning Point'' (with a guest appearance of guitarist Jimmy Vaughan, the brother of Stevie Ray) is captivating. A record to embrace with both arms!!