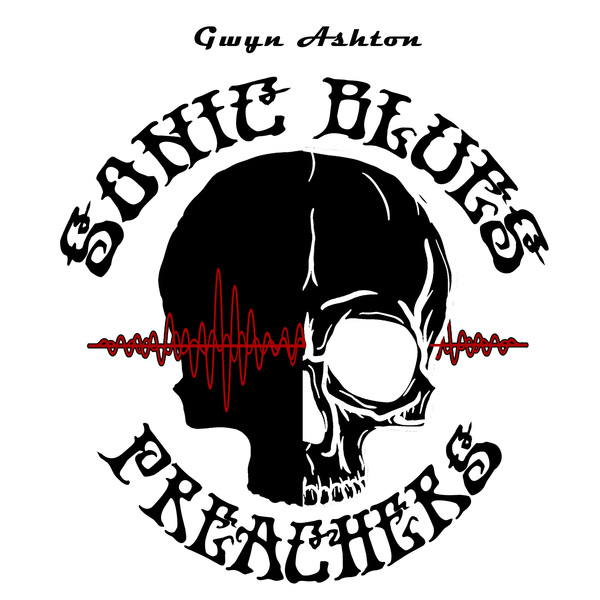 GWYN ASHTON-Sonic Blues Preachers
Magic Circle Music
It is sonic, it is blues… and hell: it even is preaching.
Not the gospel, or you must be an adept of the blues gospel.
One-man performing-clan Ashton teams up with John Freeman, infamous as the drummer of Bonn Scott's pre-AC/DC days with Fraternity, who provides a groovy beat resonating wild.

Right off the bat it is the typical Gwyn Ashton sound welling from your speakers. It is rough, loud and sharp on the edges, with blistering scorching guitars. It is compelling and the lyrics are adding to the poise. ,,She's What I Like" and ,,Candy Store" are on point with his benchmark sound and will appeal to fans of his expanding legacy. It is exactly that same gritty and gut wrecking sound of the two first tracks that keep shifting over his album in almost perpetual motion. The bottleneck occasionally occurs and slides over the strings (,,This Old Fool"), but it is mainly the distorted mash of riffs and hooks that stir up emotions underneath Ashton's intense and alluring delivery. Though Ashton is a gifted player delivering gut wrecking urge over somber tendencies, it his voice that is "love it or leave it". Gritty and appalling Ashton draws from his anger and emotion rather than being the radiant and outstanding vocalist. It adds up to the overall grit and gravel on the songs, but it is less appealing to me. I just can't get into it, and with the album also falling into a somewhat monotone and less intense buzz about 6 songs in, `Sonic Blues Preachers' loses it's behexing magic with each lick delivered.

The album is an analogue in your face gritty album, packing impressive musicianship and pebble-stone hard rough bluesrock. `Sonic Blues Preachers' packs tremendous power but unfortunately also still features Ashton's harsh vocals, and his somewhat psychedelic intonation is lacking the appeal to lift this album from mediocrity. Unfortunately. Adding a radiant voice to his ambient gritty blues, Ashton could aim higher than his regular crowd.


#gwynashton #acdc #headbangerslifestyle #hbls #awayoflife