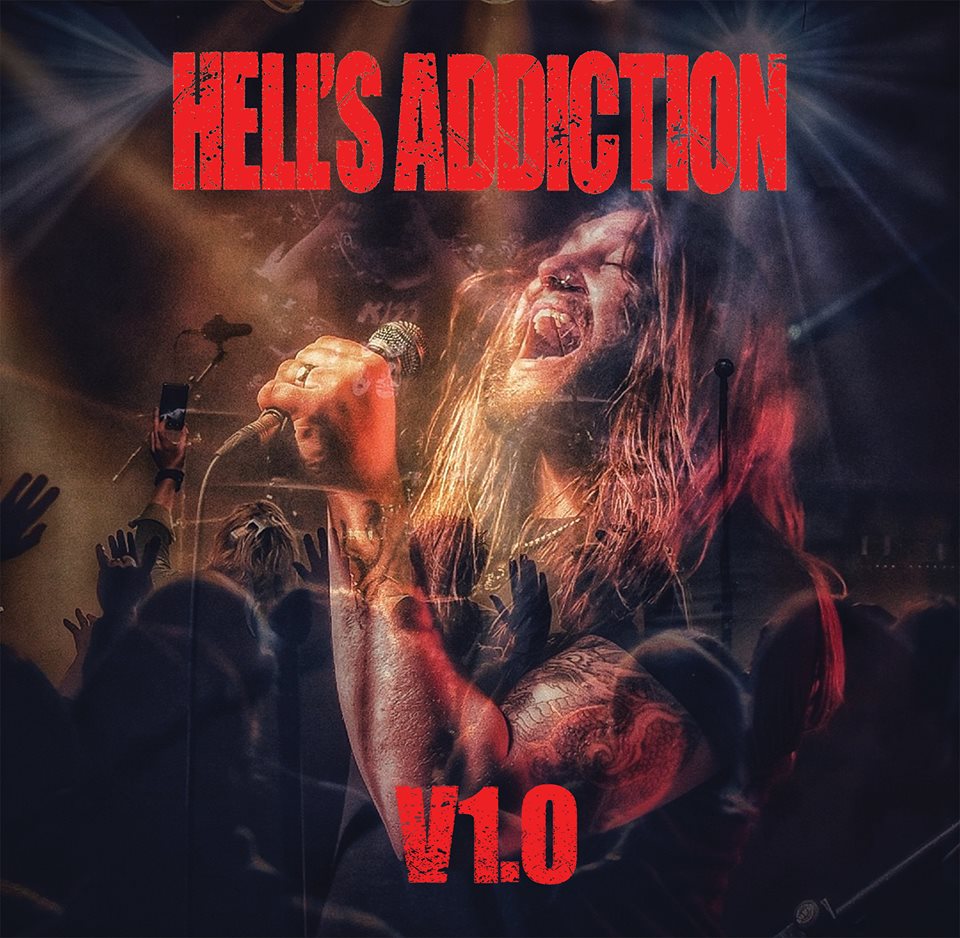 HELL'S ADDICTION-V1.0
Independent
Two albums in, the addition of Dan Weir (guitar) orbited Hell's Addiction's creative stride, dropping no less than 3 new single releases on their YouTube channel. All three shown distinct growth and reveal the band pushing the envelope. This 4 track EP displays the band being on top of their creativity.

Hell's Addiction combines the best of the late eighties when Skid Row and Mötley Crüe ruled the airwaves. A raw and driven cocktail of melody, tremendous power and drive, combined with a rigid edge. Fierce riffs are scattered around topped off with blistering solos with Wylde-ish lush poise. Drum and bass are in front of mix as are Ben Sargent's raw vocals. ,,Free Your Mind" is an uproar of emotion with a kick 'n punch. ,,Masking The Pain" delves deeper with riffs divided between Liam Sargent and Weir. The song towers with emotion without losing its subdued pain. It paves the way for the impressive semi ballad ,,If Time Stood Still". It paws deep. Emotionally pulled forward by bluesy sweep picking and lush soloing. A captivating short-lived bridge/chorus reoccurs before the song swirls up with emotionally. 3 minutes in the song start to really grip with towering melodies in an emotional roller coast towards the grand finale. With ,,Running Away" the band returns to form with a riff driven fist puncher. Ben delves deeper switching his vocals between a loud roaring anger-laden Seb Bach and the slickest Davy Vain has belted. The song rocks forward with grit 'n gravel spit up high: Melodic and loud.

Hell's Addiction delivers an addictive psycho-cocktail of sleaze rock's finest ingredients. It fuses the impeccable melodies of Skid Row and the Crüe with the rawer edge of Faster Pussycat's finest tunes. Labelling them the 'bastard child' of the above however would do them injustice. It is fierce, driven and wild. The party element is present, but Hell's Addiction reveals darker and more identifiable modern lyrical mastery. Fans of blistering hard rock have to check it out!


#hellsaddiction #headbangerslifestyle #hbls #awayoflife