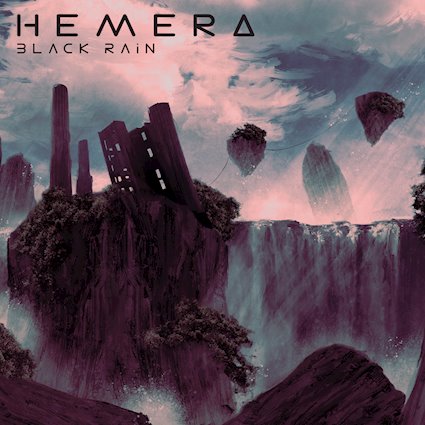 Review | HEMERA-Black Rain
Underground Symphony
CRISTINA VALENTI
Hemera founder and main composer Gianluca Ferro is no stranger to the metal community. Since Time Machine, Doomsword and Breath of Nibiru he has been involved in a host of projects and as a tutor at the prestigious Modern Music Institute (M.M.I.) adding his skills and expertise. On this Hemera debut he lends his talents to Cristina Valenti, an Italian studio vocalist best known for her background vocals for none other than Eros Ramazzotti and others, alongside her recording duties on many national jingles and TV tunes. Hemera however moves in an entirely different direction.
FRETBOARD WIZARDRY
Canning the talents and versatility of both renowned musicians Hemera's `Black Rain' benefits from the musical guidance of Alessandro Del Vecchio who structures the music, perfectly matching the wide range of Valenti and impressive power brought to the plate by Ferro. The title track is a high-tech symphonic tack centred around Valenti's versatile vocals. She switches and pitches in finest form. Meanwhile, Ferro pulls opens all registers in his wide array of styles unleashing extravagant riffs and solos rich of texture. The solo featured is colourful and progresses with the fretboard wizardry expected. The overall sound taps into the epic symphonic goth genre but is deepened by a modern industrial tech approach experimented by Ferro and Del Vecchio.
PITCH PERFECT
,,Mary's Silence" is ultra-high-tech with symphonic elements underneath the industrial laced keys. A forceful riff sets it in motion with Valenti adding her vocalic skills. Elemental soprano vocals are bordering with heavy metal chord exercises as the song intensifies with progressive elements and furious notes dropped by Ferro. ,,27" again bears modern industrial ingredients contrasting with the pitch perfect melodic side of Cristina's insanely wide range and wonderful execution. It is refreshing and appealing. Only 2:49 running it also displays the skills of the creative team composing. So much going on and over in a heartbeat; remarkable. A trick repeated on the interesting ,,Tik Tok" with its insane melodies and heavy progressive drums programmed. Muscular riffs and Valenti's powerhouse vocals give it a heavier than metal vibe. The groove is intense while the musical instrumentation is delicate and deep.
1000K
,,Mimosa" is the band's first video, released 3 months ago generating little exposure. "Little" because this band certainly deserves a 100K mark to be hit judging their unique approach to metal and distinct compositional stubbornness. ,,Mimosa" borders with the elemental symphonic and epic ingredients of the genre, evolving in an ominous tenure. Limited industrial elements apparently discarded in favour of the classic symphonic ingredient. Ferro/Valenti however display their enormous potential as performers with the song's strengthening up to the end where it casts a dark spell and explored heavy prog while Ferro fires on all engines. ,,Grace" also features an epic symphonic execution with industrial tech sections injected subduing Ferro's metallic groove in its opening.
Picking up the metal shreds 1 minute in, the songs slowly transfer into a metallic translucent track with melancholic keys underneath its heavy progressive instrumentation. The cinematic section in the middle is colourful with Valenti shining brightly. Frail and appealing she colours it vividly with her voice. Refraining on the number of notes fired, Ferro plays a serving role relaying on a heavy dry riff before unloading a wonderful melodic solo.
KATE BUSH
Opened with the same tasteful vocals as the previous track, ,,Beak the Game" is an impressive track constructed around a sharp riff and great vocals and melody. The folkish melody during the bridge evokes traditional gothic sympho spirit without lacking the typical punch and kick of Hemera. Going all in Cristina and Gianluca explore the boundaries of their palette on ,,Love Flame". Slow moving it pulls forward with classic allure and swing added by the string arrangements. Monumental are Cristina's vocals delving deep in the pop-genre. Kate Bush-like pitches and vocal gymnastics embedded in a colourful setting. Picking up pace and power Ferro's solo is metallic contrasting with the tenure of the track, but the interaction towards the end is simply astonishing displaying Hemera's potential.
Ending the album is ,,Black Rain pt. 2" making it go full circle. More techno and industrial this time, the track sums up the band's focal points and displays the duo's remarkable interaction. `Black Rain' is an album displaying the great potential and marksmanship of Valenti and Ferro. With Del Vecchio adding his productional skills, Hemera is a project made for the future and it certainly deserves to be noticed by a wider audience. It is enchanting and fierce metallic with industrial edge, embellished in gracious script.
Hopefully Ferro and Valenti find time to construct a band and tour the European stages. Hemera needs to be heard.