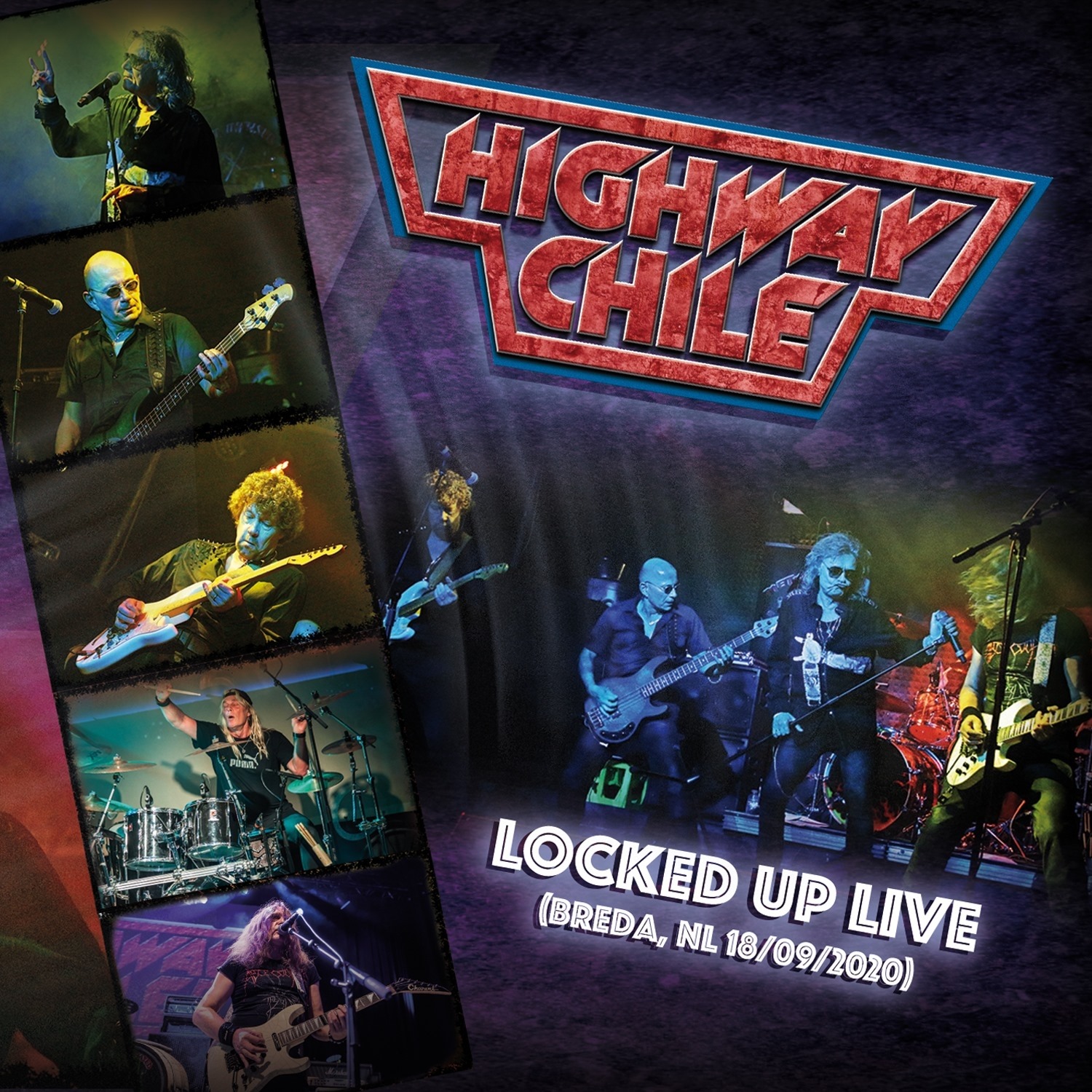 HIGHWAY CHILE-Locked Up Live
Independent
In the 80s Highway Chile together with Helloïse, Picture, Vengeance, Bodine, Vandenberg and Vandale were the frontrunners of the Dutch heavy rock scene. On September 18th , 2020 they were one of the few bands that performed in front of a live audience. Although the atmosphere was far from rock worthy [the audience had to sit down and were not allowed to move from their seats], it was better than nothing. The few people at this sold-out show saw the return of originalguitarist Ben Blaauw [who founded Helloïse after he and drummer Ernst van Ee left Highway Chile] and a guest appearance by guitarist Gert Nijboer, who left the bands a few months earlier.
Because it was labelled a Highway Chile show, the bulk of the songs came from their classic debut album 'Storybook Heroes' [1983] being ,,Highway Chile'', ,,Jesse James'', ,,Carol (Lady Of The Dark Room)'' [funny that I only just heard that it has the same riff as Heart's ,,Barracuda''], ,,Going Blind'' [with a nice Blaauw/Martin Mens twin solo] and ,,Headbangers'' combined with ,,Fever'', a song that only appeared on an EP and some recent songs from the 2008 album 'Keeper Of The Earth' with the title track, ,,Run Away'', ,,Dreaming Of Heaven'' and a great version of ,,Poison''. To make the perfect balance there are also a few Helloïse songs thrown in [because most members are also in that band] from their debut 'Cosmogony' [1985] the ballad,, For A Moment'', songs ,,Gates Of Heaven'' and ,,Hard Life''.
The sound on the album is very honest, what you see is what you hear. No overdubs, it is just as it was that night including some minor 'mishaps', which also has its charms. Singer Stan Verbraak still has the screams and the melodies. The rhythm section with Ernst van Ee [drums] and Marchell Remeeus [bass]is solid and the guitar tandem Blaauw and Mens sound like they have always played together.
For the older rock fans amongst us it is a 15-song trip down memory lane, for the younger ones a nice introduction, and it speaks for the quality of the songs that they haven't lost anything of their former appeal, so they are timeless.
This is a piece of Dutch hard rock history and therefore highly recommended.