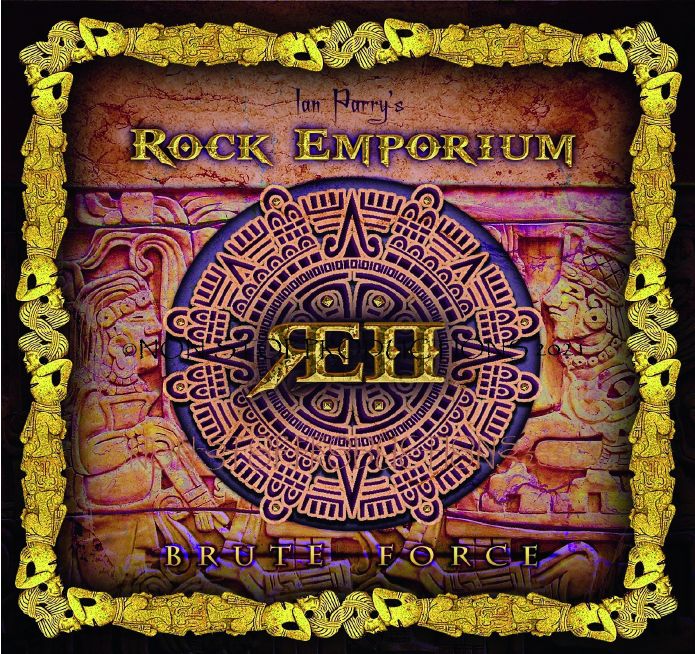 IAN PARRY'S ROCK EMPORIUM 2-Brute Force
Metal Mind Productions
After the release of his fifth solo-album 'In Flagrante Incognito' singer/composer/producer Ian Parry started working on his second Rock Emporium Project, also in celebration of his 40th year as a professional musician. Ian spent the bulk of his career in The Netherlands as he came out from the UK many years ago to front the band Hammerhead. Ian liked life in The Netherlands and stayed working later on with bands like Vengeance and Elegy before starting his own thing.
Throughout the years Ian has guested many times on projects but it is safe to say that his own 'career' took centre stage. Ian has built up an enormous amount of musical friends on who he can draw for assistance when he records his own material. One of them being French guitarist Patrick Rondat who has made an appearance on several other albums made by Ian. Also a lot of Dutch musicians lend a helping hand on 'Brute Force' like bass player Martin Helmantel (played with Ian In Elegy), bass player Jan Bijlsma (once a team mate in Vengeance), Delain-guitarist Timo Somers, Kayak's Kris Gildenlöw (bass) and many, many others. Even Chalice Of Sin singer Wade Black (ex-Crimson Glory) makes an appearance on 'Brute Force', an album produced by Ian Parry himself in co-operation with Italian guitarist Fabio Calluori who primarily handled mixing duties.
The first Rock Emporium album was recorded in 1998 so obviously there is a long time between the first and second album. When you look at many musicians that have contributed to this album it must be said that 'Brute Force' has a real band feeling, mainly because of Ian's powerful yet melodic voice being the binding factor. Style wise 'Brute Force' is a neo-classical heavy rock album. Ian Parry certainly does not claim to have reinvented the wheel with this album, it is more a classic sounding hard rock album with modern features. To me the ballad ,,Fairytale'' is one of the most outstanding songs. The song was written by Luca Sellitto as an instrumental and released on Luca's own solo-album 'The Voice Within'. When Ian heard the track it inspired him to write lyrics and a vocal line and the result can now be heard on 'Brute Force'. Really cool! The album title already gives a good indication about the bulk of the music that is featured here. 'Brute Force' is a heavy album, with a big sound, and at times with scorching and shredding guitar parts as well but it is always melodic and accessible. Ian and his companions even recorded a version of Queen's ,,One Vision'', as a bonus track for the album (with Wade Black as guest).
Ian Parry has also put a line-up together for later in the year when hopefully concerts will be possible again in order to promote this album and the fact that he has been 40 years in the business. He will present a set that will feature his past and present. Have a look out for that tour but for now make sure you don't miss 'Brute Force' as it brings out Ian Parry at its finest (and at stages as his heaviest) effort ever!