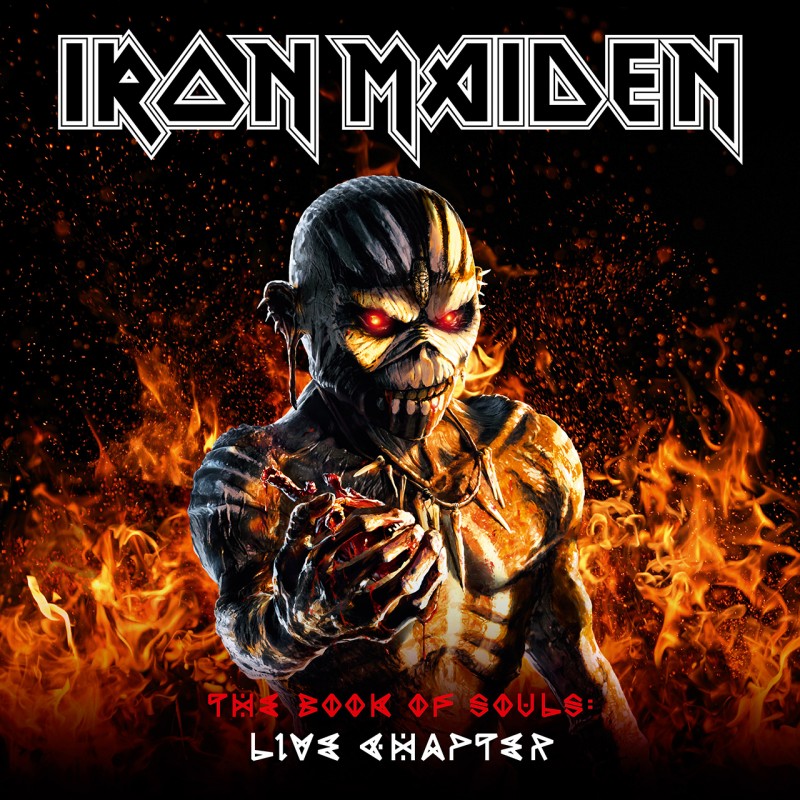 IRON MAIDEN-The Book Of Souls: Live Chapter
Parlophone Records
'The Book Of Souls: Live Chapter' is Iron Maiden's 12th live album and it was recorded during their amazing Book of Souls World Tour taking the band through 39 countries, playing 117 concerts for more than 2 million very enthusiastic fans. This double album is composed of 14 performances across 6 continents and it features 15 songs of which 6 are from their last album 'The Book Of Souls'. I was present at the gig in Arnhem [NL] last year and I was blown away by the sheer power of Maiden and now I can enjoy that amazing experience again, but now on CD and LP.

This great album opens with two songs from their last release being ,,If Eternity Should Fail" and ,,Speed Of Light" and I honestly have to say that in the flesh (in Arnhem for me) these songs really sound better than on this live album. However ,,Wrathchild", a song from 'Killers' [1981], recorded in Dublin, really kicks ass and follow up ,,Children Of The Damned", recorded in Montreal and introduced in French by Bruce, is one of the highlights of this album. ,,Death Or Glory" and the utterly amazing ,,The Red And The Black" [the guitar work is brilliant here], the longest song of the album, are the next 'Book Of Souls' songs, followed by two Maiden anthems ,,The Trooper", as always one of the best of the set, and ,,Powerslave".

CD2 only contains 2 more 'Book of Souls' tracks namely ,,The Great Unknown" and the wonderful title track. Later on we are treated to a couple more Maiden classics like ,,Fear Of The Dark", not my favourite by the way, the always awesome ,,Number Of The Beast", the almost forgotten ,,Wasted Years" and the astonishing brilliant ,,Blood Brothers". The latter was recorded at Donington and here Bruce said: "The message that we send is that no matter how many people you try and kill; life, love, laughter and music will go on; we will drink to that." Cheers, Maiden, a superb album; Maiden rules, up the irons; although I missed a couple of my favourite tracks like ,,Hallowed Be Thy Name" (for rather "obscure" reasons), ,,Where Eagles Dare", ,,Seventh Son Of A Seventh Son" and the incredible ,,Empire Of The Clouds". Next year I will be in Arnhem again as they will be playing at the Gelredome on 1 July, till then this new Maiden album will stay on my record player!!! A must have metal album!