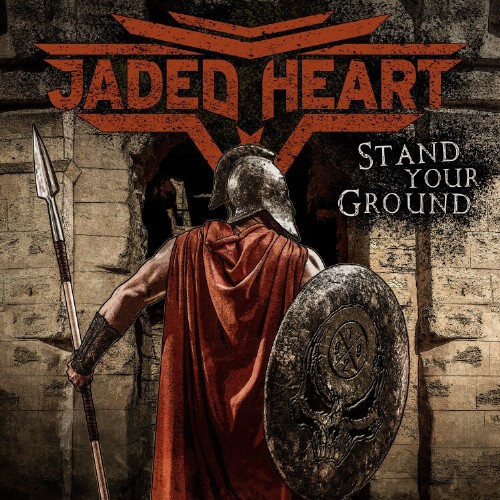 JADED HEART-Stand Your Ground
Massacre Records
One of the longest operating German hard rock bands is without any doubt Jaded Heart (although the band these days has a more international line-up). Starting out in 1994 with 'Inside Out' since then including this one another thirteen studio records have been delivered plus a live-recording and a sort of 'best of' release.
Since the arrival of Swedish vocalist Johan Fahlberg the style of Jaded Heart has progressed more to the direction of melodic metal and that path is being continued on 'Stand Your Ground', where the band chose not to colour in their sound with keyboards. Not that the band had a steady keyboardist in the line-up anyway but they were there adding keys for some back ground colour and assistance. As a result 'Stand Your Ground' is much more direct and more than even before in the band history a kick up your ass or a punch in your face (whatever you prefer). The only song where the gas pedal is not pushed down to the ground is on the track ,,Stay'', a semi-ballad that is if I am not mistaken the only one of the thirteen that will not be featured on the vinyl version of 'Stand Your Ground'. A good song by the way.
Don't know if you can call the short intro ,,Inception'' a real song but from the moment the massive riff of the title track blast through your speakers it is time to buckle up and be ready to have your fillings shaken out of your teeth. The guitarists Peter Ostros and Masahiro Eto put down some relentless riffs while drummer Bodo Stricker and longest serving member Michael Muller on bass keep the pace steady, tight and high. Immediately the melodic twin guitars of Eto and Ostros take central stage with Fahlberg providing aggressive yet melodic vocals throughout the whole album. After the third track ,,One Last Time'' it is clear what the musical course of Jaded Heart in 2020 has become. Power metal with melody, carried by Fahlberg's impressive voice and riffs that really give your body and teeth a hard yet very pleasant workout. And the best thing is that Jaded Heart still manages to sound melodic and accessible throughout the whole album.
Fans from the first hour might find it a bit different perhaps but with Fahlberg coming in already on the previous albums 'Guilty By Design' (2016) and 'Devil's Gift' (2018) you could see (or maybe better said hear) the writing on the wall. So in a way 'Stand Your Ground' might not come as a huge surprise for some but the album is by far the most cohesive and heaviest in a career of more than a quarter of a century now. I find this a positive step as now Jaded Heart hopefully stand out more than in the past. Job well done gentlemen!
#jadedheart #hbls #headbangerslifestyle #awayoflife #massacrerecords