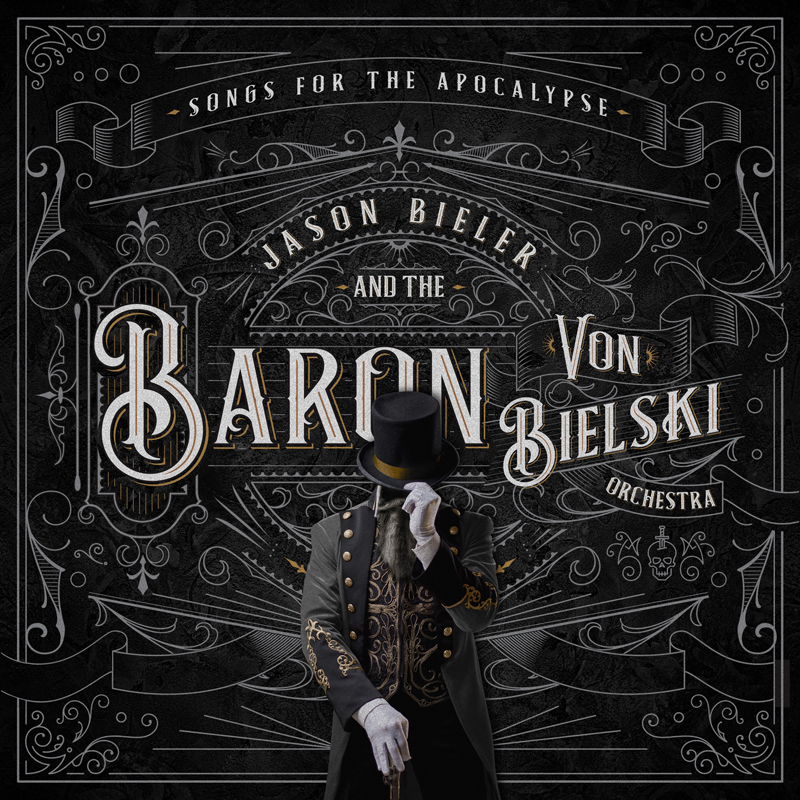 JASON BIELER AND THE BARON VON BIELSKI ORCHESTRA
Songs For The Apocalypse-Frontiers Music s.r.l.
Jason Bieler has established his name as singer, songwriter, guitarist, touring artist and producer over the last 3 decades. Bieler foremost however was the songwriter and throbbing heart of platinum selling Saigon Kick, that raged the stages in the late 80s and early 90s with memorable performances at the infamous Dynamo Open Air festival and the Dynamo club. Their loud, somewhat psychedelic metal music was injected with lush melodies and featured sugar coated Beatlesque vocals and choruses with a lot of tongue in cheek lyricism that diverted from the strain of metal lyrics. Their performances were captivating and action packed pumping their music into orbit. With his Baron Von Bielski Orchestra he takes the helm and together with an all-star cast he unleashes what he calls 'not his heaviest record yet'.

The trademark ingredients of his past are persistently present; Heavy and powerful chords driving the tracks that are packed with unique vocals and choruses. The multi layered slick choirs and melodies are recognizable and grip back to his recording days with Saigon Kick. Hearing Bieler's vocals on ,,Songs Of The Apocalypse" you question why S.K. needed Kramer as a vocalist at all. Jason's vocal performance is determined and strong, reminiscent to the sound of the band in the 90s. The music is modern and strongly rooted in his rich past, fusing ,,Never Ending Circle" is the opening intro and all the way to the closing notes of ,,FKSWYSO" the album enrols like a joyride through time. Loads of quirky sound effects and Bieler's intricate riffs and guitar escapades bring the songs to life. ,,Apology" sums up his past in little under 5 minutes with fierce riffs fused with lush melodies and slick choirs over notes firing unexpected. Groove-heavy, the song is slow paced but features tons rampage guitar work while being held upright with psychedelic hovering vocals. Less heavy on groove is the transparent but urging ,,Anthem For Losers", one of the stronger tracks I've heard. The songs packs tremendous subdued power and blooms with appeal during its chorus. Whammy guitars switch with piano and keys while being propelled by intricate drums patterns and rich orchestration. It nests on the spot. Same goes for ,,Crab Claw Dan" with its circus melody giving it a quirky touch underneath the hovering ethereal vocal performances with wide echoes and subtle musical elements. Typical Bieler tunes. ,,Stones Will Fly" runs by with dominating vocals and choirs will ignited with stop 'n go riffing and piercing notes fired from the fret board, while ,,Down In A Hole" is more jazzy progressive and packs insane dynamics.

More progressive tinged are song like ,,Bring Out The Dead" with its intense riff and drum interaction underneath heavy grooving bass lines and Bieler/Beatlesque chorus. ,,Born Of The Sun" is heavy as shit and fires on all of heavy dynamic ingredients that gave ,,The Lizard" such appeal. Non-repetitive, but it is just insanely dynamic and packs immense drive and power. Steering from the guitar driven elemental sound ,,Annalise" features immensely strict poly rhythmic drumming and hypnotizing psychic vocals. On ,,Alone In The World" Bieler and his men open with the same intense drum patterns to suddenly unleash heavy riffs fused to the slick melodies and three chord continuous rich vocals by guest Jeff Scott Soto, who lays down an out of his scope performance that adds to Bieler's sound. ,,Horror Wobbles The Hippo" is an instrumental with lush guitars in the vein of Zappa and early Vai, and ,,Baby Driver" is an instrumental build around drum shuffles. ,,Beyond Hope" opens with farm fiddling before diving off the cliff with poppy vocals and raps from Benji Webbe (Skindred), showcasing Bieler's wide array of musical inspirations and the keen ear to blend this with his typical sound. It is slick and psychic with crossover marks uplifting it. ,,Very Fine People" is a track in the vein of Saigon Kick's most memorable melodic tunes and features the typical Lennon ingredients from later Beatles tunes.

`Songs For The Apocalypse' is the music you enjoy on a rainy day while pouring a good single malt. Bieler's capabilities as songwriter are unprecedented with his abilities to fuse styles into his very own unique sound. The comfort of melodies contrasting with the intense urge of polyrhythms, create memorable hooks and the choruses add the extra third dimension.
Jason Bieler and his Baron Von Bielski Orchestra is certainly an album to enjoy and might become the soundtrack of the current ridiculous times.