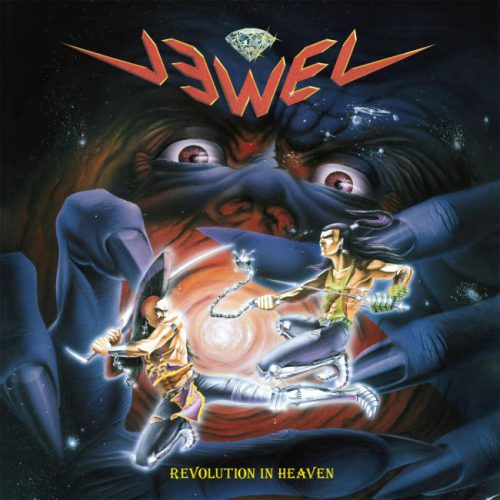 Jewel-Revolution In Heaven
Classic Trash Records Revisited
Back in 1991, after touring relentlessly, Dutch thrashers Jewel released their 3rd album `Revolution In Heaven', shortly after which the band called it a day. An unfortunate turn of events, as they had not only conquered the European stages with their quirky and energetic stage show, but also because `Revolution In Heaven' was far more than the band's EP `La Morta!' And the live registration `Nou Al Moe? (The Monster Muppetshow Live in Loose End)'. It proved the band's immaculate growth and maturity not discarding their typical trademark ingredients. This 2019 edition also sees the band's label Classic Trash Records Revisited to release the album in vinyl format for the first time ever. And it does the Jewel's music justice…

Jewel was the band around master shredder Henky Backer with his characteristic high tied up guitar, mimic and typical stage act full of humour and action. Backer is one of the most underrated guitar players of the genre and managed to blend crunchy hooks and riff and speed metal power bursts combusting with energy. Going full throttle onstage, Backer found the perfect showman to breathe life into the combusting music with quirky and tongue in cheek lyrics from Rick Ambrose. The duo was a perfect match and the four piece was completed by the tight rhythm section of Arwin Bergers on bass and powerhouse drummer Henkie Mulder on drums. Both added the ponderous and dynamic groove underneath the extravagant speed/thrash metal of Jewel. With all this musical extravagance comes the extravagant package of this double vinyl release. Three sides as hardcore vinyl and the fourth side as a mirror in this strictly limited edition. It adds value to the exceptionally beautiful artwork, which on CD never stood out as much as now.

Musically it is polished up and still packs tremendous drive, though the low tones could have been empowered a bit more. Nonetheless does `Revolution In Heaven' still hit like a hammer. The music is action packed speed/thrash metal with great hooks and a progressive touch. The musical craftsmanship is exponential and Jewel definitely was at their peak releasing this album. Without sounding dated the music pumps into action and the vinyl vibe adds dynamics. Backer's riffs are immediately gathering attention and his feeling for diversity is perfectly adding to the dynamics of the rhythm section. Switching back and forth between fast firing double kicks and prog breaks by Mulder in ,,Below The Belt" instantly has you on edge. The hallowing echoing vocals of Ambrose are pitch perfect and when Backer pitches his solo you realize your teenage years witnessing this band perform where rich in antics. Opening the throttle on ,,Dirty Bitch" the band makes you feel Prong's ,,Beg To Differ", gripping you at high pace. Melting their comedy and quirky stature with their unique approach leads to the progressive metal version of Nancy Sinatra's ,,These Boots (are made for walking)''. Man, have I missed this fun, especially when Ambrose pitches high and the band dives into an instrumental section with jaw dropping solos and drum dynamics. Though it is a one off, and the band's own material is much better, the fun note is delivered. Classic NWOBHM rocker ,,Circle Of Despair" is certainly timeless and immediately nests back in my head with its intriguing fiddling and screeching string bending at riff end. ,,Blasting Glory" and ,,High Speed Pursuit" are great speed demons with power shouts and fist pumping allure, and ,,Lonely Without You" is an exquisite power ballad with impressive appeal displaying the band's great musicianship. One of the band's live crackers was the timeless masterpiece ,,Road To Katmandu" with impressive drum and guitar interaction. Rick Ambrose brings the vibe of the lyrics alive delving deep and emphasizing the content with a slightly neurotic edge. Though the track has an awkward time signature in its melody, the song gels perfectly with the progressive touches and Backer's amazing playing. ,,God's Heart Attack" is more classic metal, much like Maiden with a Toxik injection and Forbidden twists and turns. ,,Warpaint" makes the pedal go to the metal again and builds tension towards the magnum opus ,,Vietnam Requiem". The song is packed with sound effects from the Vietnam war era and is introduced by Backer and Mulder delivering their progressive metal take on the US marching hymn ,,Yankee Doodle" before diving steep into this 9 minute plus soundtrack of war. The track itself is packed with twists and turns during the 8 chapters painting the picture of the US war against Vietnam, with all its tragedies and camaraderie falling prey to the insanity of guerrilla warfare during these turbulent times. It is all vividly painted and especially chapters like ,,Second Tour", ,,Tunnel Warfare" and the closing chapters ,,The Disillusion" and ,,The Awakening" pack musical excellence and grip intensely. It reveals the class and finesse of the Dutch band addressing another aspect of life rather than only focussing on fun. It's also the song that truly makes you wonder what more could have come out of the band if they stuck together back then…we'll never know.

`Revolution In Heaven' certainly surprised me upon its release announcement and I'm happy to have been reintroduced to Backer and his squad. The album proves to be a timeless piece of work and it perfectly suits as a statement of the band and Dutch metal scene at that particular time. Its release, though 3 decades later, does everything justice and certainly revokes interest in the band.


#jewel #dutch #metal #headbangerslifestyle #hbls #awayoflife