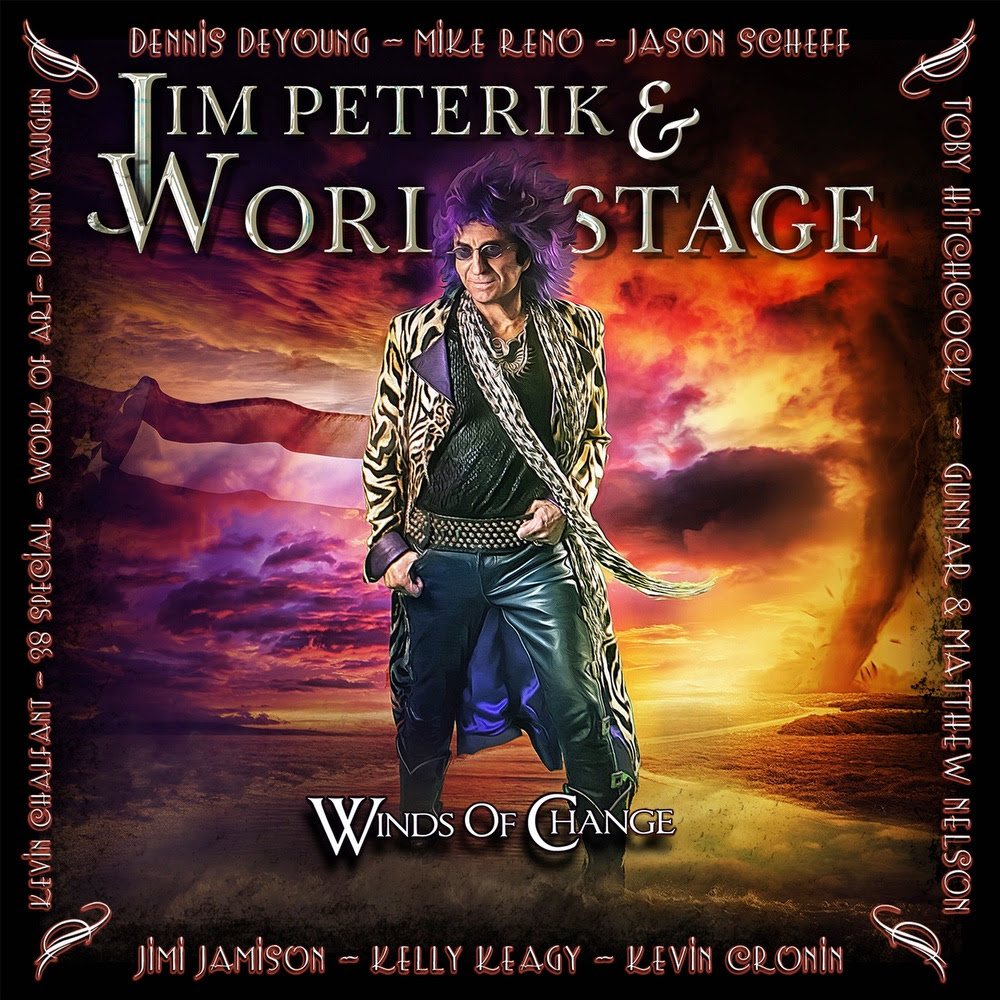 JIM PETERIK & WORLD STAGE-Winds Of Change
Frontiers Music srl
Peterik is one of the gluing components in melodic rock history who penned tons of memorable tracks for artists like Sammy Hagar, 38 Special, VanZant, Brian Wilson, The Beach Boys, and of course for his bands Ides of March and Survivor. Tapping a different vein he introduced his Lifeforce project expanding his reach onto jazz and fusion. His unique feeling for melody combined with the natural and recognizable flow of his songs written has landed numerous successes and plenty of hits. As the driving force behind Pride Of Lions he also steadily cruises the current scene pleasing acts with impeccable melodic rock hymns and countless heart touching ballads. Alongside Jim also works with the flagships of rock under the World Stage moniker, touring the globe performing their greatest hits and recording an appraised self titled album and live record in the past. Now it is time for the second chapter.

All over present on this new `Winds Of Change' album is Peterik's benchmark melodies and ear mingling tracks. Working with a wide array of respected vocalists on this new World Stage album Jim takes their key vocal sound and moulded the tracks towards their specific range. By doing that he not only fuses his typical melody structures and recognizable sound with that of the singers, he also manages to bring out the best in both. Tailor cut songs oozing the typical arena filling 80s grandeur, as well as they ting towards the initial band's benchmark sound. Opening with the title track we hear an interesting duet between Jim Peterik, who's a gifted vocalist himself, and 38 Special's Don Barnes. The song is a perfect opener for the album followed by the driven ,,Without A Bullet Being Fired''. Another gem that nests in minutes and sees Mike Reno with his typical vocal sound return to the front. Reno seems to feel more at home on this track than on any of the last Loverboy releases. It breathes enthusiasm. Reviving the heydays of the progressive melodic rock era, Jim reached out to his long time friend Dennis DeYoung to create sheer magic on the pompous ,,Proof Of Heaven'', easily one of the better tracks of the last decade. Being warped back into the ,,Paradise Theater'' you get overloaded with swirling Hammond keys and slick thick-layered choirs shooting the song into orbit. DeYoung's typical voice still stands strong and Peterik injected all of the pompous elements from the Styx heydays without sounding dated. Less of Peterik's typical sound, the song stays close to the legacy of Styx and DeYoung's impressive back catalogue. ,,Sometimes You just Want More'' is another duet with Kevin Chalfant (707, The Storm, Steel Breeze) running point. Chalfant steers clear from the Journey comparison and the song progresses more as a Survivor / POL track. It bridges the past with Jim's present perfectly with Toby Hitchcock taking the mic for another Pride of Lions goose bumps-moment on ,,Home Fires'' that lifts off 1 minute in. It also highlights another Peterik ingredient, the high-pitched guitar hovering in between vocal track and riff. REO Speedwagon's Kevin Cronin revives his band's celebrated hits with ,,Just For You'' that easily links with the band's ,,Hi Infidelity'' era. The song oozes the same comfort as the band's power packed ballads. It's a great listen, but I expected it to take off orbiting with a pompous section rather than lingering on. Danny Vaughn lends his powerful voice for the Survivor-like track ,,The Hand I Was Dealt", and sees great vocal interaction with Jim. It remains on the safe side of Peterik's oeuvre. Turning into a different and modern direction with label mates Robert Sall and Lars Sufsund from Work of Art. Tasteful AOR with vocal interaction reminiscent to Styx that meanders onwards, again not lifting off. Kicking into gear again with Kelly Keagy of Night Ranger, we finally see some pace again. The song fuses the Night Ranger drive with progressive elements and an Ides of March vibe. Mid section the song flowers with an impressive Hammond punched swirl of keys radiating enthusiasm. Keri Kelly delivers a great solo, perfectly lining up with the Night Ranger classics. ,,You're Always There" has Chicago written all over it with Jason Scheff pitching it up. It also features impressive string arrangements adding to the atmosphere of this semi-ballad. Though it takes the pace out, the song really touches deep. Breath-taking gorgeous! The Nelson brothers Gunnar and Matthew have Peterik bending his skills into a poppier direction with country Americana sub notes. ,,Avalanche" would have fitted Don Barnes or Mike Reno perfectly as well, or even Keagy. The feel good vibe is present and summertime cruising down LA in a convertible comes to mind. Production-wise it doesn't follow tracks of the preceding symphonic powerhouse sound as it is very transparent and clean. Production-density returns on the album's closing track ,,Love You All Over The World". This is classic Peterik and it sends shivers down my spine with a voice from the grave. The song is performed by my all time favourite vocalist the mighty Jimi Jamison (R.I.P). It is the magnum opus of the album and displays the pitch perfect voice of Jamison and the natural feeling of the Peterik – Jamison heresy. I'm choking…

`Winds Of Change' sees the mighty World Stage laying down 12 memorable tracks that have the biding factor of Peterik's typical melodies. All tracks could have been stand alone hit singles in the eighties and will certainly attract the fans of those pleasant days. Melodies that nest on the spot, vocalists that are the best in their field, and the entire album breathes a genuine atmosphere with Peterik guarding the outcome. My point of critic I have is the fact that the pace goes down to harshly and the album would have benefitted from a different running order likely. Either that, or a handful of upbeat songs would have made it wider appealing. It is however a 'must have' for fans of the genre. Plus; `Winds Of Change' features the legendary and to soon departed Jimi Jamison on another one of his impressive and heart touching performances. Thank you Mr. Peterik.


#jimpeterik #worldstage #headbangerslifestyle #hbls #awayoflife