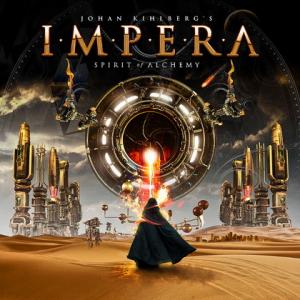 JOHAN KIHLBERG'S IMPERA-Spirit Of Alchemy
Metalville Records
Swedish drummer/keyboardist/composer/producer Johan Kihlberg has been around with his Impera project for some time now and has decided to change the direction for the 'Spirit Of Alchemy' album. In 2018 he released 'Age Of Discovery' and used people like Mick Devine (Seven), Michael Sadler (Saga), Nils Patrik Johansson (Lion's Share/Astral Doors) and Nigel Bailey (Lifeline, Three Lions) for the vocal parts while the album was slightly more AOR orientated.
This time Kihlberg opted to use vocalist Jonny Lindkvist of Nocturnal Rites for the whole album and also managed to recruit Snowy Shaw on drums, Europe's John Leven on bass and the Lion's Share duo Kay Backlund and Lars Chriss on keys and guitar. Lars Chriss has been working with Johan Kihlberg before but this time his part is bigger than ever being the main guitarist. With the adding of Lindkvist and the scorching guitar chops of Chriss this album rocks hard, very hard. When you hear ,,Read It And Wheep'', well, that is pure heavy metal, based on a cast iron riff and Jonny belting it out. But do not think that Kihlberg with his new direction has forgotten about melody. Several songs have orchestral/symphonic parts in them while closer ,,Battle'' is an instrumental track that could have been put on 'Age Of Discovery' CD quite easily as it is being dominated by lush keyboards.
But for the rest 'Spirit Of Alchemy' is a juicy and at times bone crushing hard rock album that sounds very impressive, has excellent songs and musicians involved who know their trade, especially Lars Chriss and Jonny Lindkvist are in very fine form here. A change of style by mastermind Johan Kihlberg that has worked out on all fronts. 'Spirit Of Alchemy' is for certain one of the best albums of 2021 so far, firing on all cylinders!