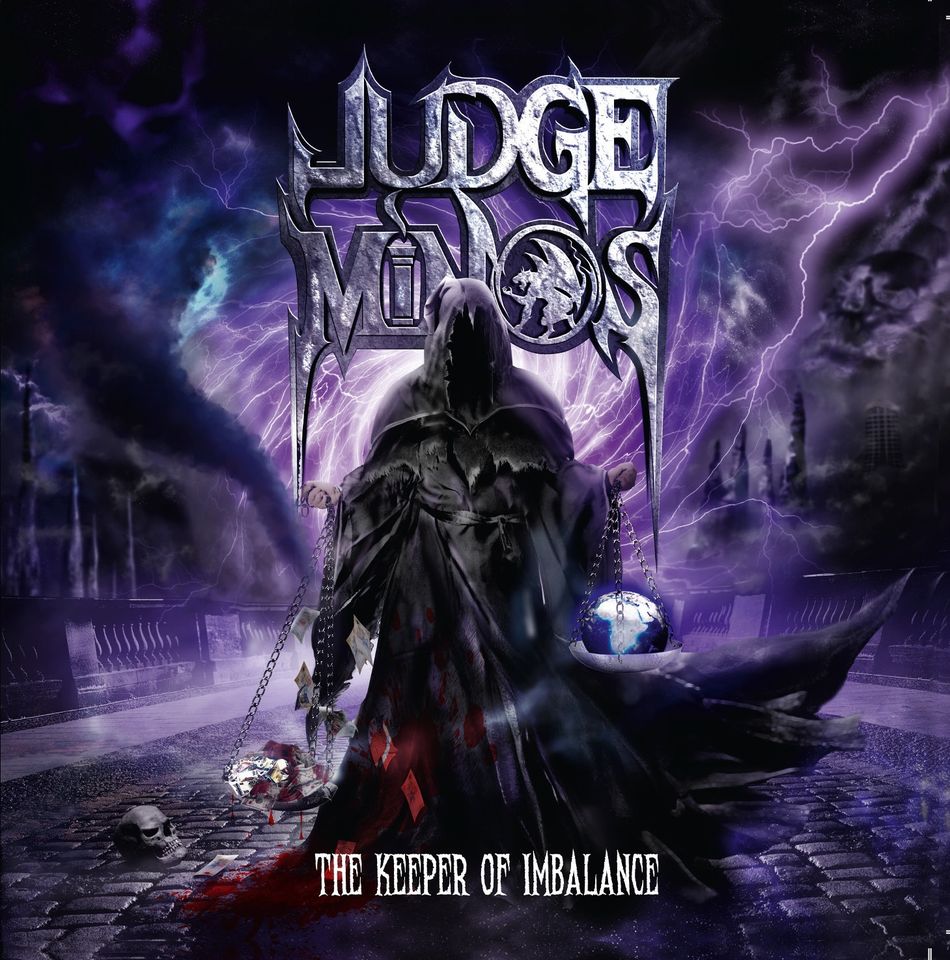 JUDGE MINOS-The Keeper Of Imbalance
Independent
Swiss heavy metallers of Judge Minos are securing their rise since 2017 when singer Shane Eagle and (ex-Comaniac) Dominic Blum got together. The band managed to impress when playing with Burning Witches and later at the German Wacken Metal Battle semi-final. Their potion of thrashy riffs and heavy power metal is ferocious and contagious as proven on this excellent debut EP.

Rip roaring is the title track, immediately showing the band's impressive skills and marksmanship. Powerhouse double bass driven power metal with progressive hooks are blended with thick thrash riffs. Dominic Blum and Don Diego lay down sterling granitic metal riffs over the powerhouse performance of drummer Jerry Jay and his bass playing counterpart Joe Ming. Shane packs tremendous power, whether he sings clean or bursts into high pitches and roaring grunts. Key in all this is the interaction, which certainly picks up in the following speed bursting ,,Believe Or Die" where the band fires on all engines. Again Shane Eagle proves to be the perfect singer for Judge Minos. His range is wide and varied and he switches constantly. He has enormous potential. At times he sounds like a peppered-up Blackie Lawless while the next moment he reminiscent to Matt Barlow morphing into Dickinson. It is outrageous how easy Eagle switches and manages to colour the depth of the tracks. Colour and depth provided in big portions by the excellent guitar tandem which fires on all engines. Jawdropping soloing and piercing twins make it as traditional as it could be. Their harmonies are ravishing and wild, while the solos keep swirling, unloading notes and arpeggios. ,,The Deadman" again is bold of variety. Hooks and break fire up the dynamics and the vocal interaction is excellent. Crystal clean choir sections contrast deeply with a dark doomy edge in its mid-section. Eagle roars and pitches high whenever needed. The song edges with Priest and fires with Anthrax like poise. Bands like Helstar and Nevermore come to mind without discarding the genuine NWOBHM feel and organics. Diversity is key here and Judge Minos clearly wants to showcase their skills and tremendous forte. ,,Nuclear Winter" showcases a completely different side when the band goes mega melodic over thunderous drums and insane riff antics. Blending euro (German) Teutonic metal thrive and melody with Wardog-like power metal riffs and blunt power. On ,,Sea Of Lies" the band goes all Iced Earth (`Melancholy' times 2) before going all thrashy with Eagle belting another impressive job with pristine clean vocals switching to intense howls and high pitches. F*ck, this rocks! When Diego and Blum start to unleash a dominant twin riff propelling towards the end you're in metal heaven. Echoing vocals and Jon Oliva like high howls cast and ominous spell on during the insane breakdown of the track. ,,Final Flash" brings the album to an end in style. Galloping drums and powerful riffs with anger-laden vocals and drive. The song lashes old-fashioned metal wallop. Double bass drums and intense riffs are propelling the song with Priest panache.

Judge Minos' `The Keeper Of Imbalance' is an impressive collection of powerhouse thrashy metal tracks with insane drive and memorable hooks and melodies. Diversity is key and the delivery is simply astonishing. Each and every song is on the mark and nests easily. Musically it is insanely well crafted and in terms of musicianship it is simply jawdropping. Excellent guitarists and vocalist make this a tip for the top. Let's see what the future brings for Judge Minos!




#judgeminos #independent #headbangerslifestyle #hbls #awayoflife