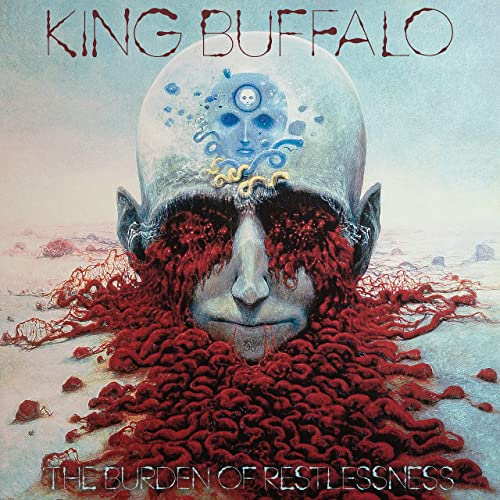 KING BUFFALO-The Burden of Restlessness
Stickman Records
Almost like a sabbatical I refrain from writing and reviewing. The interval in my absence only merely revived by the sudden rush of blood to the head when a gem passes my turntable or player. One gem specifically awakens my curiosity to delve deeper and capture its brilliance in words of reflection: King Buffalo's brand-new album `The Burden of Restlessness' is nothing short of a treasure spawning with repetitive hypnotic riffs and progressive mindboggling songs welling with emotion in a melancholic and dark setting.
MESMERIZING
It's that repetitive refraining riff and/or plucking guitar that casts a spell of anxiety over the album before unexpectedly culminating in fierce trajected power outburst breathing with insane melodies and withering melancholy. ,,Loam" revives the oozing comfort so often hummed alive by prog-giants Pink Floyd during their most psychedelic days. Mesmerizing and calming tenure with moody vocals pull forward in dense atmosphere suddenly breaking root. Progressively it rolls forward without losing the repetitive anxiety of guitar and drum. Subtle plucking bass adding to the jazzy outline before it again erupts with waterfalling guitar accolades and prog timing. Enthralling per se!
COMPLEXITY
It's the closing track of the record that intensifies with every spin and set on repeat is as effectively repetitive in track sequence as in its riffs. ,,Loam" seamlessly leads into the opening track ,,Burning" enhancing the listener's experience. Blunt riffs with high stop 'n go motion are propelling the track which is held up by exquisite jazz-tinged bass and drum interaction from Dan Reynolds and Scott Donaldson. Rich in its layers and intensity it flourishes around elemental steep and harsh breaks progressing with rhythmic towering complexity hidden in plain sight. It all gels so freakingly well and comes across so effortless and melodic that one is easily thrown off by King Buffalo's genius craftsmanship presented in both, execution and songwriting.
FUNK
,,Hebetation" is more funky outlined and packs more spit and swagger but without losing the band's benchmark ingredients. Keen bass lines and polyrhythmic drum shuffles and loops propel. Vocally Sean McVay taps a different vein and breaks from the calming melancholy to inject more appeal. Returning to form on ,,Locusts"McVay is relaying on his melancholic vocals focusing on intense shreds and riffing. ,,Silverfish" is the shortest tune on the album and monotonously squeaks with neurotic picking towards eluding power. Mixing up the most melodic aspects and psychedelic elements from the songs' predecessors it seems forged on a spiked anvil full of irregularity.
PURE MUSICIANSHIP
Melodic crooning and shifting form frequently the song evolves with pure musicianship. ,,Grifter" reveals more of King Bufallo's fine marksmanship and reverbs with sticky funky bass lines supporting the subtle drum patterns before unleashing its ardent and fierce riff. Drums intensifying while the bass refrains to utilizing a mechanical almost tedious throbbing line underneath the blistering guitar exercise of McVay. ,,The Knocks" mashes up the emotions much like ,,Silverfish", but in more distinctive extended form. More progressively driven with fierce blunt riffs and echoing guitar deliverance while the framework of the track is firmly held up by the insane jazz-prompted drum and bass interaction of drummer Donaldson and bassist Reynolds. Again, interaction is key and execution is sublime, leading us back to the album closer ,,Loam".
,,The Burden of Restlessness" displays King Buffalo's insane musical craftsmanship emerging. Deceptively subduing its elaborating complexity underneath comfortable repetitive motion and nursing melodies. Nesting in your melancholic safe haven it unexpectedly blasts free its concealed and suppressed prodigy emitting emotion and anxiety. When the dust settles you are taken by the restlessness and all of its burdens produced by King Buffalo's 'heavy psych hypno rock'.