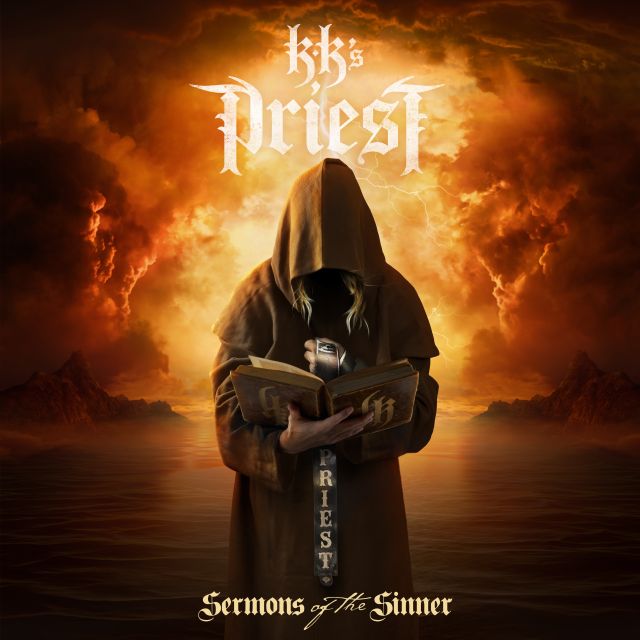 KK'S PRIEST-SERMONS OF THE SINNER
X 1 Records
It has been a long time coming but finally former Judas Priest axe grinder KK Downing makes his comeback with his own band. Being axed from Judas Priest it took KK a while to get things together. For starters he wrote a book about his days in Judas Priest. When Glenn Tipton, because of bad health, retired from Judas Priest KK expected to be asked back into the band. When that did not occur he started preparations for his own outfit.
He recruited two former colleagues in singer Tim 'Ripper' Owens and drummer Les Binks and he engaged the services of guitarist A.J. Mills and bass guitarist Tony Newton. When it was time to record, Les Binks hurt his wrist in such a way that Sean Elg had to be called in to play the drums and appear in some clips as well. Binks will make a return when the band hits the road but in Sean Elg they have found a more than capable replacement should Binks not fully recover.
Heavy Metal
'Sermons Of The Sinner' is a real metal album as you would expect from KK Downing. Through the years his role in Judas Priest diminished a bit in favour of the dominant Tipton but in his own band KK can take centre stage again sharing guitar duties with the very capable A.J. Mills. Obviously the vibe of the album is familiar. You can't expect that a man who has been in a band for some four decades would change his style overnight so the Priest vibe is all over the album also because of the soaring voice of Ripper.
The songs are very fluctuant and there is also a lot more variation than I had expected. Some tracks are as brutal as hell (,,Hellfire Thunderbolt'', the title track), some are a little 'friendlier' (,,Brothers Of The Road''), some are of epic proportions (,,Metal Through And Through'', ,,The Return Of The Sentinel'').
Let me tell you that 'Sermons Of The Sinner' is certainly matching up to the albums that Judas Priest has produced since the departure of KK Downing. I must say that this album grew on me with time. As there are the obvious similarities with Judas Priest your first impression might fool you as it did me. But the more I heard this album the more I became intrigued by the performance of the musicians, the sound quality and the fact that most of the songs are really good.
A Natural Thing
I guess at the end of the day you will have to find out for yourself if KK's Priest's first born can be your baby as well. I am sure that in due time it can and will be. KK Downing can be very proud with the achievements on this record. Sure, there will be people saying they like Judas Priest better and the album is a rip off. To those people I say that this man has earned the right, after four decades of loyal service, to produce an album with that sort of vibe as he was one of the co-founders and inventors of a style that we all love and cherish! For KK Downing this album is a natural thing!