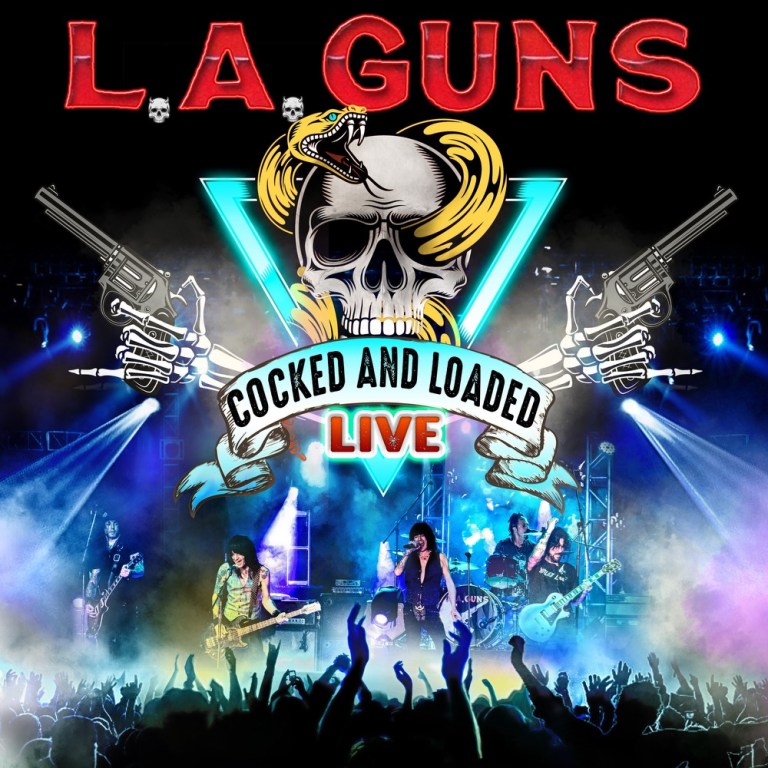 L.A. GUNS-COCKED & LOADED LIVE
Frontiers Music srl
With their first album 'L.A. Guns' and their second 'Cocked And Loaded' the rockers of L.A. Guns seemed to go places as both albums were filled with cocky hard rock with a glamour touch and a rawness that was second to none. Okay, former Girl singer Phil Lewis was not blessed with a superior singing technique but Axel Rose was (is) not such a great vocalist either. But soon things started to go wrong with numerous changes in the band and the audience losing their interest. Fights, disputes over the band name, for many years things were a mess until singer Lewis and main guitarist Tracii Guns (who both had their own version of the band at one stage) finally got wise and decided to reunite.
But the confusion is still there as former drummer Steven Riley has his own version of L.A. Guns as well and is still active. But most people see L.A. Guns as the band around Phil Lewis and Tracii Guns being the real deal and why not? Nowadays drummer Scott Coogan, second guitarist Ace Von Johnson and bass player Johnny Martin complete the band. Their last albums 'Missing Peace' and 'Renegades' were not bad at all. During the Pandemic the band decided to do a gig to celebrate the fact that 'Cocked And Loaded' (by far their best effort) was 31 years old and decided to play the complete album (including ,,The Ballad Of Jayne'' and ,,Rip And Tear'') and throw in a more recent song of 'Missing Peace' called ,,Speed'' for good measure.
Playing at a club in Las Vegas L.A. Guns lets it rip with all the relevant characteristics in place. The sound is pretty raw and at certain moments a bit chaotic but for me that is just a matter of not having had enough practice and recent gigs under their belt. Phil Lewis will never be the perfect singer, sometimes going all over the place, but his conversation with the audience is at moments quite charming. The Englishmen never has become a slick American but always stayed British. Tracii Guns delivers his chops ready to eat (hopefully he never ever teams up with Stryper vocalist Michael Sweet ever again) while Scott Coogan and Johnny Martin plus rhythm guitarist Ace Von Johnson form the perfect backdrop for Lewis and Guns to do their thing.
It is most likely a release only suited and appreciated by the die-hard fan of this outfit that, because of all kind of circumstances, never got the same popularity grade as Guns N' Roses. Somehow I think Lewis and Guns are not bothered with that and happy to do their own thing.