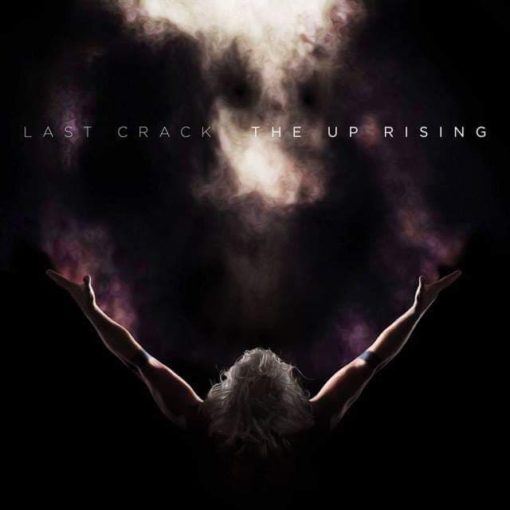 LAST CRACK-The Up Rising
EMP Label Group
With their debut release `Sinister Funkhouse #17' (1987) kicking up dust upon its release, their follow up `Burning Time' really pushed the envelope for Madison's (WI) Last Crack. The band consisting of psychologist Buddo with the characteristic voice and lyrics, guitar tandem Don Bakken and Paul Schluter, and the driven rhythm section Todd Winger (bass) and Phil Buerstatte quickly climbed the musical ladder with their immaculate `Burning Time' in 1990, which also lead to instant demise of the band while on tour. This unfortunate turn of events left many in despair, band as well as fans and journalists. The quick rise and unpredicted fall to this date still has many music fans questioning Last Crack's unpredictable future and projected path to stardom. Reuniting in its classic line up, except the late Buerstatte who was replaced by Chris Havey, in 2002, Last Crack picked up where they left off in 1989, discarding their `Runheadstartscreaming' release in 1994. Their mash of progressive dirty rock with sludge guitars and melodic choruses over distorted vocals was preceding the later grunge era by a mile. Ahead of their time Last Crack managed to fuse styles into a modern and honest classic rock styled cocktail with behexing melancholy in its undertone. Where the funky elements dominated the debut, `Burning Time' was a lot more consistent and should have orbited the bands status. To this very day, the album is considered one of metal's most overlooked releases of the last decades, by a band that should have achieved stardom soon after.

`The Up Rising' of course is lacking the surprise of the old days. Now, Last Crack was NOT a grunge band, keep this in mind. Though they were ahead of their time, the band fused that particular genre's (before it actually existed) key ingredients with progressive twists and turns. Buddo's impressive vocals packed with charisma and drama added to the psycho lyrics, and they still do. The band has stopped time and turned back the clock reviving their ground breaking music that sounds, even to this day, remarkably fresh and crunchy. Benchmark traditional is the Rush-riff driven ,,Siren Song" immediately warping us back their classic style. ,,Golden Age" puts even more fuel to that fire. More melodic than ever the song opens and switches to Faith No More rap interaction with fierce riffs firing it up underneath Buddo's hypnotizing vocals. The double bass kicks to propel the progressive carcass. ,,Icicle" packs an ominous beat with guitars pitching and echoing melody erupting with blunt force riffage and the reoccurring hovering pitched melody. The outcome creates an unwilling urge due to its persistence poise and the low-end throbbing bass line that pave way for Buddo's eccentric vocal work. He is on edge, shifting between melodic top voice and loud shouting projecting inner tension. Buddo steps up frequently to pull the album forward with hypnotizing dominance adding to the lyrical content and excellent guitar interaction. Whammy guitars slay through the atmosphere heavy ,,Passenger" and Buddo echoes towering vocals with keys unleashing Jimmy Page reminiscent flying solos and riffage. Introvert is the immensely melodic and gripping ,,Blame", again displaying the band's impressive skills crafting gorgeous music with melodic and sticky appeal. Quirky like the debut is the following ,,Greta Grinder" which touches in between the Sinister of the debut and `Burning Times' melodic throbbing discomfort. Being blindsided by the slick execution the song morphs with steep hooks and blunt riffs aligning with the quarter paced drum breaks, shifting shape again halfway in. The song is an intense sonic journey lasting only 4:53 summarizing their entire past. An absolute masterpiece is ,,Three Ghosts" which swirls with emotion and melancholy. Extremely accessible but very tension packed and melodic. Going all-progressive again with the drum flaked ,,Sensei", they warp back to the title track of their second album. The song also feels like a follow up to ,`Burning Time'. Last Crack keeps this stop'n go prog motion present on ,,Paper Town" which has again too much going on with every breakdown following the chorus. Tribal heavy floors open ,,Discipline" with tremendous urge and the withheld anger is felt throughout the lyrics. Guitars switch between clean melodic with sound effects adding extra depth while they spit their fierce recognizable riffs on the choruses. Dominated by melody the song also oozes an elegant hypnotic 70's vibe, like David Gilmour (Pink Floyd) on acid, or Alex Lifeson (Rush) going trippy. ,,Pinned" swirls in with African drum rolls and Americana undertone in its gritty driven guitar sound. Going all funky over and over the song packs impressive grooves over flabbergasting musicianship. The impeccable tension is retained after the discomforting intro opening ,,Bullet Train". Ominous welling guitars underline Buddo's typical vocals. Lingering on endlessly the song retains discomfort and dies out with didgeridoos taking it down at the end. Though not on par with the high qualities of the preceding 11 tracks, it seamlessly adds to the character of the album and makes it die out in withering awe-ness.

`The Up Rising' is the perfect title for the band's new album, rising up from the ashes. The tension marking their previous albums is all over present as is the impeccable musical craftsmanship. Guitars are riff heavy and shift with pitching and piercing melodies, and the interaction between Havey's spectacular progressive drumming and Winger's throbbing and sometimes funky flooding bass lines is perfectly matching the moods pasted in the song's outlines. It all adds up spectacularly with Buddo laying down his charismatic vocal lines and psychotic vocals. He balances moods perfectly and switches between his most melodic voice, dramatic low register or loud shouted uproar to have the songs gain impressive momentum. The mesh of this musical interaction is smashing, creating no less than 11 masterpieces reclaiming their name and fame. SMASHING NEW ALBUM – MUST LISTEN!

LISTEN – BUY – LISTEN – BUY – LISTEN – BUY – LISTEN – BUY – LISTEN – BUY – LISTEN – BUY – LISTEN

Question remains: what would have happened if this band stuck together in the 90's?!


#lastcrack #emplabelgroup #headbangerslifestyle #hbls #awayoflife