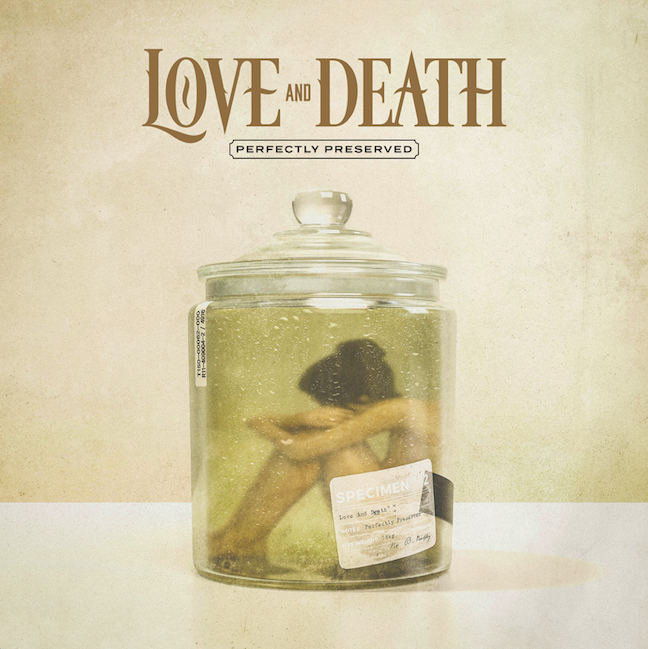 Review | Love And Death – Perfectly Preserved
Earache Records
Love And Death is the musical outlet of Korn guitarist Brian "Head" Welch and the band appears after a hiatus of 8 years with the new album `Perfectly Preserved', as follow up of the debut `Between Here & Lost' [2013]. Welch [lead vocals and guitar] and his original guitarist JR Bareis recruited new bass player Jasen Raunch [also producer and guitarist of Breaking Benjamin] and drummer Isaiah Perez [Phinehas] for this release and besides that Love And Death got a deal with extreme metal label Earache Records.

Actually also new is the fact that this time Welch is sharing the lead vocals with Bareis, which is a brilliant move if you ask me. They are both very good singers and their vocal sound and approach [melodic and harsh] are such a natural fit, matching like a glove. These two really reinforce each other's performance making it a true centrepiece of the album. `Perfectly Preserved' contains ten tracks, starting off with the short piano, vocal piece ,,Infamy'' that sounds nostalgic and even dreamlike. Then ,,Tragedy 1'' starts off and we get super heavy, down tuned nu metal like guitar riffs, supported by powerful, groovy drums and matching low bass lines, underlined with melodic strong vocals and harsh eruptions. On one hand it is a straight punch in the face but at the same time it is also very accessible and once you are in, you want more of it. With the lead single ,,Down'' Love And Death present a smashing hit. It's heavy but the chorus is so damn sticky, the melodies are smart and really cool, this one is absolutely my favourite track of the album. One thing that actually surprised me is the cover of the pop song ,,Let Me Love You'', featuring Flyleaf singer Lacey Sturm. Okay, this remake is heavier but to be honest still not my cup of tea.

It's clear that Love And Death show a more melodic and commercial approach than Korn and Breaking Benjamin but it is undeniable there are obvious similarities in sound and style as well, especially during the second part of the album. Just check out the heavy loaded nu metal track ,,Death Of Us'', or even ,,Slow Fire'' that has really cool heavy chord shifts actually. With ,,The Hunter'' the band explore their territory furthermore successfully, featuring a great catchy chorus again. ,,Lo Lamento'' is an old song that was released as a single in 2016 and you can hear a lot of rage in this track that sounds close to Korn, but now having two vocalists in the game it puts it all in a new perspective as well. Also during ,,Affliction'' there is no holding back when it comes to rage and aggressive approach and the last track ,,White Flag'' features again all the important musical elements, dynamics and vocal hooks that makes you want to push the repeat button immediately. It seems that the production, mix and mastering perfectly preserved the intention and performance of the songs.


#loveanddeath