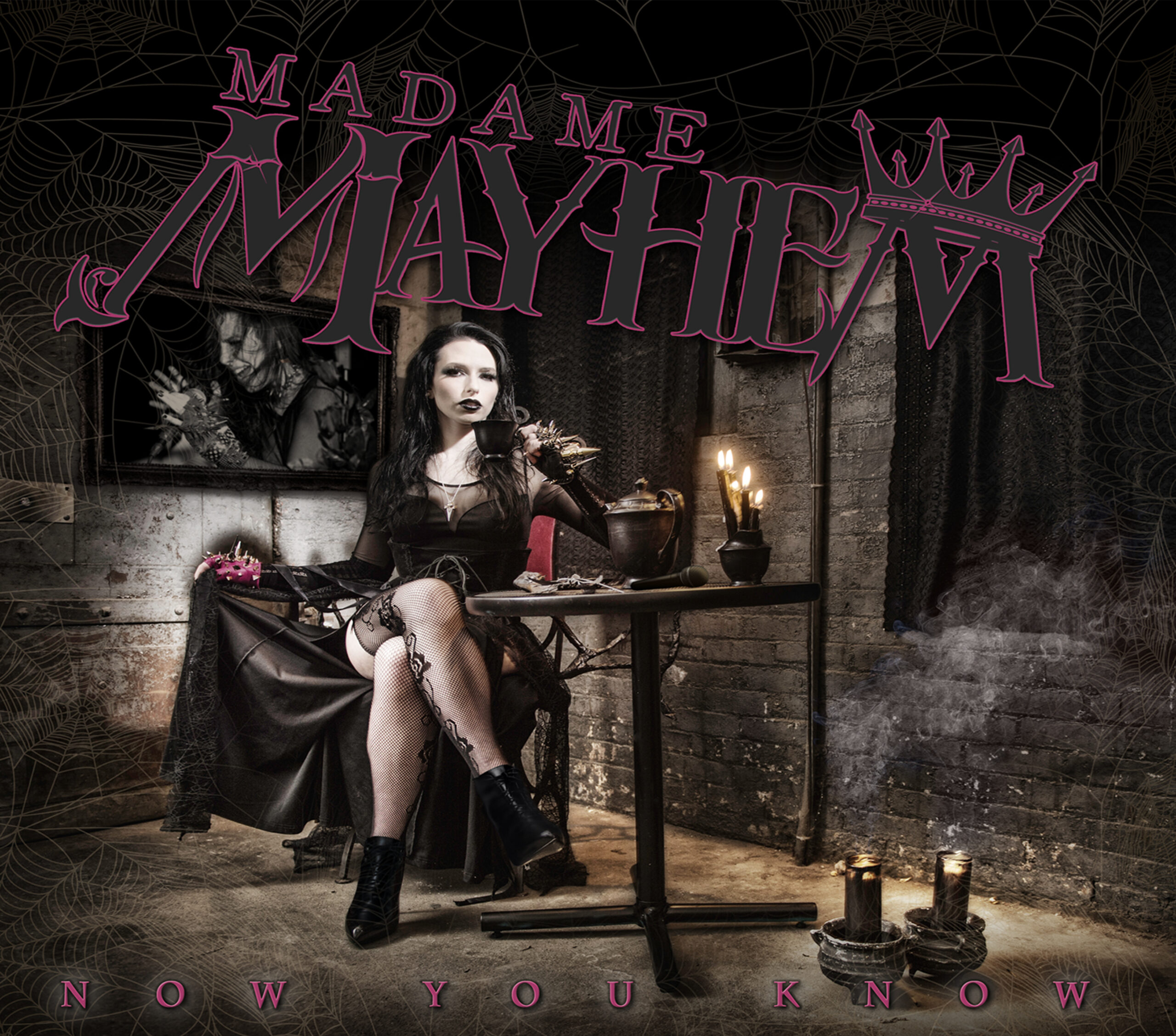 MADAME MAYHEM-Now You Know
Metalville Records/Rough Trade
Behold the debut album of Madame Mayhem, the New York vocalist is best known for her work on internet's iHeartRadio and her interviews circulating on the web. Alongside the ambitious Madame of rock is a performer who just now recorded her debut with `Now You Know'. An album which covers all areas of rock and metal and features an impressive list of collaborating rockstars. Produced by Billy Sheehan (DLR, Mr. Big, Winery Dogs, etc.) and with help from seasoned entertainers like Ron Thal (Guns 'n Roses), Ray Luzier (KoRn, 9.0), Russ Parrish (Steel Panther) and Corey Lowery from Stuck Mojo fame, Mrs. Mayhem presents an album full of top-notch musicianship. Mayhem herself is an impressive personality in a unique, somewhat Film Noire style.
Even though her appearance is slightly gothic she moves into different directions and on this debut she's rocking all over the place. The powerful Sheehan bass hammer-ons in combination with Luzier's profound drumming are a key feature that propels this record. Impressive musicianship over which Madame Mayhem can shine in no less than 14 songs on `Now You Know'. The album kicks of with ,,Monster'' which immediately makes clear that Mayhem is on the right track. It rocks ferociously and the musical diversity makes this an interesting and pleasant spin through rock itself. It is that diversity which makes the album a pleasant play. Songs like the gothic pumped ,,Perfect Nightmare'' go hand in hand with the upbeat ,,Something Better (Now You Know)'' and the rock ballad ,,Left For Dead''. Sheehan's production guards the overall sound and includes the needed spit and dirt that lines up perfectly with the attitude of Madame Mayhem. The album shifts shape numerous times and ranges from poppy tinged radio friendly tunes (,,Nothing To Lose'') to cinematic and progressive outings. It covers all territory and even wanders off in the wrong direction (,,Anyone Who Had A Heart''). Mayhem herself keeps upright for a long time, blessed with tons of enthusiasm and packed with spunk. At times she bears resemblance to Phantom Blue's Gigi Hangach who also keenly maneuvered the obstacles and belted some impressive vocals. Not that Madame has the same power, but the lady sure knows how to play the field and some of her vocals are just spot on. Her voice is as wide and varied like the music on the album, but also gets redundant ¾'s in. She overstretches her pitches without going out of tune, but her charisma can't cover the fact that she has to go deep to make it work. Pitches turn from singing to yelling and (to me personally) get painful at times. Now do NOT let this scare you away because the howls and pitches fit in nicely with her somewhat demonic swagger and the neurotic pace of certain tunes. It's a matter of taste…
All in all Madame Mayhem delivers an impressive collection of songs with top-notch players guiding her through. `Now You Know' is surely an unexpected surprise that leans strongly on the bold shoulders of the all star cast, but it is Miss Mayhem herself that gathers most attention with this impressive first album.