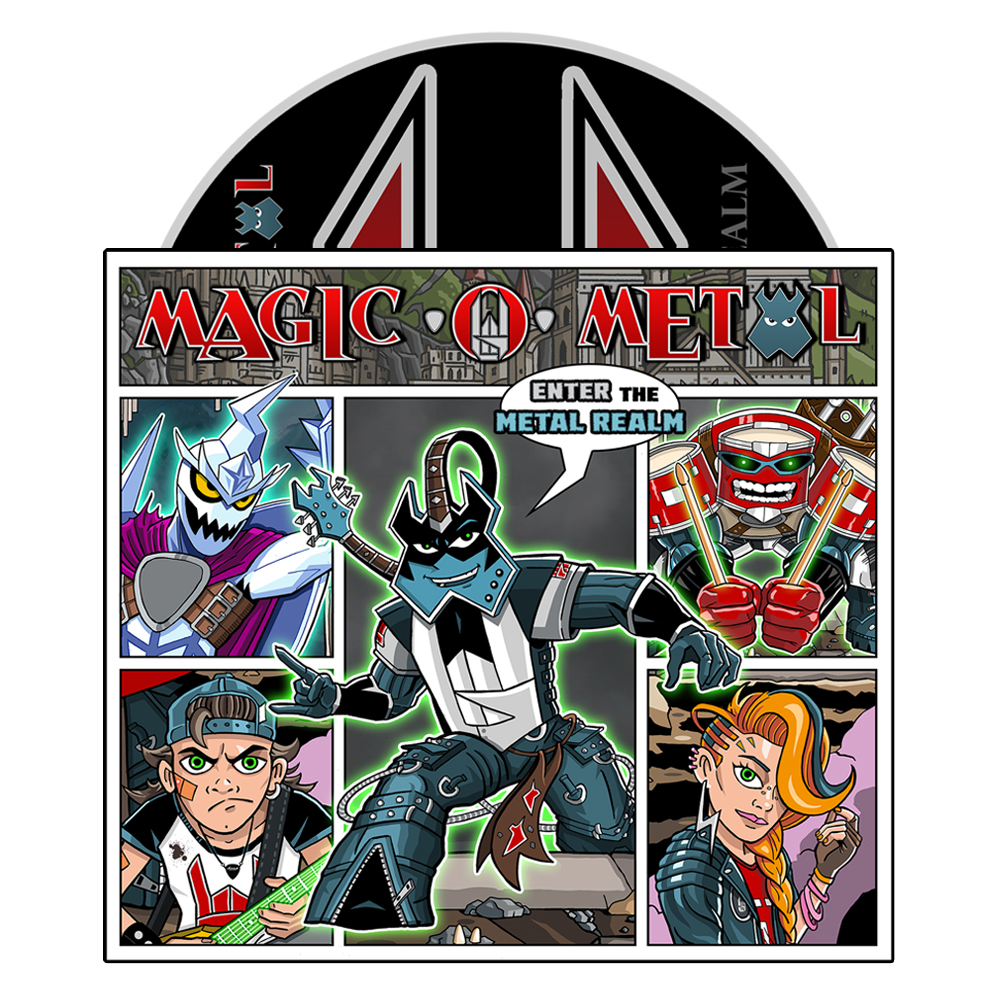 MAGIC O METAL-Enter The Metal Realm
Graviton Music
It's not easy to capture this elusive story in a nutshell and introduce the concept at hand. Magic O Metal is the project initiated by former After Forever guitarist and songwriter Sander Gommans. A concept taking shape with help of artist Scott Wenmakers and Graviton Music's Menno Kappe, formerly of Roadrunner records.

Gommans juggled ideas about bringing metal to the next generation without all of its constraints. No dark world and anger-laden lyrics, but a story and concept easily transferable to youngsters and enthusing them to explore the world of metal music. The captivating wallop of metal, the signature musical craftsmanship and towering talents, it all has to gel with a new audience clinging to what makes us fans tick. Lighting the spark in a new generation of metalheads by making them take part on a journey and story all can add up to. Wenmakers, who is a big fan of metal and classic cartoons like Transformers and Teenage Mutant Ninja Turtles, catches on laying down the storyboard and cartoon to evoke the (corky) metal dimension fusing Gommans' musical ideas with imagery. With Kappe enthused everything took shape rapidly and Magic O Metal was born. I purposely used the word "corky", as the outcome of the album and its storyboard and art is exceptionally ridiculous to us parents, even though we have been feeding off on rainbows and unicorns our entire lives as well.





The above being said, I can only warn you to be ready for a blend of all clichés drawing up our genre. Take Manowar and Gwar's image and lyrics to multiply by 10, add the most illustrious Dio content and Epic metal ingredients, and you pretty much have all the clichés moulded into form to start off Magic O Metal's alongside Picu, Alex and Lexie battling the evil Icepick. A journey with mucho-metal magnificence, adding to Gommans' impressive catalogue. He blends all key ingredients of his past and the outcome is impressive. Cast aside the lyrical content which will not appeal to adults, and the music will be a captivating thrill ride with high recognisability as it fuses a lot of what makes metal such a beloved genre. Technical perfection, blistering solos, and towering choruses that instantly nest in your head. The action packed production is adding volume and the entire album runs like a storming freight train. Sander keenly injected his songs with the striking appeal of theatrical elements and epic towering melodies packed with remarkable hooks. Check out the introduction ,,Picu" and the title track that have insane wallop and memorable melodies. It becomes instantly clear this project is packed with quality and the star-studded line up does a remarkable job. Rodney Blaze belts and impressive job as Picu, and his counterpart Icepick is brought to life by Sander himself. Marina La Torraca (Exit Eden, Phantom Elite) takes care of the role of Lexie and Nick Holleman (Vicious Rumors, Sinbreed) injects his talents into the character of Alex. Within Temptation and Maiden United's Ruud Jolie adds some impressive pitching solos, and Koen Stam adds his keyboard swirls and smart pompous elements to empower the guitars and song structures.
Going all symphonic on ,,Through the Portal", the long spun instrumental with its glorious and power packed music supporting the scene play, taking us into the ominous ,,Icepick" that introduces the dark side. Intense wallop and anger laden it pulls forward with an aggressive edge. Chants and uproar take Icepick and his digital underworld to action and go head to head with Picu and his team. I admit: corky… but fun. Songs like ,,The Metal Twins" and the epic and glorious ,,Magic and Power" pack tremendous drive and excel with quality. Exquisite harmonies and spitting performances. Marina vividly brings to live "Lexie" and "Alex" brings out the best of Holleman who lays down VR reminiscent howls and power cuts. ,,Heroes and Villains" packs great melodies and impressive guitar work, lining up for the grand finale ,,The Battle". It is the exclamation point of the album with La Torrace scattering off the palate. The solo is blistering and lightning fast unloading into fierce low ball riffing underneath the cinematic fragments of the story. The song fires off in all directions with narrative ending and pompous orchestration enhancing the glorious defeat of Icepick.





I admit it will come across as a package of clichés stacked high, but with my daughter as reference the project could appeal to the next generation. With her being totally into singer songwriter and Beatles tunes, she however was triggered by what she saw on the Facebook page of Magic O Metal, and spent time to read the entire story and check out the gimmicks online. Magic O Metal's feed is packed with excellent stories and short flicks adding to the experience, even though they are stand-alone flashes. With Dutch festive days (Sinterklaas) drawing near, the project added their take on the happening, making it actual and fun. It reveals the wide appeal of the project and it certainly makes it an experience for kids (and parenting metal heads). With Gommans using his skills and expertise to bring this alive musically, Magic O Metal is on target. The entire package whelms excellence and all adds up. Story, comic book and music all align and will take listeners into the dimension as participants. Exactly as planned. Let's cross our fingers and hope Gommans and his team succeed and are able to fulfil their quest.
—
Magic O Metal Crowdfunding and info here 
About
Musicians from our world embark on an adventure with magical creatures from The Metal Dimension, a world where fantasy becomes reality. There is a passion that all our heroes share: METAL!
Genre
Metal
Website
https://www.magicometal.nl/
Social
Tags