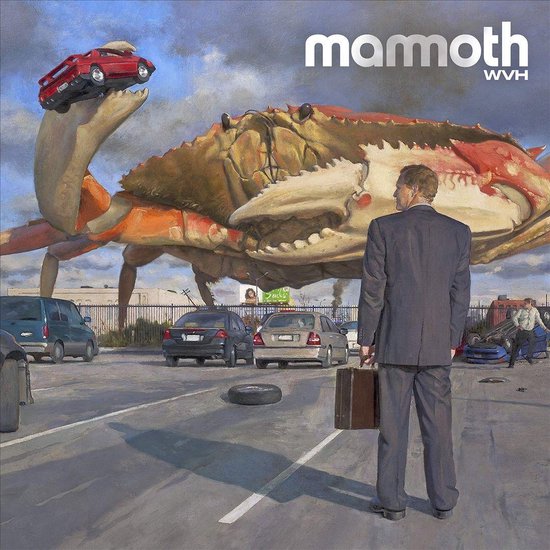 MAMMOTH WVH-Mammoth WVH
EX1 Records
The year 2020 was a disastrous year on many fronts. A world pandemic and the loss of friends, family and several musicians I really admired. The passing of Leslie West, Lee Kerslake, Bob Kulick and most of all Eddie van Halen shocked the music world to the core. And when you are stepping into the footsteps of your father by releasing your first album like Wolfgang Van Halen is doing right now, well it is a brave move as everyone will have expectations of the 30-year old multi-instrumentalist, composer and singer.
Wolfgang grew up when Eddie and also of course Alex van Halen were on top of their game. Eddie trained his son up from day one, teaching him music. The best proof of that is the videoclip that was made for the first single ,,Distance'', compiled of private home videos of father and son making fun, making family memories and making music. A very touching clip and with lyrics that really touch the heart. Wolfgang shared the stage with his dad and uncle Alex when he became the bass player for Van Halen but he also can be heard on two Tremonti albums. And this album he made all by himself. Die-hard Van Halen fans know that Eddie and Alex before changing the band name to Van Halen worked together under the name Mammoth and when Wolfgang asked his father if he could use the name Mammoth for his own band Eddie was tickled pink.
So here we are in 2021 and Wolfgang has put his own band together to promote his album on the road in the near future but as already stated this record is purely made by Wolfgang himself, singing, playing all the instruments, producing and even using some of Eddie's old equipment that he inherited like the world-famous Frankenstein Strat. But mind you, this is not a flagrant copy of Van Halen. Absolutely not, Wolfgang sails his own ship and determines his own musical destiny. With this album Wolfgang is creating his own legacy in rock music just as his dad and uncle did all those years ago. The music is a mixed bag at times. Wolfgang is a hard rocker, have no doubt about that, but he has more up his sleeve. The album is mainly filled with robust melodic rockers but has also some more 'sophisticated' moments, songs where his vocal talents really are put forward. And the song ,,Distance'' might be the track that says a lot about the character of this album. Smooth, emotional but with a rocking edge. The fact that 'Mammoth WVH' sounds so very mature and natural is not so surprising at all as you look at the pedigree of Wolfgang but the fact that he done all the work by himself and made it all sound so composed is something that deserves the highest compliments.
I am pretty sure that as soon when you hear the hard rocking opener ,,Mr. Ed'' you will be hooked on an album that will for sure be featured in many album of year lists that people compile at the end of each year. Dad Eddie up there and uncle Alex would/will be both proud as punch! The boy has become a man and will built up his own reputation and is carving his own path.