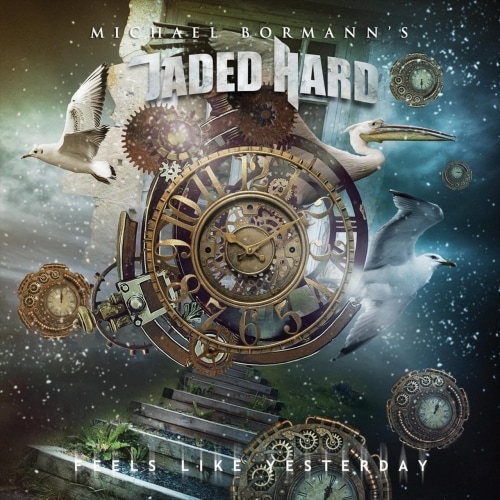 MICHAEL BORMANN'S JADED HARD-Feels Like Yesterday
RBM Records
Michael Bormann was the charismatic for Germany's melodic rock flagship Jaded Heart from 1990 to 2004. With him and the band parting ways in 2004 cell division was the outcome sprouting 2 strongly varying careers. Where his previous bandmates slowly converted their music into a harder and louder direction, Bormann didn't stray from his melodic 80s roots releasing 5 solo albums met with critical acclaim. On the other side Michael spread his wings and delving deep into the widest varied possible styles rock and metal bring to the spotlights. Bloodbound, The Sygnet, Charade, Rain, Biss, The Trophy, Powerworld, Silent Force, etc etc. Bormann produced no less than 40+ albums during his 36 year spanning career. Impressive numbers he fuses with everlasting quality and devotion.
When Bormann returned to the stage in 2017 performing many of his celebrated Jaded Heart tracks, it was not more than obvious a new chapter needed to be added.

With his former bandmates entitled to the rights of the band name, Bormann flexed his creativity and cooked up Jaded Hard, diverted from his previous band's name. With the "Heart" configured the outline of the new album also becomes crystal clear. The album fuses his typical melodic style, comparable to Jon Bon Jovi's voice and style of the 80s and 90s. Songs like the album's title track ooze that same grandeur and unlike Mr. Bon Jovi, Bormann's voice has hardly faded. It is all pitch perfect and executed with tremendous flair. Even the ravishing guitar solo and powerful hook ooze that Sambora magnificence. The song follows the harsher opener, which more or less ignited the Letter X sparks, though its "nana na naa" is to slick for its tick. Bormann has to work harder to make it happen but the gruff edge also add to the poise of the tune. ,,Good Times" also has Bormann belt from his gut and the songs throbbing sub notes propel it with fierce appeal. ,,Won't Surrender" opens with progressive drum and guitar breakdown before going emotive. Its chorus is slick and powerful and the guitar screams all over with pitches and fierce solos. Guitars are even so outstanding on the Celtic tinged opening of the highly melodic ,,Mr. Mysterious", and on ,,I'm A Son Of A Gun" Jaded Hard shoots into gear after audacious musical interaction breathing fire throughout the evolution of the song. Picking up a distorted note the band moves into a symphonically direction on the pompous opening and chorus of ,,Shout It All Out", switching emotions and Michael belting an impressive job touching all borders of his vocal reach.
Absolutely impressive is Bormann's deliverance on the powerful rock ballad ,,We'd Still Make It", truly touching the heart. More light-footed ,,Bring Me Higher Love" switches from uplifting to hoarse. Multi layered choirs add a towering melodic stride. Following a different approach Jaded Hard reveals keen craftsmanship on the remarkable melodic semi-ballad ,,Don't You Ever Leave", and on ,,Everybody Is A Rockstar" the band goes cheesy without scaring off the listener. The song packs a Joan Jett stride fused with Foreigner's ,,Jukebox Hero" infectious beat and uplifting touch. All of these contemporary hit ingredients erupt during the solo-bread mid section with its Beatlesesque vocal section. Reviving the ,,You Give Love A Bad Name" opening, Jaded Hard shoots into gear with slick vocal interaction on ,,Just One More Step Away" that also evolves with classic melodic attraction. Reminiscent to many rock classics from the heydays of arena rock, the song throbs forward with ear mingling magnitude and star-studded pretention. It feels comfortable and recognisable without a genuine Bormann touch and style. The song just nests on the spot and it is spiced up by yet another pitch perfect guitar solo from Thommy Dahlem.

Though Michael and his Jaded Hard band stack clichés upon one another, the album is packed with highlights and great moments. Michael displays his keen feel for melody and his band is talented enough to make a difference while executing. Together the band manages to revive Jaded Heart's most respected heydays as well as inject them with all key ingredients form the entire genre. The diversity is met with recognizability and in the midst of all this melodic perfection Bormann unambiguously showcases his skills as a vocalist and performer enhancing the tracks with standout vocal performances.


#michaelbormann #jadedhard #jadedheart #headbangerslifestyle #hbls #awayoflife