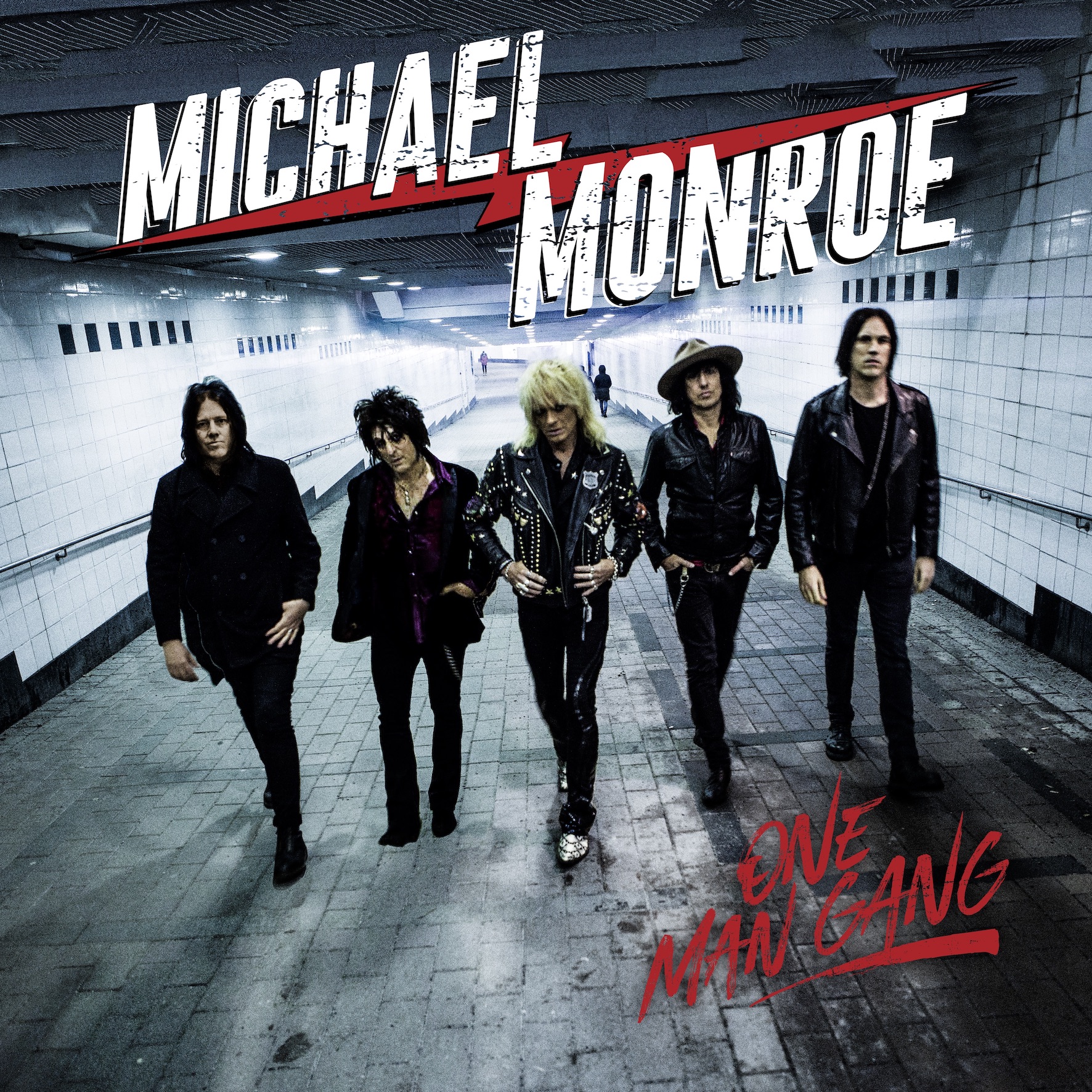 MICHAEL MONROE-One Man Gang
Silver Lining Music
Michael Monroe is one of rock's most seasoned and experienced rockers in the field. He has been playing the ballgame for decades and collected experiences, musically and lyrically, to bring every album alive after cardiac arrest. This brand new 'One Man Gang' sums it up in the title and the music adds to that statement. Let's discover a lifetime of rocks captured in 12 pointy and appealing rock tracks… let's discover rock as it is meant to be!
The album shoots into high gear with the punk rocker title track. It's a blitz firing forward with Monroe shooting his words with scattering speed. For a second I feel out of place with the man's long stretched legacy, but when the towering chorus hits, it hits with melodic magnitude. It instantly sparks the flame of the man's melodic glam legacy and the following ,,Last Train To Tokyo" picks up contrasting from the flame spitting turmoil of the opener. It links to the melodic grandeur of the chorus of the title track and its driving riff melody is simply undeniable. More swampy and bluesy he morphs his glam rock on ,,Junk Planet". Slamming bass lines and edgy distorted slung guitars take it into the short and blunt chorus. Bluesy power and attitude add to Monroe's vocal performance. It is anger-laden and downward gritty. 3 songs in and Mr. Monroe has already touched base with his past, the present, and mankind's future. And everything is packed in a brutal glossy glimmer of glam and sleazy rock. ,,Midsummer's Nights" is a homage to everyone's years growing up and recklessly discover our do's and don'ts. The song flowers with light-footed summer breezes underneath and dives into a colourful palette of sunshine in the uplifting towering chorus. It is a light breather and ,,The Pitfalls Of Being An Outsider" is a hymn for the outcasts oozing the Hanoi Rocks vibe all over. Monroe keeps his pace high with his lyrics touching modern day excitement and social issues as well as the rock stars' life and tides. ,,Wasted Years" is another perfect example of this great mix of character and styles. The harmonica adds the bluesy note, much like Michael's hoarse and soaring vocals. There's a lot going on even though the tracks are breathing an organic and honest atmosphere. ,,In The Tall Grass" opens with a low dangling guitar and with traces cigarette smoke crinkling in the air of the moody slow paced rocker. World madness is being addressed in the fierce attitude rocker ,,Black Ties And Red Tape", breathing fire and packing great wallop. More powerful loud roaring is the following ,,Hollywood Paranoia" with Monroe reminiscent to Alice Cooper's classics, both musical and vocally. The fun starts when ,,Heaven Is A Free State" with its mariachi brass section opening. The song packs typical Monroe twists and the uuuuhs and aaahs revive the 80's shelving of his catalogue. With the album recorded in Finland ,,Helsinki Shakedown" apparently licks his release to the production times. The song packs excellent momentum and is crafted on some ear mingling hooks without losing its grit and dirt. The song actually makes a great opening towards the ominous opened shuffle of the album closer ,,Low Life In High Places", with its percussion drum beat and psychedelic subnote. Whammy guitars hoover left to right with Mr. Monroe laying down some anger, disarray and psychic notes in the refrains. It adds another side to the album and makes it nest with is diversity and fertile modern approach.
'One Man Gang' displays Monroe's wide spread interest as he injects his classic glamrock and sleaze with a variety of styles without straying off. The songs are powerful and rock loud with Monroe emphasizing his well crafted lyrics. It adds to the persistent and pulsating edge of the tracks making the album a joyful experience. It is punky and melodic, it is loud and subtle. Everything is there to put Michael Monroe's mark on the genre once again.
#michaelmonroe #hbls #headbangerslifestyle #awayoflife