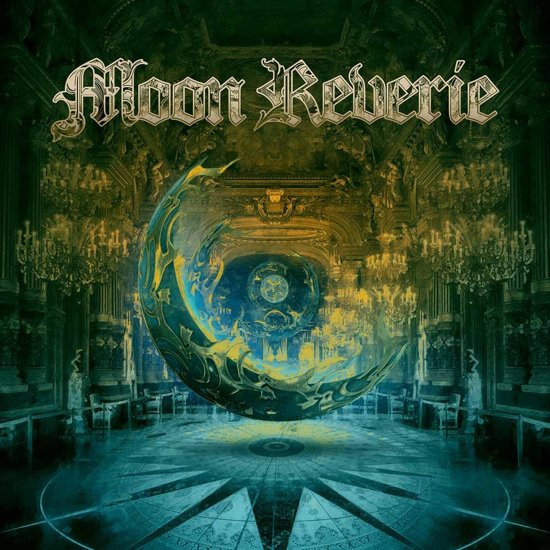 MOON REVERIE-Moon Reverie
Rockshots Records
Moon Reverie is the band around master shredder Luca Poma who is most renowned for his work with Kee Marcello, Uli Jon Roth and Vinnie Moore, amongst others. Dropping these elusive names will also raise the bar for Poma's of expectations. With Moon Reverie however, Poma proofs to be a true at heart shredder in the neo-classical Yngwie-vein, capable of executing perfect guitar shreds with bedazzling high velocity solos bold of classical elements perfectly executed. Think Malmsteen on his first 3 albums and think Narnia…

Indeed, unlike Malmsteen's narcissistic strolls in the world of ego centrism, Poma crafts songs around his neo-classical shreds. A craft he manages extremely well, judging the first spin of Moon Reverie. Luca isn't just shooting his fingers up and down the fretboard to unload as many notes a second possible, he lays down a collection of well constructed melodic rock songs that stick with you. Much like Yngwie's first 3 – 4 albums, the showmanship is fused with rock tracks and ooze a band momentum. More than that, where the Swedish maestro already took his playing to the spotlights, Poma tends to remain firmly in the background until his soloing moment breaks. From that moment on, he makes his statement. Elegant solos like on the blistering ,,Say Forever" are fused with neo classical elements, executed at high velocity. Sure, he sometimes claims front centre, like in the dying seconds of the track, but it all feels very natural (if at all possible in this genre).
Though the paths of the genre are paved with predictability, Luca and his band keep forcing melodic mayhem on the listener, making the album pleasant and very worthwhile. Well-composed and created around memorable hooks and melodies, the album progresses with excellent pace. Especially the other ace in the band is making damn sure this album doesn't just pass by without notice; Luca Pozzi. His vocals are powerful and have a specific ring to it. Much like Michael Sweet (Stryper), Pozzi has a distinguished sophisticated edge that appeals to a wide range of listeners. Powering up to higher registers goes fluent and when he touches deeper, his vocals well with emotion. The short intro ,,Into Glory" is predictable, but with ,,Forgiveness" the band instantly impresses. Manuel Togni's double bass drum's firing and propels the metal track forward with great pace. The vocal line is crafted around buzz saw sharp riff, and the song's bridge pitches upwards in terts before hitting the nesting chorus. Though less memorable as the following ,,I Will Come For You", the song is a great calling card. It breathes an organic Blackmore vibe, especially during the instrumental section and solo. But like I said: the following track is a homerun, impressing on the spot. Poma is all over the place, but not constantly in the nerve wrecking front end of the mix. The track is well balanced and reveals great marksmanship. ,,Eyes" has a Europe ring to it with its sticky opening and insane melody, and the semi-ballad ,,In My Heart" is simply gorgeous and welling with emotion. It reminds me of Madison's ,,Diamond Mistress"-era. Excellent Scandi melodic rock/metal, with hints of AOR. ,,Far Above" is a hymn-like elemental slow mover with nice classic elements and acoustic (string) arrangement, with Pozzi radiating. When the pace shoots up, Moon Reverie really kicks serious ass. ,,The Raven" and the intense "End Of Times" spit fire with awesome riff and keyboard interaction, ,,First And Last" is another highlight with prog elements, ,,On The Edge" oozes classic hard rock grandeur. Closing the album is the insanely well-composed ,,Moon Reverie Suite". Running almost 9 minutes, the song opens with a wonderful warm guitar solo over a lush piano before it fires up pace. The progressive drums and ominous keyboards remind me of Theocracy and Ghost Ship Octavius, before Poma goes all-bonkers and opens all registers. Going note-mental he flies over the fretboard unleashing some serious shreds. There is simply no holding back on his enthusiasm, but the track is delivered with such panache it grips. Though Yngwie's neo-classical ghost is present on the track formats, it is Poma's toning that captures more attention. Occasionally reminiscent to Moore, he also has a typical bending MacAlpine sound to his playing. Extending his notes before firing arpeggios onto the listener makes the moly more enjoyable. The fluent style combined with his great toning makes it highly enjoyable to hear.

Moon Reverie feels like a band more than an egocentric neo-classical project. With everything perfectly in place, the songs have a natural ting to them and the musicianship is excellent. Both Luca's fire on all engines raising the stakes and making this an excellent debut, which hopefully attracts a wider audience. Yes, it has been heard before. But being executed as is, Moon Reverie is a keeper that needs to be heard!


#moonreverie #headbangerslifestyle #hbls #awayoflife #rockshotrecords