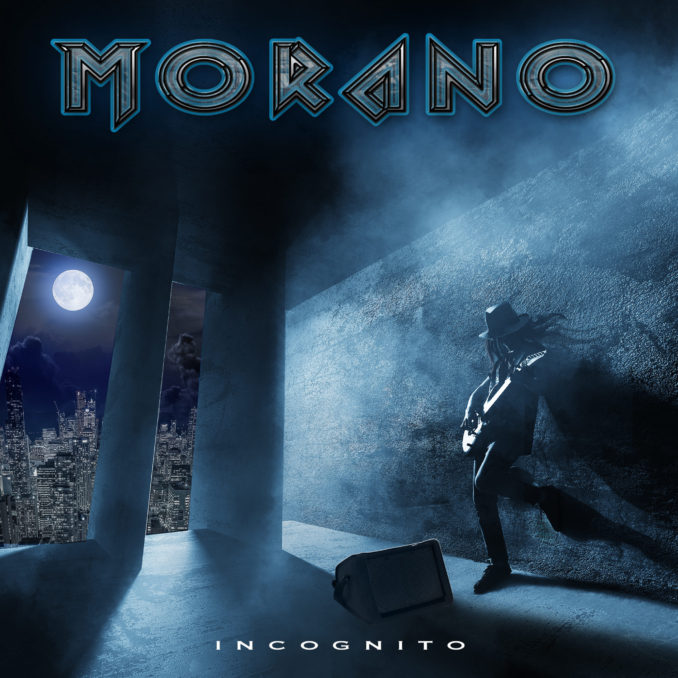 MORANO-Incognito
CD Baby/Independent
Thanks to the Internet and musical 'brothers' (Bryan Cole) posting acts and albums relevant to be heard, I came across this remarkable self-titled album by guitarist Duane Morano. `Incognito' is an album in the best AOR – Melodic Rock tradition for which Duane hired some skilled vocalists to give his splendid songs more cachet. Duties divided amongst genre greats Danny Vaughn (Tyketto, Vaughn, etc) and Terry Ilous (XYZ, Great White), this debut launches easily. On top the star-studded cast of musicians also sends `Incognito' off with warp speed.

With the opening ,,After The Love" shooting into gear, Morano instantly puts his mark on the record without taking the spotlight away from his vocal partners. The songs are packed with a raw driving signature guitar sound and exquisite soloing from Duane himself. His style is deeply rooted in blues even though he stays on the vibrant melodic side. His toning is rich and pleasant with his solos unloading with piercing power. On ,,Cookie Jar" he reveals the deeper bluesy side of his style with rich toning and an impressive edge. The song also progresses with more Americana roots and somewhat of a honkytonk sub toning, helped by Bryan Cole's flexible pipes. It's swinging and the choruses boost the natural organic feeling the track breathes. More melodic and subtle is the first Bryan Cole song ,,Don't Believe You", a tasteful semi ballad / slow mover. Bryan on top of his game and Morano pasting the perfect outline for the vocalist, makes it highly memorable. It is slick and perhaps a little too clean, but it has a genuine arena rock feel to it. All of the songs radiate honesty and sincerity, combining the best of the genre and handing a framework for Vaughn and Ilous to start off from. With Morano at the helm and alumnae like Extreme's Pat Badger and Kevin Figueiredo, Firehouse's Michael Foster and Bill Leverty, Blue Murder/The Firm's Tony Franklin and Nita Strauss (Alice Cooper) engineering and crafting the framework of the songs, the musical perfection is guarded. It is indeed the performances of this all-star line up that saves the album with a performance radiating. The songs, though well crafted and performed, overall are solid but also on the safe side. Nevertheless the album picks up pace with radiating deliverance taking it to a higher level. I'm particularly fond of the Bryan Cole sung tracks on ,,Incognito" like the (predictable) 80's hymn ,,Sincerely Yours". Leaning strongly towards the AOR side of melodic rock, it contradicts with the Vaughn songs that have more of an edge. Danny uplifts ,,Kid Gloves" and ,,Giovanna" with a rawer approach that matches Morano's guitar slingshot. Terry Ilous soaring vocals also provide diversity needed to keep the album overall attractive. Impressive is the wonderful acoustic ,,Hearts" with exquisite guitar playing and Ilous belting a matching performance that is gripping and nesting. Oozing honesty the song progresses into a towering power ballad. Typical eighties material that would at least have landed airplay, if not a hot rotation. ,,Why" is also tailor made for Ilous but unfortunately it is Ilous who is dealt the lesser hand song wise. ,,Love Is A Lie" also never ignites really, and perhaps Vaughn's voice would have matched better. Less familiar I am with Dan Michaels who makes a pretty solid impression on ,,Manhattan". Enjoyable and slick, with nesting chorus and melody over Badger's plucking bass sound and Strauss adding a little fuel to the fire.

`Incognito' is a highly enjoyable album from debuting solo artist Duane Morano. His songs are typical eighties rooted melodic rock tracks which makes it harder to be original and explore the musical horizons. But all in all the stellar performances of the all-star cast do save the day and uplift the album from mediocrity. Don't expect a game changer, but make sure to listen in and pick some favourites.


#morano #headbangerslifestyle #hbls #awayoflife #nitastrauss #independent