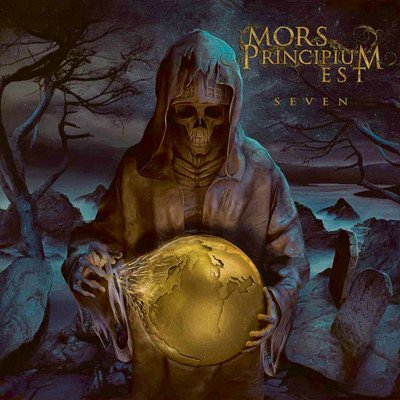 MORS PRINCIPIUM EST-Seven
AFM Records
I am the first to admit that death metal is not really my cup of tea. Although I have several records from Morbid Angel, Deicide and Death in my collection, it is in general a genre that I don't know too much about and that I just follow from a (far) distance. But there are always exceptions to the rule like the Finnish band Mors Principium Est.
When English guitarist/songwriter Andy Gillion (who resides in Australia) released a superb instrumental album last year called 'Neverafter' and after I found out that he had been part of Mors Principium Est for several years I started listening to a few of the older albums with Gillion involved. What impressed me on 'Neverafter' were the arrangements and the fact that Gillion managed to put together influences of progressive rock and melodic death metal and making it sound technical yet accessible. So when the new Mors Principium Est album was announced I really was curious. The seventh album in the history of this outfit has been composed and written by Gillion while vocalist Ville Viljanen wrote the dark minded lyrics. Viljanen more or less produced the album and used 'Thomas 'Plec' Johannson (who also worked on the Gillion solo-album) for the mix as has been the case on several older albums of the group. Group? Well, at this moment it is more the duo Viljanen/Gillion who put 'Seven' together with Gillion handling several instruments and the programming. There is a steady live line-up but when it comes down to recording this time it was a matter of just Gillion and Viljanen handling all duties.
The music on 'Seven' is actually breath taking. Yes, is it melodic death metal but it is an accessible form of death metal as the melodies are not so super brutal, there are several orchestral arrangements, the songs have a lot of variety although they have speed and force and the singing of Viljanen is impressive. At least he is a singer in the genre that you can follow, he sings more than anybody else in the genre, he is not so brutal and you can follow what he sings. And although the tempo of the songs is quite high and forceful, there are always these orchestral pieces and melodic keyboards that give the songs a different feel and variety. In a way it is a bit like listening to 'Neverafter' with the major difference that there is a singer at work as well. Add to that a really good production and we are dealing with an album that is outstanding in its genre. Actually from top to bottom all ten songs sound impressive. Not a fan of the genre but when albums are as good as this one, well, who knows?
#morsprincipiumest #andygillion #villeviljanen #melodicdeathmetal #hbls #headbangerslifestyle #awayoflife