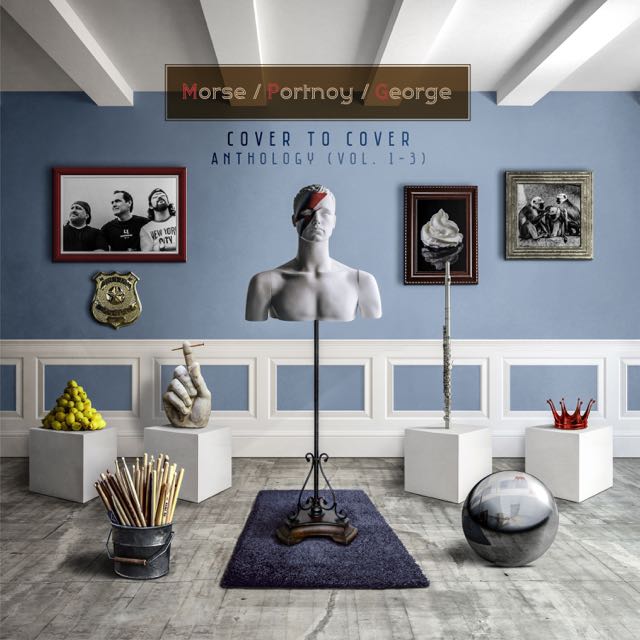 MORSE/PORTNOY/GEORGE-Cover To Cover Anthology (Vol.1-3)
Inside Out Music
First of all I would like to state that I am not a fan of covers (go figure…); why bother covering songs from other musicians if you can write/compose and play your own (better) stuff? Secondly I would like to state that this is not an album for head bangers, as there are no covers from metal/hard rock bands on these three CDs.

Anyway, three top notch musicians, being Neal Morse (Neal Morse (band), Transatlantic, Spock's Beard, Flying Colors), Mike Portnoy (Dream Theater, Flying Colors, Sons Of Apollo, Transatlantic, The Winery Dogs, The Neal Morse Band) and Randy George (Ajalon, The Neal Morse Band) decided to cover 36, yes I know that is a lot, songs, mainly from bands from the sixties and seventies. So, the songs range from The Monkees to Yes and from King Crimson to the BeeGees; meaning that there is some stuff on these three CDs that I really dig/like and some stuff that I really do NOT like… These three albums feature pop songs (The Monkees, The Osmonds, Squeeze, Chicago and The Police), rock songs (Blind Faith, Cream, U2, Lenny Kravitz, Tom Petty and Neil Young) and, my favourite, prog rock songs (Yes, The Moody Blues, King Crimson, Jethro Tull and Styx). Let me start with the good covers; ,,Tuesday Afternoon" (the original can be found on 'Days Of Future Passed' (1967)) is beautifully sung by Morse and definitely one of the highlights of this album. Just like the amazing King Crimson tracks ,,Starless" and ,,One More Red Nightmare" (both from 'The Road To Red', 1974). But the Jethro Tull songs ,,Hymn 43" ('Aqualung, 1971) and ,,Teacher" ('Benefit', 1970) are also really good covers, just as the Richie Havens song ,,No Opportunity Necessary, No Experience Needed", which was already covered by Yes in 1970 on their second album 'Time And A Word'. By the way, the latter mentioned is the only song on this album featuring a guest musician, being Jon Davison, the vocalist of the nowadays Yes. If you want to rock then you should listen to an excellent version of Cream's ,,Badge" (written by Clapton and George Harrison), The Neil Young ,,trilogy", consisting of: ,,Southern Man", ,,Needle And The Damage Done" and ,,Cinnamon Girl", where Neal Morse plays some really mean "southern" guitar, and the Who classics ,,I'm Free" and ,,Sparks". Surprise covers, excellently performed, for me are ,,Maybe I'm Amazed", ,,Can't Find My Way Home" (Blind Faith), ,,I Saw The Light" (Todd Rundgren) and ,,Come Sail Away" (Styx), where Neal Morse does a more than excellent imitation of Dennis De Young! Unfortunately there are also a couple of mishaps on this album; such as The Monkees cover, the utterly boring Cat Stevens cover or the absolute David Bowie failures ,,Rock And Roll Suicide" and ,,Life On Mars" as you really cannot cover Bowie's unique voice and sound!!! But then again, this threesome completely surprises and amazes me with a "heavy" version of The Osmonds classic ,,Crazy Horses", sung by Mike Portnoy by the way…

So, if you like covers, you are in for a treat, if not, then you should consider if this is the right album for you; I am in doubt, I love some of the covers but I also loathe a couple…. Check out for yourself, listening tips: ,,Tuesday Afternoon" and ,,Starless".



#nealmorse #mikeportnoy #randygeorge #covers #insideoutmusic #headbangerslifestyle #hbls #awayoflife