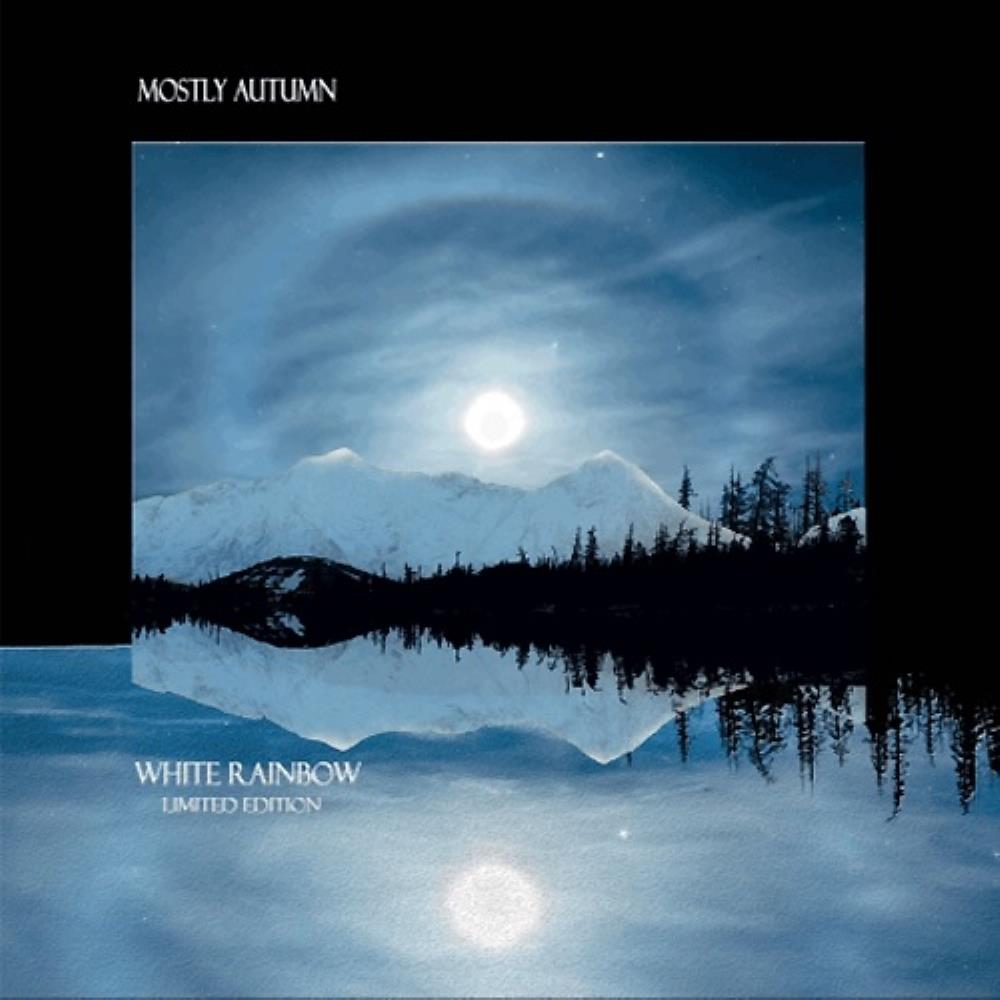 MOSTLY AUTUMN-White Rainbow
Mostly Autumn Records
Mostly Autumn is one of symphonic rock's finest acts and has been around since 1996. The UK band around guitarist extraordinaire Bryan Josh managed to astound the masses frequently, and their 2017 release `Sight Of The Say' was an impressive piece of work. This brand new `White Rainbow' is the band's homage to their former, and long-time, guitar player Liam Davison. Thus, their new magnum opus is an album packed with more pain and agony than any of its predecessors, taking Mostly Autumn on an emotional rollercoaster into 2019.

Entirely as expected, Bryan Josh and his band pave the ways for an emotional and epic new album, a perfect homage to their recently deceased friend. The band's trademark progressive sound is build around Josh' ravishingly beautiful melodic guitar playing, in the vein of genre greats David Gilmour [Pink Floyd] and Steve Hackett. His impressive slow hand weeps are packing towering emotion, pouring from this epic new album, fusing their trademark ingredient with its benchmark symphonic elements and Celtic underscores. `White Rainbows' weeps throughout the conceptual storyline. Brian constantly manages to tap into elemental scales ebbing in agony. ,,Procession" takes us on the emotional journey, which unexpected dives harsh into an anger laden first section of ,,Viking Funeral", suddenly blooming with its frail acoustic mid section opening towards the emotional 2nd half, where Mostly Autumn trade up with sonic perfection. Cinematic like never before the song flourishes with astounding beauty, with Bryan's wife Olivia Sparmenn adding her crystal clear vocals to her husband's heartfelt outpour. The sentimental ,,Burn" and ,,Run For The Sun" touch deep with fragile clean vocals of Olivia and its musical deliverance, stripped down to its barest essence. When ,,Run For The Sun" introduce a marching snare drum it towers towards Josh' most monumental guitar solo ever. Shivers run down my spine when Olivia returns to bring the song home with bursting agony.

It is this cinematic perfection that is endured throughout `White Rainbows' in which genre typical elements are intertwining with the band's Celtic roots, delivering impressive sonic perfection. More than ever the connection with Pink Floyd comes to mind because of the song's epic proportions and large chops of spine rattling emotional guitar work. Colliding with their famous symphonic grandeur, the band emotionally fires into our stratosphere. When the pace goes up [,,Into The Stars"], Mostly Autumn packs impressive power without ever falling into heavier and louder eruptions of rock. Their symphonic rock is simply breath-taking powerful and hypnotizing. Just spin the impressive 19-minute title track for reference. Reviving Floyd's most psychedelic waving and ebbing melodies. The vocals over acoustic guitar, it can't shake off the reminiscence and could easily be featured on `Wish You Were Here', with its ominous and emotional grandeur. Structured around PF's signature ingredients, `White Rainbows' does impact with more power as it evolves into a rollercoaster with extreme highs and lows. The song flies off in all directions and is the band's most pretentious track recorded.
Overall the band embarks on 7+ minute long songs and does this with the utmost precision. ,,Up" is serene and ethereal, breathing with passion and packing impressive power. Memorable is its second half, trademark and essential for fans. Long spun instrumental sections embedded in pompous, yet emotional journeys exploring the band's challenging sonic endeavours. It unites their classic debuting sound with their present. Floating and lingering ,,Young" again drills for the emotional nerve and strikes deep in the heart, to dive into a spiritually uplifting finale welling with emotion.
The album is definitely an impressive and intense recording. It is an album capturing the band's deepest emotions perfectly and it is all moulded into a collection of heartfelt frail songs that grab you instantly. It is honest and fragile, it is compelling and driven. Though it circles around Olivia and Bryan, the team effort is impeccable. Chris Johnson filling Davison's spot with respectful panache, adding to the emotional keyboard and piano swirls of Iain Jennings who is backed by multi instrumentalist Angela Gordon, while Andy Smith [bass] and Henry Rogers [drums] lay down a solid groove to build upon. Their musical mastery is impressive and it all fits with the emotions perfectly. Impressive!

Mostly Autumn's homage to their deceased friend is the band's magnum opus.


#mostleyautumn #headbangerslifestyle #hbls